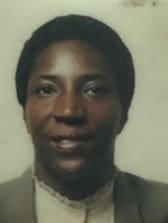 Shiela Panchita Callwood Schulterbrandt of St. Thomas, U.S. Virgin Islands has died. Shiela was born on April 23, 1940, and peacefully died on April 1 at the age of 79.
The viewing will be held at 9 a.m. followed by services at 10 a.m., Wednesday, May 13, at Turnbull's Funeral Home. Interment will be cremation.
She was preceded in death by parents: Emanuel Theophelus Callwood and Valdrina Martin Callwood; brothers: Ishmael Martin, Keith Martin and Paul Andrew David Callwood.
She is survived by husband, John A. Schulterbrandt Sr.; sisters: Clecone Callwood Carty and Opha Callwood; sons: Benjamin Harris, John A. Schulterbandt Jr. and Zebedee Jabri Schulterbrandt; daughter, Zebiesha Callwood; stepdaughter, Kishma Schulterbrandt; daughter-in-law, Christal Harris; grandsons: Benjamin Harris Jr. and Cutty Cushan Fredricks; and granddaughters: Oiesha Harris Ashanti Schulterbrandt and Zayla Schulterbrandt.
She is also survived by two great-grandchildren; step-grandchildren: Kahild Parker, Kamasi Parkerand Zion Heyliger; cousins (families): the Martins, Callwoods, Chinnerys, Hendricks, Blydens, Georges, Charleswells, Smiths, Brathwaites and McTaviouses and many more to numerous to mention; special cousins: Noel Martin, Patricia Turbe, Herman Chinnery Jr., Gregory Callwood, Edric Brathwaite and Lattie May Hendrick Percival; and sisters-in-law: Josephine Ottley, Isabelle Schulterbrandt, Estrelda Schulterbrandt-Petersen, Helen Schulterbrandt, Mercedes Brannigan, Marie Osborne, Maria Martin, Mary Callwood and Gertrude Callwood.
Other survivors include brothers-in-law: Irvin Schulterbrandt, Franklin Schulterbrandt and Joseph Schulterbrandt; 15 nieces; special niece, Veronica Osifeso-Petersen; a special great niece; eight nephews; a special nephew, Everette Martin; special friends: Merna Hurbert, Helen Schulterbrandt, Loretta Brathwaite, Hilda McClean-Callwood, Joanne Hill, Kevin Penn and family, Premier Andrew Fahie, Tito Lewis and family, Lionel Boschulte, Laurice Simmons, Linda (New York), Jerry O'Conell and wife, Sister May, Gale Hodge, Greer Morris, Melinda Philomene, Selena Monroe, Dr. Leonard Richardson, Dr. Roy Lester Schneider, Attorney Victor Schneider; as well as many more friends and relatives too numerous to mention.
Tributes for the memorial booklet should be emailed to turnbullsfuneralhomevi@yahoo.com by May 6.