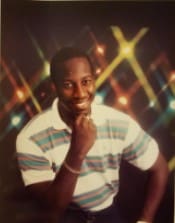 Bernard Joseph, also known as "Kubu," has died.
The first viewing will be held from 8-10 a.m., Saturday, May 16, at Turnbull's Funeral Home with a service to follow at 10 a.m. Interment will be at Western Cemetery No. 1.
He is survived by his daughters: Joleesa "JoJo" Joseph and Tiffany "Tiffy" Joseph; brothers: Byron "Cashew" Joseph, Bert "Kasa" Joseph and Bertrand "Alaba" Joseph; sisters: Beverly "Bevie" Joseph-Hodge and Beatrice Joseph; brother-in-law, Franklin "Frankie" Hodge Sr.; sisters-in-law: Yolanda Williams-Joseph and Lillian "Lilly" Moolenaar; and nieces: Kareema Simeon, Kimberly Petersen, Alia Joseph and Chelsea Joseph.