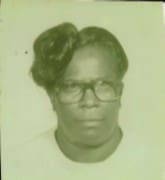 Beloved mother and grandmother Gloria C. Forbes, affectionately known as "Lola," "Lolie" or "Glorie," died on Saturday, April 18. She was 89 years old.
Gloria is survived by her sons: Edwin and Claude Forbes; daughters: Corinne and Cilvinita Forbes; grandchildren: Ivan Baptiste III, Malika Jamalia Forbes, Cecil O. Forbes Jr. and Claudette Forbes; daughter-in-law, Claudia Forbes; sisters-in-law: Estel Smith-Johnson, Delois Johnson and Arie Adams; as well as many nieces, nephews, godchildren and friends too numerous to mention.
Funeral arrangements will be announced at a later date.