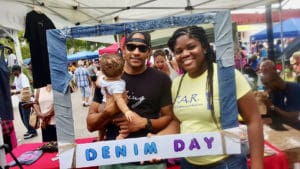 The Denim Day campaign, an annual event to support victims of sexual assault and abuse in the territory, around the nation and internationally, will take place Wednesday, April 29, on the islands and around the world.
Wearing denim shows support for survivors of sexual assault and sexual abuse.
The Family Resource Center on St. Thomas, the Women's Coalition of St. Croix and the Virgin Islands Domestic Violence and Sexual Assault Council have joined together to bring public awareness to Denim Day.
WCSC Director Clema Lewis said the three collaborating organizations, their staff and the staff of all organizations territorywide are supporting victims of sexual assault.
"We will all be wearing jeans and we encourage the public to do the same," Lewis said.
Lewis said that keeping people in lockdown is not the best atmosphere for victims of sexual assault.
"They are not alone," Lewis said. "We got their back."
In Italy in the 1990s, a 45-year-old driving instructor was accused of sexually assaulting an 18-year-old girl when he picked her up for her first driving lesson. With the help of her parents, the victim pressed charges and the rapist was convicted and sentenced to a lesser charge of indecent exposure. The victim appealed and he subsequently was convicted of all charges. The accused appealed to the Italian Supreme Court, which overturned the conviction in 1998 because the victim wore tight jeans. The court ruled the jeans were so tight that the only way to have gotten them off was if she had helped her attacker remove her jeans, making the act consensual.
In 2008 in a similar case in which a rape defendant invoked the "denim defense," the Italian Supreme Court overturned its previous findings, rejecting the argument.
Wearing jeans on this day has become an international symbol of protest against such attitudes about sexual assault.
The Los Angeles Commission on Assaults Against Women (now Peace Over Violence) made Denim Day an annual event. The first Denim Day in L.A. was in April 1999 and it has been going on ever since.
WCSC Communications Coordinator Debra Benjamin said Denim Day is part of the movement to bring an end to "rape culture."
"'Rape culture' normalizes sexual violence on a societal level. It's about our attitudes about gender and sexuality," Benjamin said.
According to Benjamin, sex violence is treated as if it's normal. The perpetrator makes it seem like it's the victim's fault. She's "fast" or she's "forward" or "look at how she was dressed," putting the blame on the victim for being a victim.
"Unfortunately, people still defend the perpetrator. There is still victim shaming and victim blaming," Benjamin said.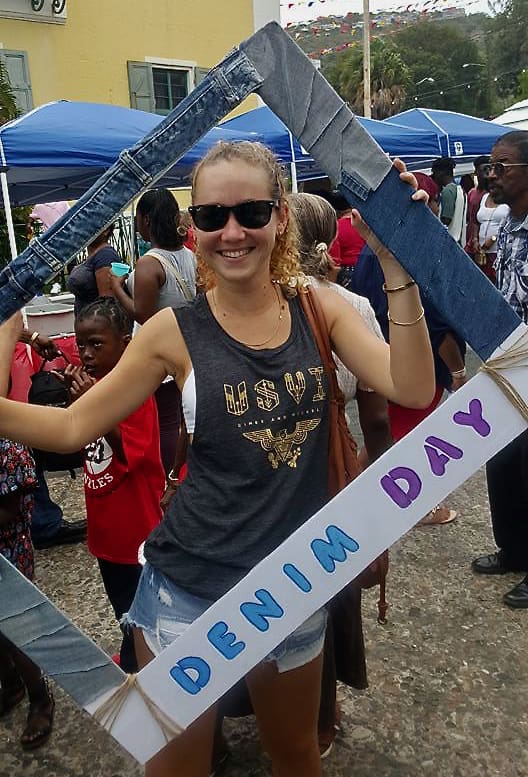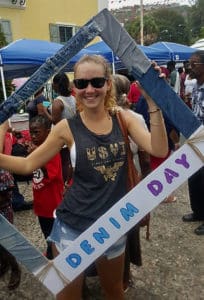 FRC child and youth therapist Cacki Barrett encouraged everyone to wear jeans in support of victims and send them a photo.
"We need to spread the message that sexual assault and rape are never the victim's fault. What someone is wearing, or their state of intoxication is never an excuse or invitation to touch or assault anyone," Barrett said.
Barrett said FRC is also asking people to use this event to help support their efforts financially. If they receive $5 for every person wearing jeans, they can provide training for staff, resources for clients and help "keep the lights on."
WCSC invited the public to take selfies or group photos and share it on Facebook or Twitter, @WCSTX or Instagram, @WCSTXVI.