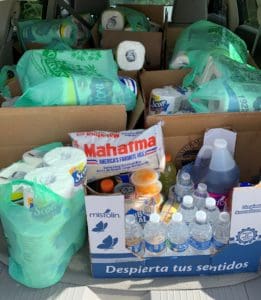 Thanks to a generous, anonymous donor, Patient Assist VI safely delivered care packages full of food, beverages, basic hygiene products (toilet paper, soap, wipes) and cleaning supplies to the porches of patients who needed them most.
"The idea came together after an elderly patient called me in tears because she was nearly out of food and was scared to leave her home due to COVID-19," said Angela Beall, Patient Assist VI executive director.
The donor and executive director had been discussing patient needs, so this donation came at the perfect time. Patient Assist VI typically does not operate outside of the prescription medications they obtain for patients, but the circumstances made it possible to deliver even more.
Patient Assist VI helps the uninsured and underinsured in the U.S. Virgin Islands who are currently under a doctor's care and who need to take medication every day but have trouble paying for their medications.
About Patient Assist VI
Patient Assist VI, Inc. (PAVI) is a registered 501(c)(3) nonprofit organization. It works with pharmaceutical assistance programs and charitable foundations to provide medications at no cost, and it also pays for patients' generic medications when necessary.
Visit www.patientassistvi.org for more information about Patient Assist VI and its efforts to help patients access medications.