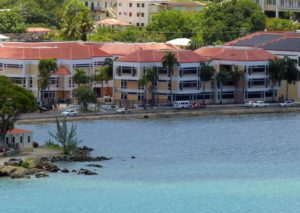 Almost a year since officials from the Bureau of Corrections were warned they risked penalties for not making mandated reforms at the St. Thomas jail, those penalties have become part of a federal court order.
In issuing his order on Wednesday, April 22, District Court Judge Curtis Gomez said something had to be done to compel the bureau to make improvements first called for in 1994.
Fines start at $100 per day, rising to $500 per day after 14 days, then to $1,000 per day after 42 days of noncompliance, if the infraction persists.
Gomez acknowledged more recent efforts made by the Bureau of Corrections to meet the mandates in the case of Carty et. al vs. Gov. Alexander Farrelly (the name of the governor has changed with each passing administration). But the judge said in spite of those efforts, inmates continue to suffer from shortfalls of supervision and care while in custody.
"Yet structural and institutional deficiencies persist and dampen any enthusiasm for the long-sought compliance and improvement. In the wake of multiple decades of a glacial pace towards compliance, many have continued to suffer injury," the judge said.
The compliance crackdown comes at a time when the national health emergency surrounding the COVID-19 pandemic has placed additional restrictions on operations at the St. Thomas jail.
Infractions that can trigger orders for the government to pay up include failure to provide mental health services, proper training for BOC staff, failure to implement use-of-force policies and failure to account for medications dispensed to inmates.
Infractions subject to escalating fines also include failure to implement long-awaited security provisions, including a key control protocol, repair of drinking fountains and accommodating actual and electronic access to legal counsel.
There are also penalties for failure to set policies for how many inmates can occupy a cell, and for failing to develop and provide administrative forms and logbooks.
Wednesday's court order also provides a timeline for making changes, starting with near-term remedial provisions. Those will have to be addressed within the next few days.
Mid-term remedial provisions, with implementation to be made within 180 days. Long-term remedial provisions will then take place, by order of the court, within the next 18 months.
As compliance steps are achieved, the government and the Bureau of Corrections is directed to log completed steps into the court's electronic filing system.
If the legal team representing inmates – the American Civil Liberties Union, National Prison Project – disagrees with any compliance claim, the court grants them time to file objections.
The order directs all money collected from the penalties to be deposited into a remedial fund to help Corrections take additional compliance steps.