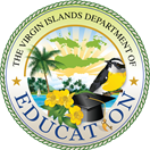 In an effort to provide students with remote learning options that do not require internet access, the Virgin Islands Department of Education has partnered with WTJX Virgin Islands Public Broadcasting System and local radio stations to launch the eTeacher Network, which will offer a host of educational programming on television and radio for students in grades Pre-K through 12, beginning Monday, April 13.
During its first week, April 13-16, eTeacher Network will only broadcast on WTJX Channel 12, but it is expected to expand to the Government Access Channel, radio and Facebook streaming in the coming weeks. This week, students will enjoy a carefully curated compilation of programming from WTJX and other PBS affiliates with lessons on science, math, English language arts, Virgin Islands history and more.
In addition, local teachers, both current and retired, will be featured on the eTeacher Network providing instructions through pre-recorded video links. Teachers who want to participate may send a link of a recent lesson recorded on Zoom or Office 365 Teams to symradee.brown@vide.vi in the St. Thomas-St. John District or jeselle.cruse@vide.vi in the St. Croix District.
The eTeacher Network will operate Monday through Thursday each week. Families may view WTJX on cable television on Dish Network and with an antenna.