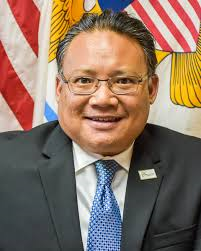 On April 1, the Department of Licensing and Consumer Affairs (DLCA) received a tip from a consumer in the District of St. Croix regarding an antibacterial spray that did not appear to be what it purports to be. Specifically, the consumer purchased an aerosol can of what appeared to be a brand called "Done" antibacterial spray. When the consumer got home, his daughter informed him about fake products on the market and she proceeded to peel the label off the can. Underneath the label, the consumer found a permanently affixed label indicating the can's contents to be butane fuel and not antibacterial spray.
DLCA Commissioner Richard Evangelista does not take allegations of deceptive trade practices lightly. "It is unfortunate that a company will attempt to sell an alleged adulterated high demand item during the COVID-19 pandemic and current state of emergency in the territory."
In response to the complaint, DLCA immediately reassigned Consumer Affairs Director Miguel Tricoche to investigate the complaint. Tricoche visited the store where the complainant purchased the alleged antibacterial spray to verify the complaint. During the investigation, DLCA learned the name of the manufacturer, the name of the local distributor and the name of the local stores who received the product. Simultaneously, DLCA contacted the Department of Labor's Virgin Islands Division of Occupational Safety and Health, Director Dean Andrews, to determine whether or not a material safety data sheet exists for the product.
To ensure the safety of the community, DLCA visited each store with the product and directed the retailer to discontinue sale of the product and to remove it from the sales floor until further notice. To the best of DLCA's knowledge, the product has only been sold in the District of St. Croix thus far. However, DLCA is asking for consumers in the District of St. Thomas and St. John to contact the DLCA hotline at 340-771-SCAM [7226] or via email at consumerawareness@dlca.vi.gov if they see the product.
DLCA shall continue to investigate the "Done" brand antibacterial spray and provide the community with an update when it concludes its investigation. In the interim, "DLCA encourages the community to continue to report consumer-related actions and price gouging to DLCA.  We are unable to be at all places at all times, so kindly assist us and report what you see or hear," said Commissioner Evangelista.
For consumer related issues, email the Department of Licensing and Consumer Affairs at consumerawareness@dlca.vi.gov or call its hotlines on St. Croix at 340-727-SCAM(7226) or St. Thomas-St. John at 340-771-SCAM(7226). Consumers may file a complaint at www.dlca.vi.gov.
For more information on COVID-19, the new strain of coronavirus, visit the USVI Department of Health's website: www.doh.vi.gov/coronavirus or text COVID19USVI to 888777. For non-medical information, call 340-715-6843 between 8 a.m. and 8 p.m., 7 days per week. #COVID19USVI