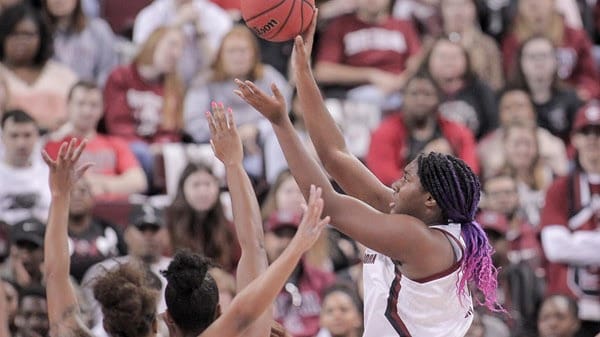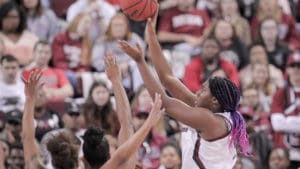 This upcoming weekend would have been the NCAA Women's Division 1 basketball Final Four competition, and it's very likely that South Carolina and Virgin Islander Aliyah Boston would have been taking part in the national semifinals.
Boston was born on St. Thomas and became a key part of one of the best Division 1 teams in the country this year during her first year at the University of South Carolina as she grew into the best freshman in the country.
The Gamecocks went 32-1, the lone loss coming at Paradise Jam on St. Thomas against Indiana. USC won the SEC regular season and tournament title and were the No. 1 team in both AP and Coach's polls before the NCAA had to cancel its post-season due to the COVID-19 pandemic.
Fivethirtyeight.com gave South Carolina above a 50 percent chance to play in the national championship game.
Dawn Staley, South Carolina's head coach and winner of the AP Coach of the Year award, said, "As competitors, we are certainly disappointed that we will not have the opportunity to contend for a second national championship. That said, it will not diminish the way we look at our season, how we value our body of work over the last few months. We have measured ourselves against the best in the country over that time and will embrace and relish that accomplishment."
She understood the decision saying, "First and foremost, we have to recognize how important it is to do the right thing for our community. Sports is a big part of our lives, but just one part of how we are connected to each other. We need to step back and think about the larger good served by canceling events that put people at risk."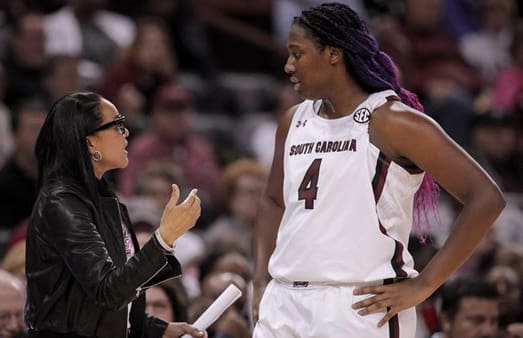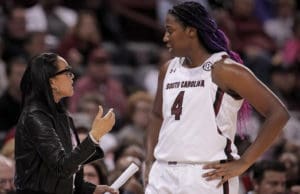 Boston's season started in historic fashion as she became the only player ever in NCAA basketball history to start her career with a triple-double in a 104-43 victory over Alabama State, where she had 12 points, 12 rebounds and 10 blocks in her debut.
South Carolina then traveled to Maryland, then ranked No. 4, and pulled out a 63-54 victory, with Boston scoring 14 points, grabbing seven rebounds and blocking five shots.
In South Carolina's fourth game of the season, she recorded a double-double with 14 points and 10 rebounds and didn't miss a shot from the field (6-6) in a 92-50 victory over Appalachian State.
Her next double-double came in the next contest, as she had 18 points and 10 rebounds in a 112-32 rout versus South Carolina Upstate.
The Gamecocks then beat in-state rival Clemson before traveling to St. Thomas and losing their opening game of Paradise Jam against then-No. 17 Indiana, 71-57.
They recovered against Washington State before beating defending national champion, No. 2-ranked Baylor, 74-59, behind Boston's first 20-point game. She also had 13 rebounds in the contest.
South Carolina won the Reef Division and Boston was named the division's MVP.
South Carolina navigated through the rest of its non-conference schedule with wins against Temple, Purdue, Duke and then-No. 25 South Dakota State with an average margin of victory in those contests of 24.75 points.
The Gamecocks opened SEC play with a victory over then-No. 12 Kentucky before Boston recorded back to back double-doubles against Alabama, with 17 points and 12 rebounds and No. 21 Arkansas with 19 points and 25 rebounds.
After road victories against Missouri and Vanderbilt, South Carolina faced its closest SEC test against then-No. 9 Mississippi State.
With eight minutes left in that contest the Gamecocks were down 71-62 but they held the Bulldogs to eight points the rest of the way, including shutting them out in the last 3:28, and pulled off the 81-79 comeback victory. Boston finished that game with another double-double, 21 points and 12 rebounds.
The Gamecocks then defeated Georgia and Ole Miss, before knocking off three more Top 25 opponents in a row in then-No. 22 Tennessee, then-No. 25 Arkansas and the No. 5 UConn.
Boston had double-doubles in two of those top 25 victories with 18 points and 15 rebounds against Arkansas, before scoring 13 points and grabbing 12 rebounds in a 70-52 statement victory over women's basketball powerhouse UConn.
South Carolina won its next three contests against Auburn, Vanderbilt and LSU by an average of 30 points before a difficult stretch to end the regular season strong.
They finished SEC play with a 67-58 road victory over then-No. 14 Kentucky, a 100-67 rout in Gainesville against Florida and a 60-52 home victory against then-No 12 Texas A&M where Boston had 13 points and 12 rebounds.
South Carolina won all its SEC Tournament games by at least 14 points, beating Georgia 89-56 in the quarterfinals, then-No 25 Arkansas 90-64 in the semifinals, before claiming the conference championship over then-No 9 Mississippi State with a 76-62 victory.
It was South Carolina's fifth SEC championship in the past six years.
Boston was the Gamecocks second leading scorer with 12.5 points a game, the SEC's third leading rebounder with 9.4 rebounds a game, the nation's sixth most accurate shooter with a field goal percentage of 60.9 and the 21st in the country in blocks with 2.61 a game.
She had 13 double-doubles with seven of those coming against ranked opponents.
Tamika Catchings, namesake of the U.S. Basketball Writers Association Freshman of the Year award, said of Boston, "It has been fun watching her growth and domination this year along with the accolades she has collected. She's proven herself to be a strong defensive presence along with developing an offensive arsenal that will only continue to grow under Coach Dawn Staley This is an honor well deserved."
Women's Basketball Coach's Association Director Danielle M. Donehew said "Aliyah certainly contributed to South Carolina's success, and we applaud the immediate impact on the court she made this season," in a news release about their association's freshman of the year award.
Awards
– Women's Basketball Coaches Association Freshman of the Year
– U.S. Basketball Writers Association Freshman of the Year
– ESPN.com Freshman of the Year
– SEC Freshman and Defensive Player of the Year
– All-SEC First Team
– AP All-American Second Team (only freshman on any of the three AP All-American teams)
– USBWA All-American Second Team
– Finalist for Lisa Leslie Award and the Naismith Defensive Player of the Year