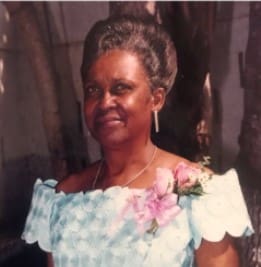 Elizabeth M. Lawrence, better known as "Liz," of Elizabeth's Kitchen died on March 14. She died at the age of 85 in Houston, Texas.
She is survived by her brother, Neil Lawrence of Dominica; daughters: Eleanora "Jennifer " Soldiew, Hermia Alcide, Jillian Williams, Edwina Marie, Caron J. Berry and Charlene Bowery-Benjamin; sons: Albert "Shima" Lawrence, Eustace "Shanty" Gillon Jr., Roy Frampton and Marcus Monroe; sons-in-law: Alexis Soldiew, Wayne Harvey, Peter Williams, Robert "Bobby" Berry Sr. and Edward "Bumma" Benjamin; adopted sons: Harrison "Harry" LaRonde and Dan "Danny" Dailey; 32 grandchildren; 55 great-grandchildren; nine great-great grandchildren; and many other relatives and friends too numerous to mention.
A funeral service will be conducted at a later date.