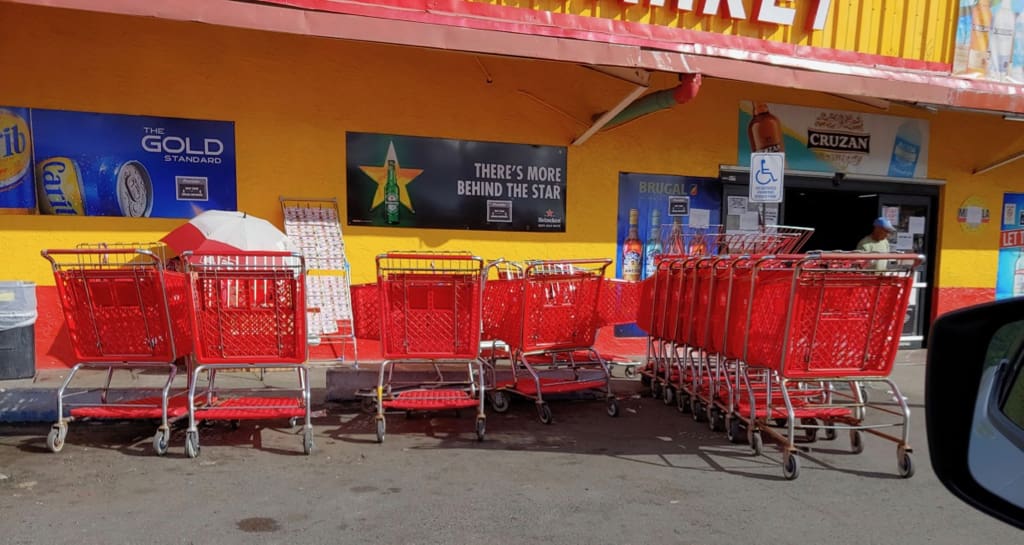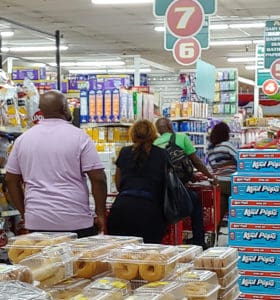 Licensing and Consumer Affairs Commissioner Richard Evangelista called a teleconference Wednesday with some of the major grocery retailers in the territory to try and get ahead of what he and Gov. Albert Bryan Jr. fear will be a major social distancing disaster April 1, when Supplemental Nutrition Assistance Program (SNAP) cards are renewed for the month.
Among the best practices suggested by Licensing are:
– Limiting the amount of essential supplies purchased per customer and allowing only a certain number of customers to shop at a time;
– Establishing dedicated time slots for senior citizens, expectant mothers, people with disabilities and those with high risk diseases to shop;
– Pressure washing shopping carts daily;
– Establishing six feet of separation between customers at each cash register and only using every cash register when necessary, opting instead to use every other cash register; and
– Providing gloves and hand sanitizer to customers.
After observing a cashier coughing without covering her mouth or wiping off the conveyor belt where groceries are placed and then seeing people and shopping carts gathered willy nilly at the bottom of the ramp at Pueblo Supermarket in Sub Base St. Thomas late Saturday morning, the Source decided to take a firsthand look at other grocery stores on Saturday afternoon and Sunday.
At Moe's Fresh Market on St. Thomas waterfront, there were a few people gathered in front of the store. Inside, hand sanitizer dispenser was found on a wall near the entrance, which has an automatic door. Two homeless men hung nearby, but at a distance from the smattering shoppers coming in and out of the store.
Pueblo Long Bay had tape on the sidewalk out front and a security guard letting the very few people in line outside enter only as customers exited. Inside, the only option for sanitizer was a man wearing a black T-shirt marked "security" offering only those who asked a wipe pulled with a pair of tweezers from a package marked "baby wipes." One cashier was wearing a mask while several wore plastic gloves.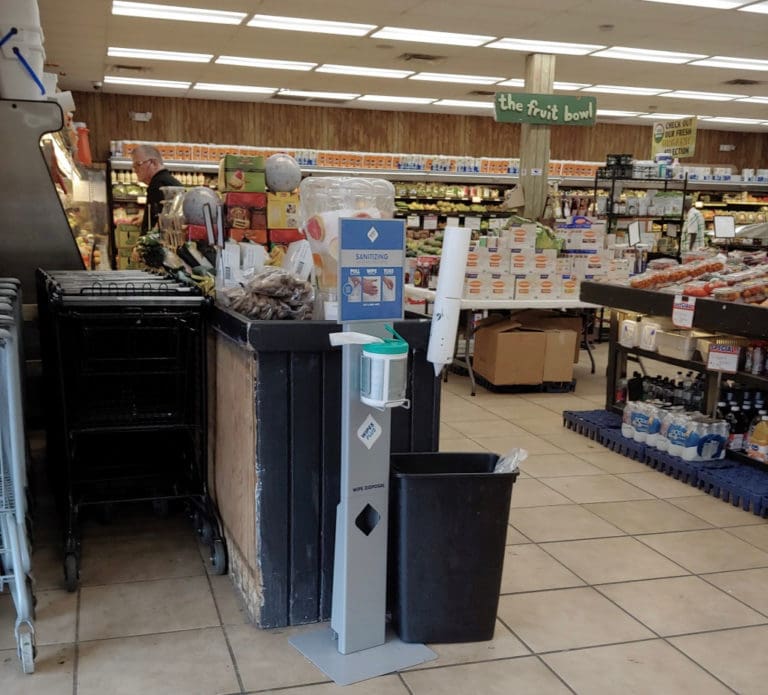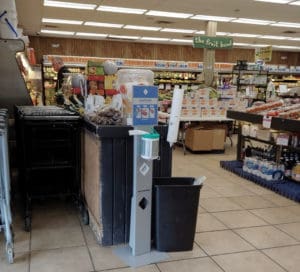 At Fruit Bowl in Wheatley Center on St. Thomas, a sanitizer wipes container remained fastened where it has been for about 15 years, next to the grocery carts, long before COVID-19 was a thing.
At Cost-U-Less on Sunday, there were hand wipes at the entrance and an employee wearing a bandana covering her mouth asked if we needed a hand wipe. At the cashier entry lane a security guard held out a bottle of hand sanitizer offering to pump some into our hand.
We were made to wait behind a line at least six feet from the register where cash was placed in a plastic receptacle by anyone paying with paper money.
Plaza Extra had hand wipes close to the entrance where customers could see them if they were looking for them.
None of the stores surveyed offered free gloves, but Cost-U-Less and Plaza Extra personnel said when asked they were available for sale.
With the exception of Pueblo Sub Base, all locations had markings on the floor several feet apart to encourage social distancing.
None of the stores surveyed except Fruit Bowl had wipes near the grocery carts.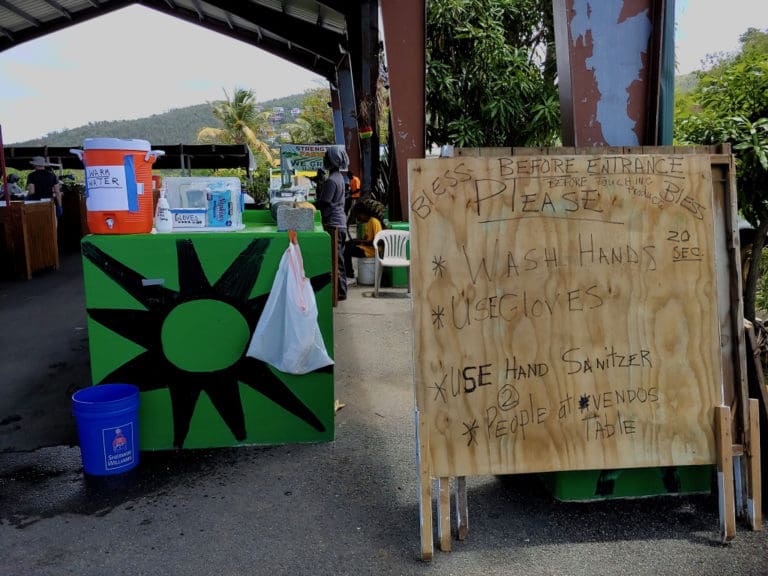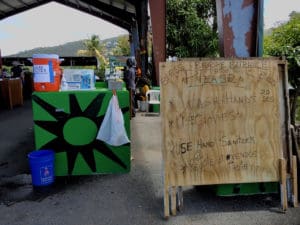 Notably, the one place that complied completely and beyond was the Bordeaux farmer's market on St. Thomas's west end, where the few shoppers Sunday morning were greeted with a large makeshift plywood sign reading in part "Before Entrance, before touching produce Please *wash hands 20 sec, * use gloves, *use hand sanitizer, 2 people at vendor tables."
Next to the sign a table held warm water, soap, hand sanitizer and plastic gloves.
Farmers had reached this conclusion on their own since they were not part of Wednesday's briefing.
"When are people going to take this thing seriously," said Benita Martin, 2020 Farmer of the Year.
Evangelista said for purposes of the teleconference he focused on inviting the big stores most likely to be flooded with customers on April 1. They were: On St. Croix – Cost-U-Less, Plaza East, Seaside, Plaza West, Pueblo La Reine, Pueblo Golden Rock, Food Town, Stop & Shop and Quality Foods. On St. Thomas Pueblo, Cost-U-Less, Plaza Extra and Moe's, were invited and on St. John Dolphin Market and Star Fish Market.
Evangelista said he did not discuss penalties or fines with the participants.
"There are no measures in place to force grocers to comply," he said, adding, "All grocers communicated that they each had plans that are in place or would put them in place."
Though far from ideal, the Source saw efforts being made in most cases over the weekend, when there were very few shoppers. It will remain to be seen how safeguards will measure up on Tuesday, which Evangelista said was of deep concern.
The other concern, voiced by the DLCA commissioner Sunday was that price gouging stateside is going to have a ripple effect on the Virgin Islands and prices are expected to as much as triple, leaving an already poverty-stricken community in a grave condition.
A Reuters article reported U.S. egg prices hit record levels as pandemic buying boosted demand. Evangelista pointed to news reports that reported wholesale egg prices have tripled in the wake of COVID-19.
"There is nothing local grocers will be able to do except pass on the price increases that are bound to come," he said.