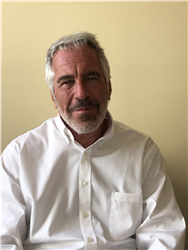 A prominent figure in the sordid saga of deceased pedophile Jeffrey Epstein is suing his estate. The plaintiff, Ghislaine Maxwell, is accusing executors of Epstein's estate of ignoring her requests for help in paying legal fees.
Maxwell, 58, filed a complaint in Superior Court on March 12 against the estate and executors Darren Indyke and Richard Kahn. An attorney representing the plaintiff said she decided to sue after getting no response to a written request for funds to cover costs incurred due to her association with Epstein.
The plaintiff is seeking an undisclosed sum to cover the cost of legal services, security and providing a safe place to live. Maxwell claims she knew nothing about Epstein's wrongdoing, although in the same document, she admits receiving money from him on two occasions when she had to pay legal fees after being implicated by two sex abuse victims.
Epstein, a financier, used a portion of his wealth — estimated at $577,672,654  — to buy two cays between St. Thomas and St. John. Maxwell claims she worked as Epstein's property manager for holdings in the U.S. Virgin Islands, New York, New Mexico, Florida and Paris.
The lawsuit describes a business relationship between Epstein and Maxwell dating back to 1999, lasting roughly seven years. But victims of Epstein's sexual abuse, who have spoken to newspapers in the U.S. and the U.K. accuse Maxwell of acting as an accomplice.
Maxwell's filing said the relationship between her and Epstein changed about five years earlier when he was accused of soliciting a female minor for prostitution. That accusation produced a guilty plea in a Florida court in 2008.
At the time of his death on Aug. 10, Jeffrey Epstein was being held at the Manhattan Correctional Center on charges of sex trafficking.
According to the complaint filed in the Superior Court Civil Division on March 12, Maxwell was assured by Epstein that he would take care of her financially, in writing, as early as 2004. Those assurances materialized in 2009 and 2017 when the late financier paid Maxwell's legal fees when Virginia Roberts said she was one of Epstein's young victims.
Financial support to cover fees and expenses also materialized when Sarah Ransome — known as Jane Doe 43 —  sued in 2009. The filing alluded to further assurances made by one of the people now serving as an executor.
"Indyke, in his capacity as an Executor of the Estate, also made assurances to Maxwell that Maxwell's legal fees and expenses would be reimbursed by Epstein and the Estate, and that Maxwell's legal fees and expenses would be paid going forward," the document says.
There was no indication when that statement was made, but the next event in the chronology listed was Epstein's death on Aug. 10, 2019.
Now, the plaintiff says she faces additional legal costs based on a continuing string of lawsuits, including the civil suit filed by the V.I. Department of Justice on Jan. 15. Attorney General Denise George announced the legal action at a St. Thomas press conference. The suit seeks to secure enough funding from a victim's compensation fund set up by the law firm representing the estate to assist sex abuse victims who came forward to accuse Epstein up to and immediately after his death.
George says the fund must also have sufficient funds to compensate any victims who file claims years from now. Justice Department spokesperson Sandra Goomansingh was asked how the agency viewed Maxwell's attempt to draw compensation and indemnification from the estate where there's a controversy about her status as a victim or an accomplice.
There was no immediate comment from Justice.