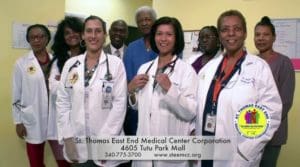 The St. Thomas East End Medical Center Corporation (STEEMCC) has chosen Dr. Barbara Giles Douglas to be interim medical director on April 1.  Dr. Douglas has practiced internal medicine at the center for more than 10 years and comes with a myriad of experience ranging from previously serving as acting medical director for both the St. Thomas East End Medical Center and the STD/TB/HIV Clinic on St. Thomas, as well as management of her own practice for 23 years.
A graduate of University of Pennsylvania and Temple University School of Medicine, her many accomplishments also include certification from The American Academy of HIV as an HIV specialist and The American Board of Internal Medicine.
"Dr. Douglas brings a wealth of knowledge and leadership ability to our portfolio as the interim medical director" said Moleto Smith Jr., executive director. "On behalf of the board, our staff and myself, I extend full confidence in Dr. Douglas' appointment and her commitment not only to our patients but also to the future success of STEEMC."
For further information, contact Lisa Webster, public relations officer at 340-775-3700 ext. 2053 or via email at [email protected].