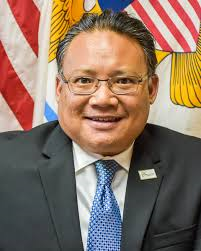 On March 13, Gov. Albert Bryan Jr. declared a State of Health Emergency in the United States Virgin Islands, and the Department of Licensing and Consumer Affairs simultaneously issued a price freeze order on items and services related to the prevention and spread of COVID-19.
The freeze is at the price level existing immediately prior to the proclamation of the state of emergency in order to protect the residents of the territory from price gouging and other unfair business practices.
"To protect consumers, we have requested retailers to submit a current list of their inventory with prices and expected delivery of future inventory," said Department of Licensing and Consumer Affairs Commissioner Richard Evangelista.
Commodities covered under the COVID-19 State of Emergency include:
Protective masks used to protect people from others if they are sick
All personal protective equipment, including gowns, booties, gloves and other protective gear
Sanitizing and disinfecting supplies, such as hand sanitizer, gel, wipes, cleaning supplies for surface cleaning and all commercial cleaning supplies (For example: Clorox, Lysol, vinegar, aloe vera, rubbing alcohol)
Toilet paper and other paper wiping products
Dettol and any other hand or body washing soap
Water
During this uncertain time, DLCA commends businesses for doing its best to maintain inventory at fair prices. Businesses should continue to submit price lists, to adhere to the price freeze and know that they have an opportunity to petition for price increases prior to increasing prices with essential support for cost changes justifying an increase.
Please note that a price freeze does not mean that a business cannot lower their prices based on decreased cost changes. The freeze is a ceiling on current prices to protect consumers from unfair pricing. Price lists can be emailed to miguel.tricoche@dlca.vi.gov.
The DLCA shall continue to monitor the situation and revise the above list as necessary.
For more information on COVID-19, the new strain of coronavirus, visit the USVI Department of Health's website: www.doh.vi.gov/coronavirus or text COVID19USVI to 888777 #COVID19USVI