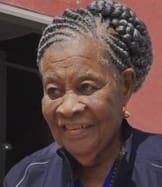 Anne Marie Wilson, affectionately known as "Juliana, Julie, Julia, and Ms. Ju" was born in St. Lucia. She went to be with the Lord, on February 15th, in Houston, TX, at the age of 81.
She was born on August 2nd, 1938 on the island of St. Lucia. She moved to St. Croix, in 1969, where she lived and worked for 40 years. In St. Croix, she was a member of the Holy Cross Catholic Church and worked in the hotel industry for several years at Barrier Reef and Colony Cove Condominiums. Anne Marie was loved by all who had the privilege of meeting or knowing her.
Anne Marie is survived by her daughters, Verona Prout, Debbie Wilson, and Cathleen Ferrol; brother, Joseph Moses; grandchildren, Natasha Pettway, Ayesha Alleyne, Nicholas Henry Jr., Nicole Henry, Bronson Ferrol, Malcolm Ferrol, Neema Ferrol, and Alyssa Ferrol; great-grandchildren, Antonio Alleyne, Damien Alleyne, Ajani Pettway, Delvin Hendricks, Khaleesi Ferrol, Elijah Hendricks; son-in-law, Lincoln Ferrol; godson, Steve Jameson; and many other relatives and friends too numerous to mention.
Funeral Services will be held 2:30 pm, Friday, March 13th, 2020 at St. Peter's Parish in Dennery, St. Lucia.