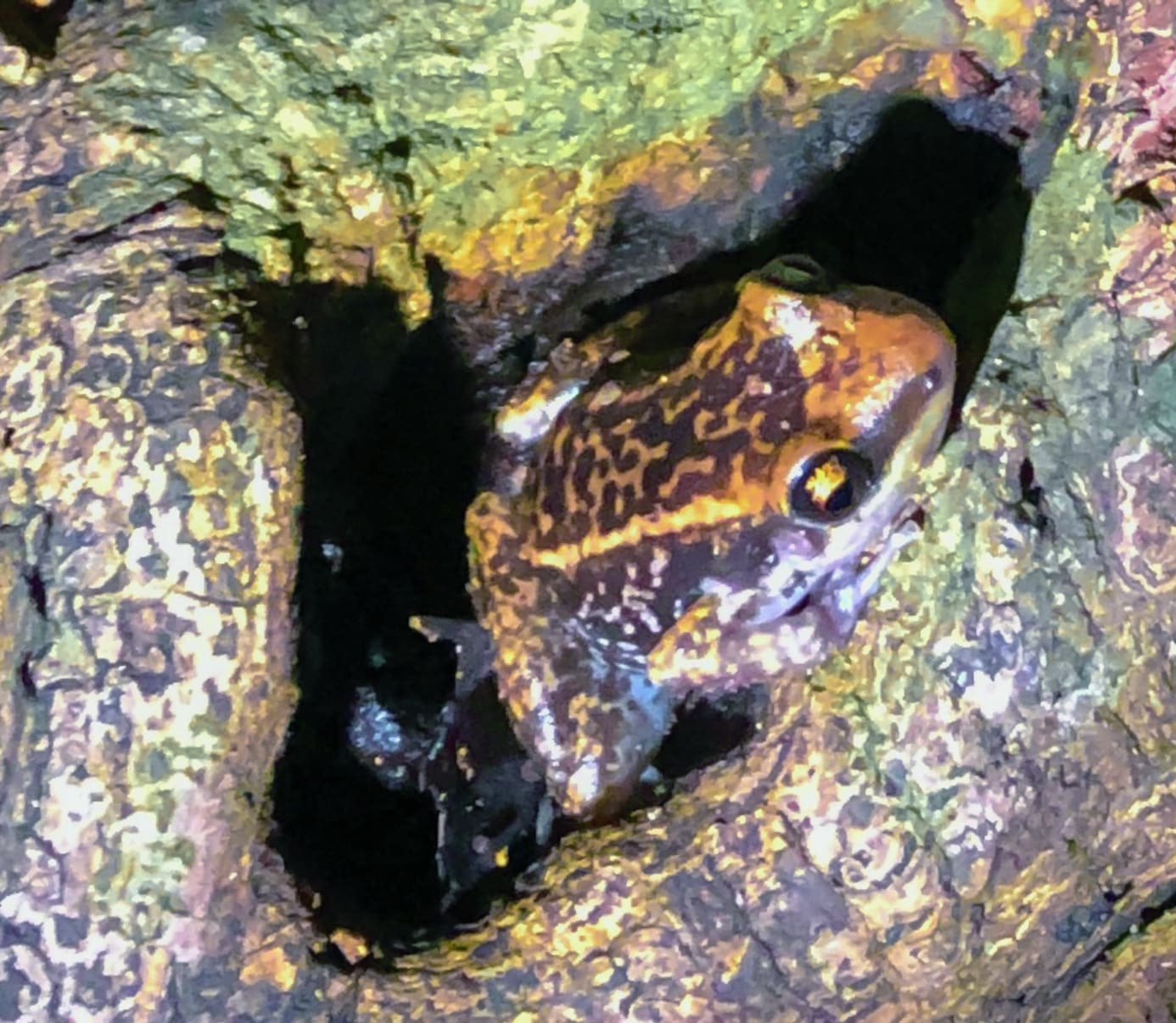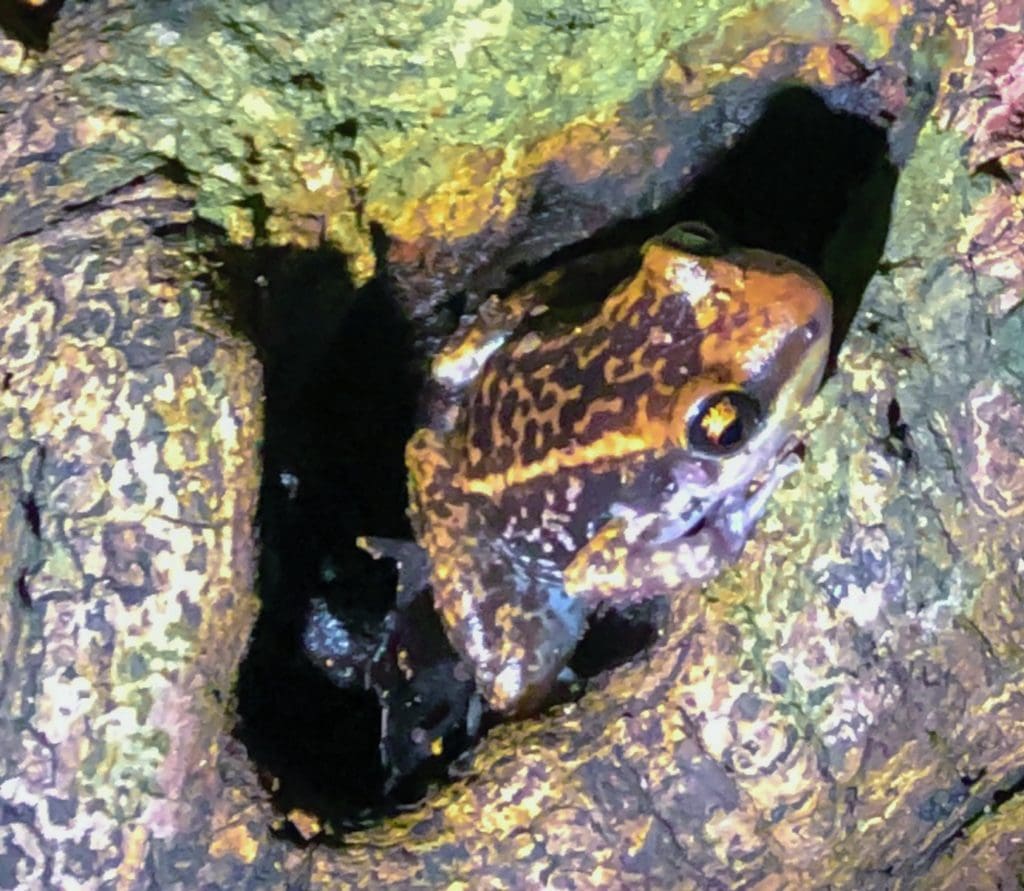 Rainy evenings can be very loud in the Virgin Islands, as male frogs call out in the night to declare their availability for mating, or to assert their territorial rights.
Despite their lusty roaring, the native tree frogs are quite small and hard for most people to see. However, when I went out hunting one night with frog expert Pearl Cales and her team of researchers, she was able to locate several of them within just a few minutes.
We were particularly looking for a type of native tree frog, Eleutherodactylus lentus, found only in the Virgin Islands woodland areas. It is a yellow mottled coqui, commonly known as a mute frog. While it is not really mute, it does have a call that is much softer than other local frogs.
Cales was excited to find a few of the mute frogs last year along a gut behind Cruz Bay. It was the first recorded sighting of these frogs on St. John since 2004, when they were seen near The Westin.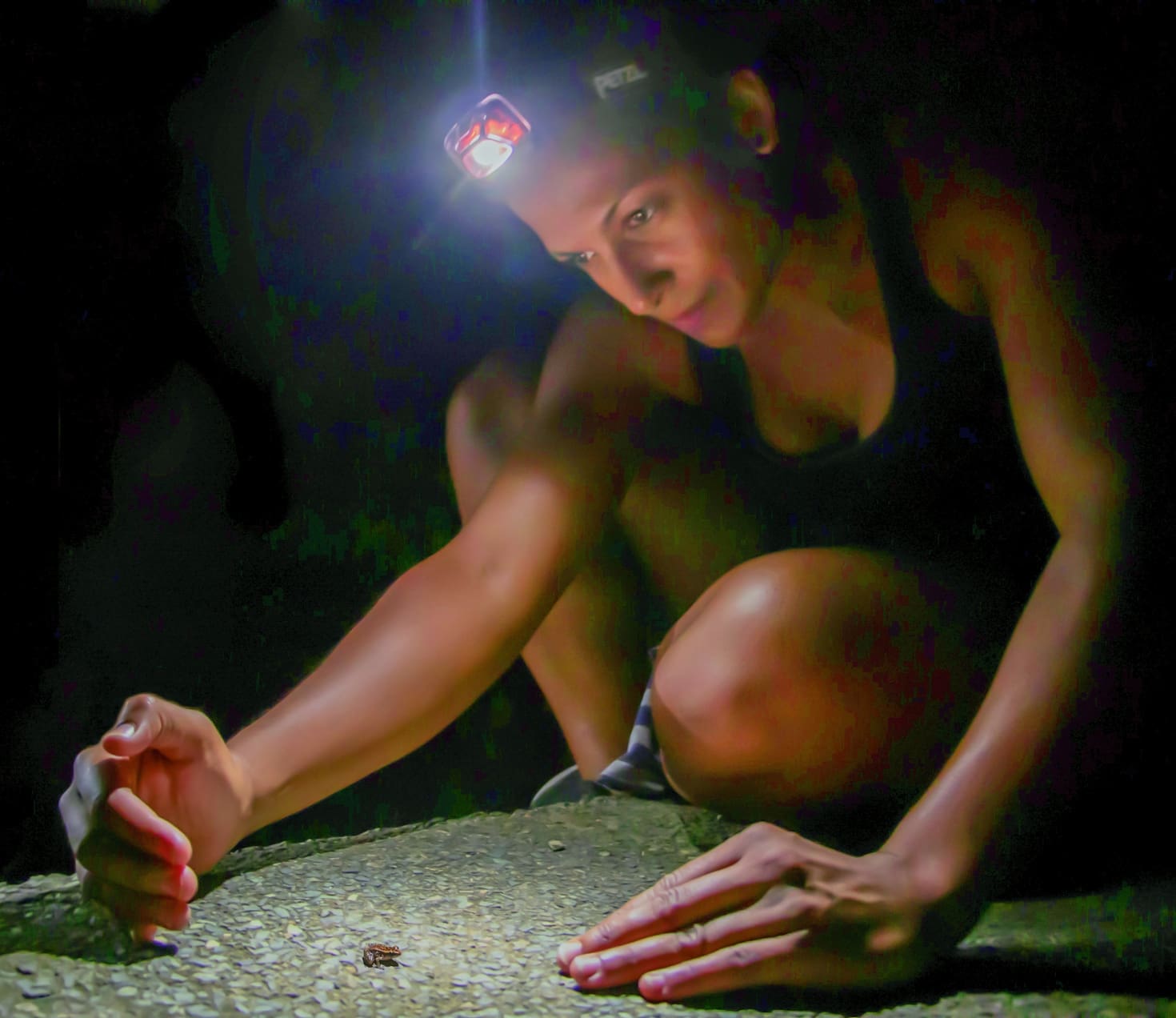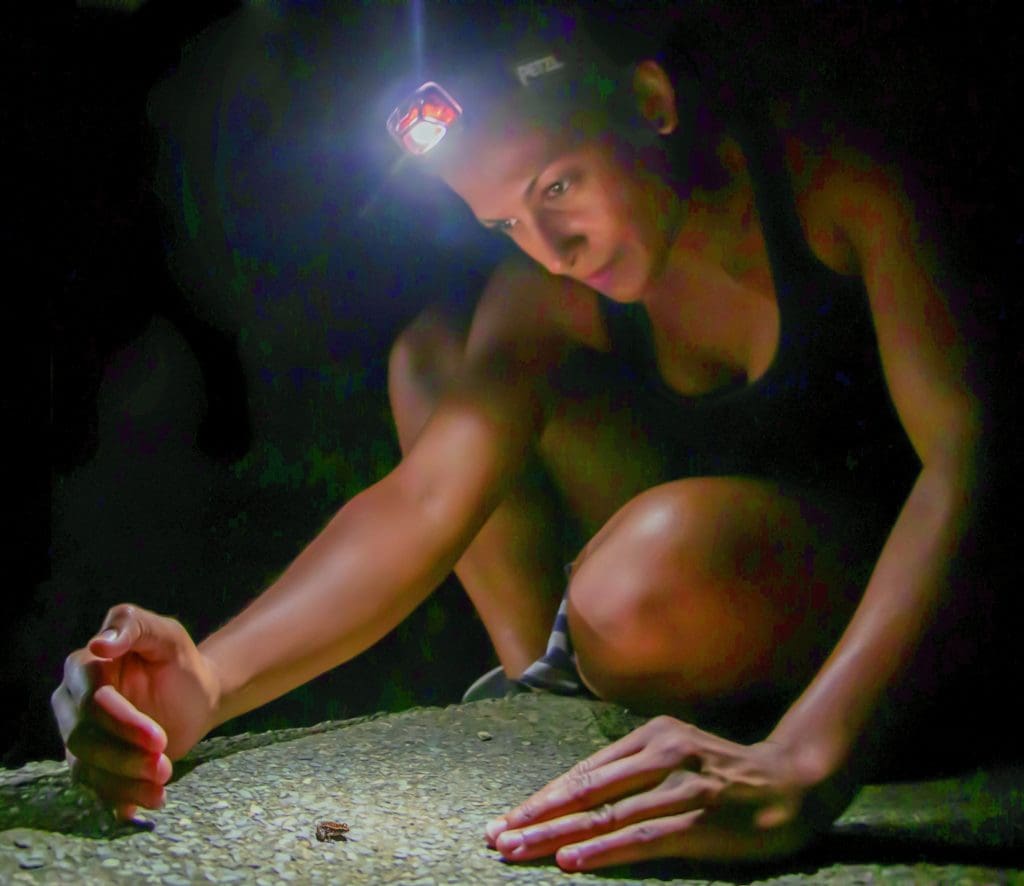 Cales was hoping the mute frogs were still around.
Wearing our headlamps, we walked carefully along the trail until Cales quickly spotted one of the frogs sitting on a log, very close to where she saw them last year. I was happy that the frog didn't seem scared and sat still for a while so I could get a close look, and a photo.
There are more mute frogs on St. Thomas and St. Croix, but they have all suffered from habitat loss, particularly where land has been cleared for roads, houses, tourism and agricultural use.
In 2004 these Virgin Islands mute frogs were listed as endangered by the International Union for the Conservation of Nature.
Eleutherodactylus frogs evolved to survive in forest habitats, rather than ponds. During the rainy season, they lay their eggs in ditches or bromeliad plants, or on wet leaves on the ground (which is what the mute frogs do). The developing frogs go through their tadpole phase inside the tiny egg and hatch as miniature grown frogs.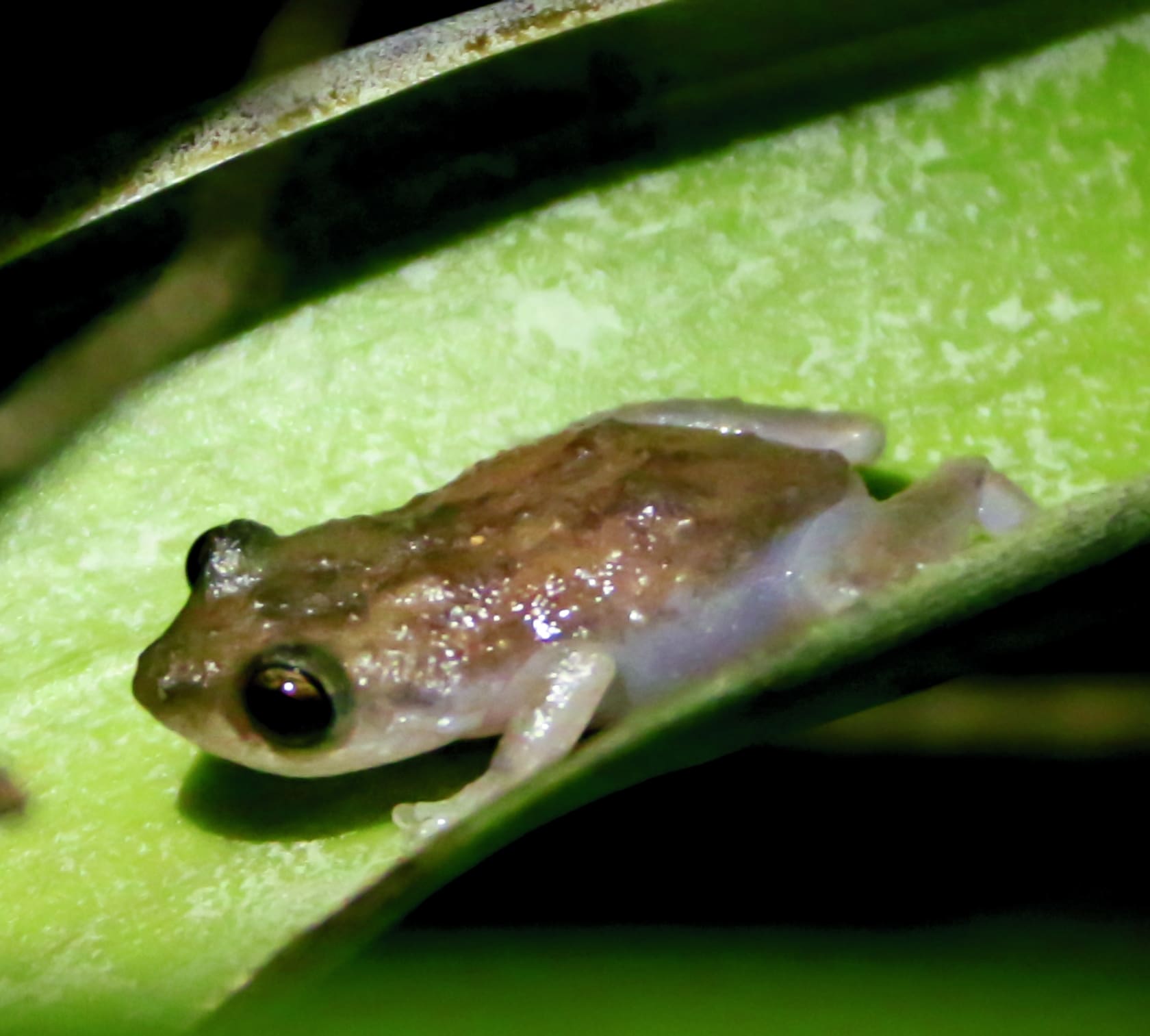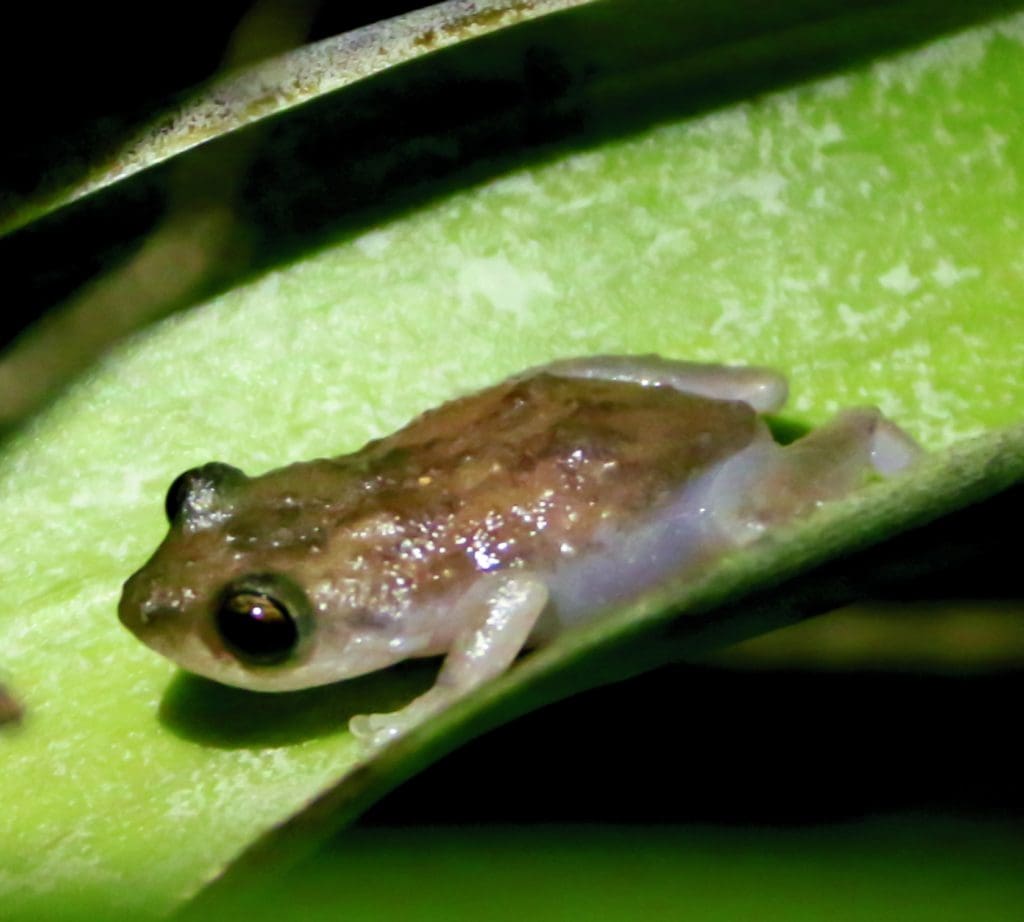 Cales received a grant this year from the Friends of the Virgin Islands National Park to support her research. She will gather more information about how many mute frogs are living in St. John's Cruz Bay area and what sorts of habitat they prefer. She will also follow up on her earlier data collection studies. For six years she has been conducting 'roadside listening' surveys to document the calls and population numbers of native frogs on St. John, including the red-eyed coqui (Eleutherodactylus antillensis), the whistling coqui (Eleutherodactylus cochranae) and the Caribbean white-lipped frog (Leptodactylus albilabris).
Cales's goal is to provide a baseline for protecting the endangered mute frogs, as well as other types of native frogs.
"Data gathered from this project, and our prior work over the past years, will help support future preservation efforts in the Virgin Islands," said Cales. "Conservation is the ultimate duty we, as scientists, owe to species around the world. Public outreach and education is critical for that work."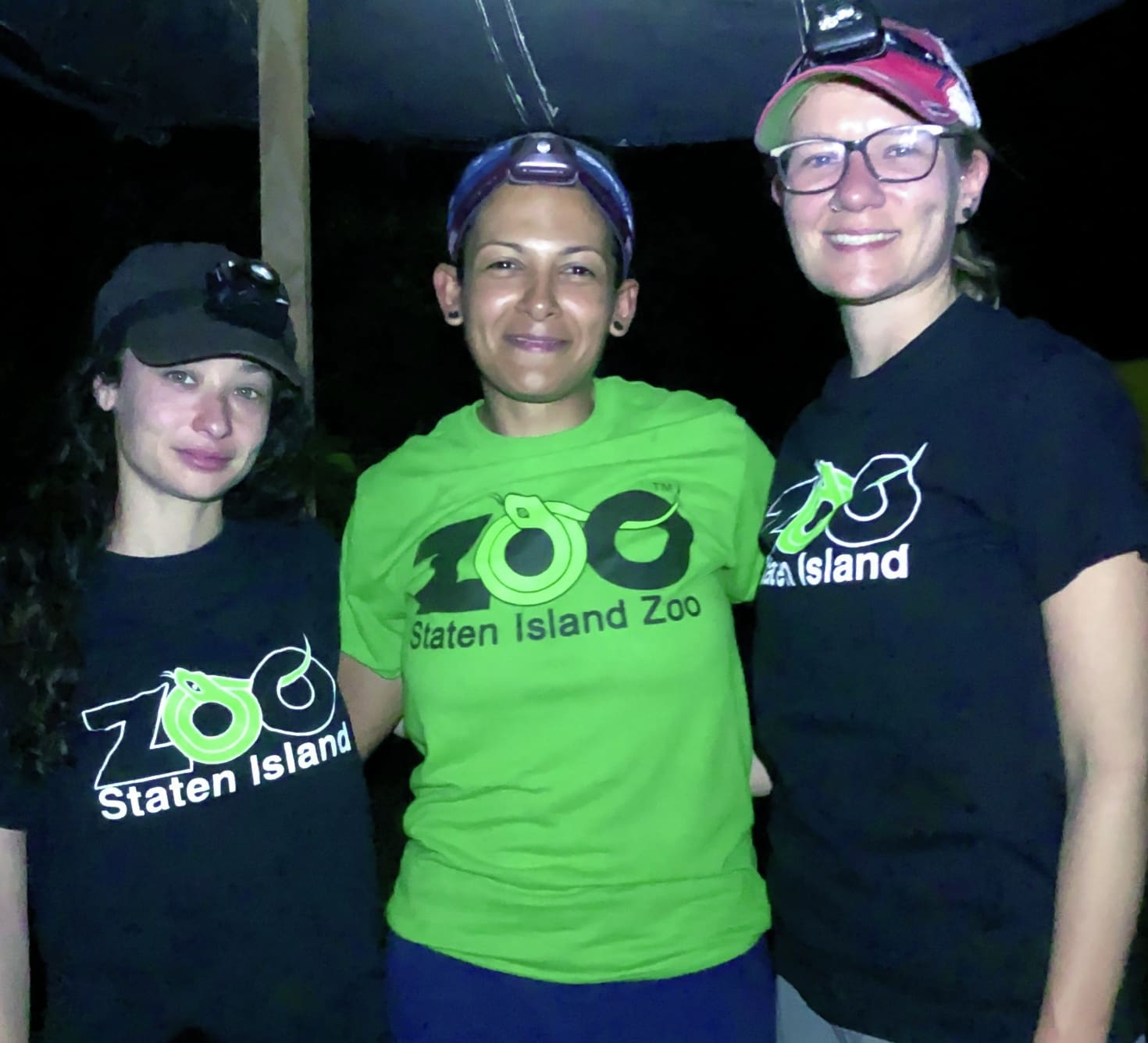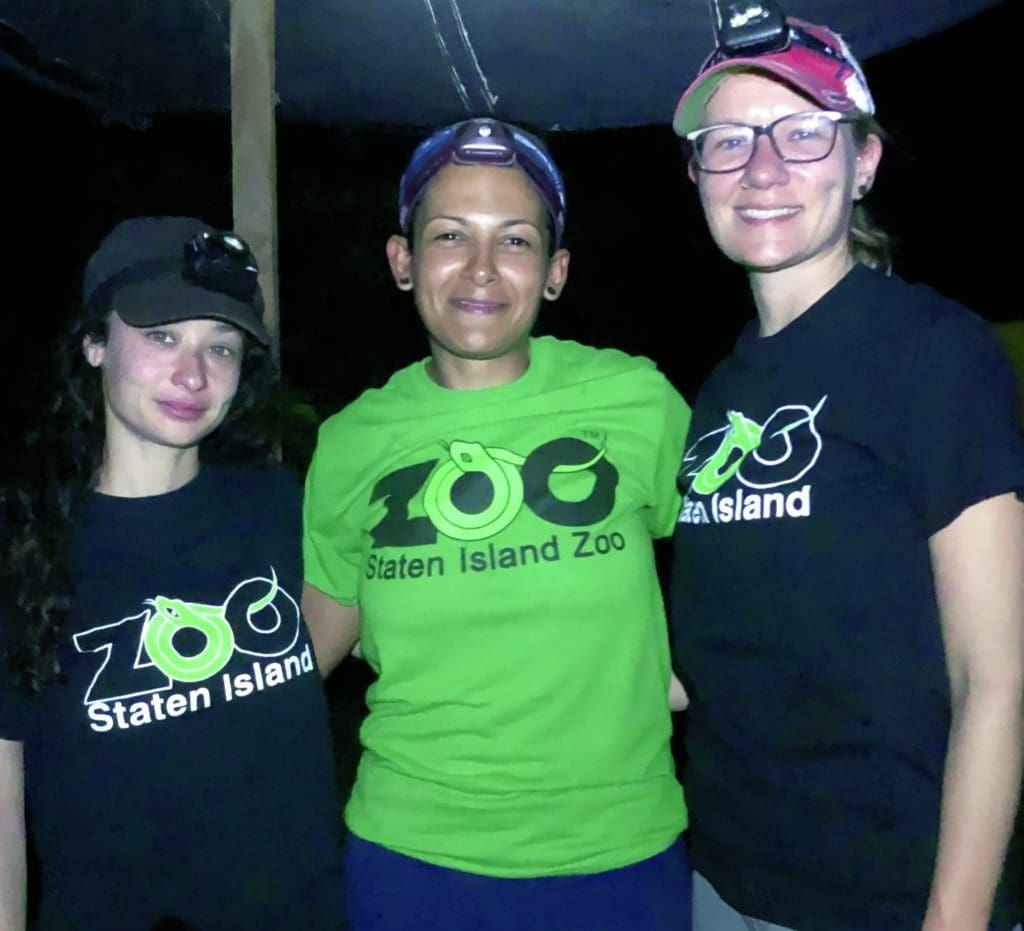 One particular threat comes in the form of large, non-native cane toads. They are voracious eaters, consuming anything they can fit into their mouths, including smaller frogs. A couple of years ago some of these toads were found very close to the gut where the mute frogs live in Cruz Bay, and nearby residents have been alerted to watch out for them.
Cales first came to the Virgin Islands in January 2014 for an undergraduate course in Tropical Ecology taught by Richard Veit, a professor at the City University of New York in Staten Island. She is expecting to receive her master's degree in Environmental Science in June 2020, and is currently working at the Staten Island Zoo, which is also supporting her Virgin Islands frog research.
Gail Karlsson is an environmental lawyer, writer and photographer – author of The Wild Life in an Island House, plus the guide book Learning About Trees and Plants – A Project of the Unitarian Universalist Fellowship of St. John.