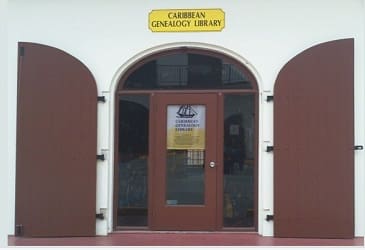 Beverly Chongasing and Roy Watlington showed how volunteers work with members to learn more about family histories during a demonstration at the annual meeting of the Caribbean Genealogy Library.
The meeting was attended by 24 of the group's 45 members at the library's location in the Al Cohen's Plaza on Raphune Hill.
The projects took hours of volunteer time but shows what the library can do to help track family history.
Chongasing tracked her great-grandfather, Jean Joseph Sibilly, with the help of volunteers at the Caribbean Genealogy Library, figuring out all of his community contributions, arrival date, career path and family history.
Sibilly's contributions include donating land for a church and roads on the north side of the island. He also helped build Sts. Peter and Paul school.
The process started by locating Sibilly's birth records from St. Barths and then the marriage records of his parents, which added two generations to the initial family tree provided by Chongasing and tracked the family history back to France.
Watlington's tracking began with a 115-year-old letter between family members. The letter was 12 pages long and had a lot of last names and family connections that helped Watlington gain more understanding of his heritage.
Watlington said the letter shows that "he isn't a Frenchie but maybe a Swedie."
The authenticity of the letter was confirmed by the Caribbean Genealogy Library by looking at newspapers to confirm family members that were spoken about as actually leaving around the same time.
Newspapers in the past were a key for travel as they announced who left and came into certain towns.
The 1901 census also shows those discussed in the letter and confirmed occupations that were discussed in the letter.
The library's president, Sophia Aubin, traveled to St. Barths to assist both of these cases and made connections with genealogy researchers to further research the family histories.
The Caribbean Genealogy Library's mission to identify, preserve and provide access to Caribbean genealogy, history and cultural heritage information resources for the Virgin Islands and the Caribbean. The library houses unique and rare books on Virgin Islands history and culture, funeral booklets, microfilms and provides access to church records and other documents.
The library is run by volunteers and is funded by memberships dues and donations.
Membership to the library provides access to the library's collections and events and workshops as well as help with research about members' family history.
Memberships start at $40 and interested people can register online at CGL Membership.
More information can be found on the library's website.