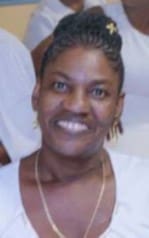 Maudleen Baron Nicholas died on Dec. 21, 2019, at Jackson Memorial Hospital in Miami, Fla.
She was preceded in death by her father, Reid Baron; and sister, Valentine Thomas.
She is survived by her mother, Marie Roach Baron; son, Khadie Henry; son-in-law, Steve Letang; daughter, Thora Henry Letang;  brothers: Etienne, Johnson, Phillip, Franklin and Joseph Baron; sisters: Noeline and Ulica Baron; uncle, Thomas Baron; aunts: Pauline "Mayron" Jolly and Victoria Athanase; grandchildren: Taiya and Sahid Letang; and nieces, Brenda and Connie Liverpool, Prisca JohnRose, Sophie Harper, Lisha Leatham, Shellie, McNairline, Natalie, Christelle, Reon, Rainier, Tedina, Montex, and Lynn Baron, and Lauren Johnson.
She is also survived by nephews: Alleyne Liverpool, Gael Leatham, Ziggy, Jullson and Denrick Baron, and Dwayne Johnson; cousins: Augustina Henry, Ella "Chris" Athanaze, Martha, Helen and Clement Jolly, Magdalene Baron St. Luce, Seello Baron and many more too numerous to mention.
Special mention to the Howe family, Bedford family, Marriott's Frenchman's Reef and Morning Star Beach family, the staff of Jackson Memorial Hospital in Miami, Fla., East End Medical Clinic, Roy L. Schneider Hospital, and all family and friends who sent prayers and well wishes.
A Celebration of Life Memorial Service will be held at 2 p.m., Saturday, Jan. 25, at Turnbull Funeral Chapel. Wear cultural or festive attire.