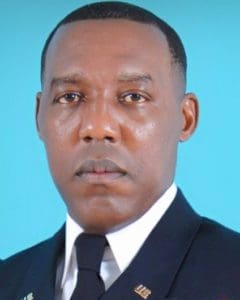 On Jan. 14, Police Commissioner Trevor Velinor announced the appointment of Lieutenant Mario Brooks as assistant police commissioner.
Assistant Commissioner Brooks has been with the Virgin Islands Police Department for 25 years, working in various sections of the department, to include the Special Operations and Criminal Intelligence bureaus. Brooks comes with 27 years of military experience; he holds the rank of major in the Virgin Islands National Guard. His current position is deputy inspector general, and he has served as the commander of the Military Police Detachment. Brooks has a bachelor's degree in psychology and a master's degree in business and organizational security management.
Police Commissioner Velinor said it was his honor to select Brooks as his assistant commissioner. "He is level-headed but passionate about public safety and serving the community. He exudes a humble disposition, and yet he does what is required to get the job done. After considering external and internal candidates, I found Brooks to be the right person to serve in this position, and I am elated that he accepted the call to continue service to our community," he said.