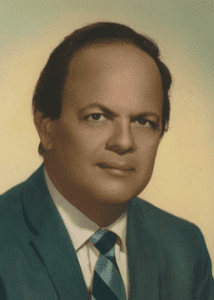 Miguel Angel Garcia, also known as "Mike," of Strand Street, Frederiksted, died on Dec. 25, 2019. He was 97 years old.
He is survived by his daughters: Ramona Garcia, Yvonne Garcia and Ivelisse Garcia Siles; grandchildren: Dianah O. Siles, Martin A. Siles, Maricela Noyola and Miguel A. Noyola; great-grandchildren: Ricky Prado, Noemi Prado, Gisella Prado, Emma Noyola, Lucy Noyola, Lucas Noyola and Elliot Noyola; brother, Luis Garcia; nieces: Elsa Garcia Escobar and Yvette Garcia Heredia; nephews: Christopher D. Frissora, Gregory F. Frissora, Manuel Garcia, Robert Garcia, Luis Garcia and Hugo Garcia; and other relatives and friends too numerous to mention.
A viewing will take place at 9:30 a.m. followed by a funeral service at 10:30 a.m., Monday, Jan. 13, at St. Patrick's Catholic Church, Frederiksted. Interment will be at Frederiksted Cemetery.