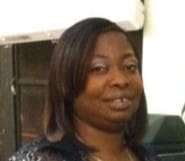 Jenifer Jackson died on Jan. 9, at the age of 53, at Schneider Regional Medical Center. She was a school crossing guard and a retired correction officer.
She was preceded in death by her father, Eric Lewis.
She is survived by her husband of 35 years, Jason Jackson; sons: Jemar, and Jemarson Jackson; mother, Josephine Castor; sisters: Juliet Gumbs, Theresa, Erica and Agatha Lewis; brothers: Anthony Castor, Julian Gumbs, Eddison Edwards, Walter Alexander, Erickson Lewis, Alex Lewis, Kim Lewis and Sherman Lewis; uncles: Gerard Castor (Balbo), Lambert, Clement and Victor Lewis; aunts: Shirley John Baptiste, Josephine Lewis and Aunty Vilna; and cousins: Gemma Felix, Henry Bruney, Kerge John Baptiste (Bentley),Ted Brezzy, Greshon, Wiesman, Gertrude, Wilnef, Gorgin, Santila, Proctor, Charleston Bruney, Rosna, Caroline, Decilia, Delivet, Maricel, Vernel, Verne and Tedler Breezy.
She is also survived by nephews: Alex Alexander, Alden Wattley, Rufus, Jerry, Latoya, Damian, and Nelson; very special friends: Bishop William Industrious, Pastor Angela Rawlins, Elder Dianne Coker, Minister Elsie Monsanto, Minister Shirley Thomas, Minister Francois, the Christian Unity Family, Jermaine and Fatum; and many more friends and families too numerous to mention.
Family and friends are respectfully invited to attend the first viewing from 5-7 p.m., Friday, Jan. 24, at Turnbull Funeral Home. The second viewing will be held at 10 a.m. followed by a service at 11 a.m., Saturday, Jan. 25, at Family Worship Center in Smith Bay next to Lindqvist Beach. Interment will be at Eastern Cemetery, Smith Bay.