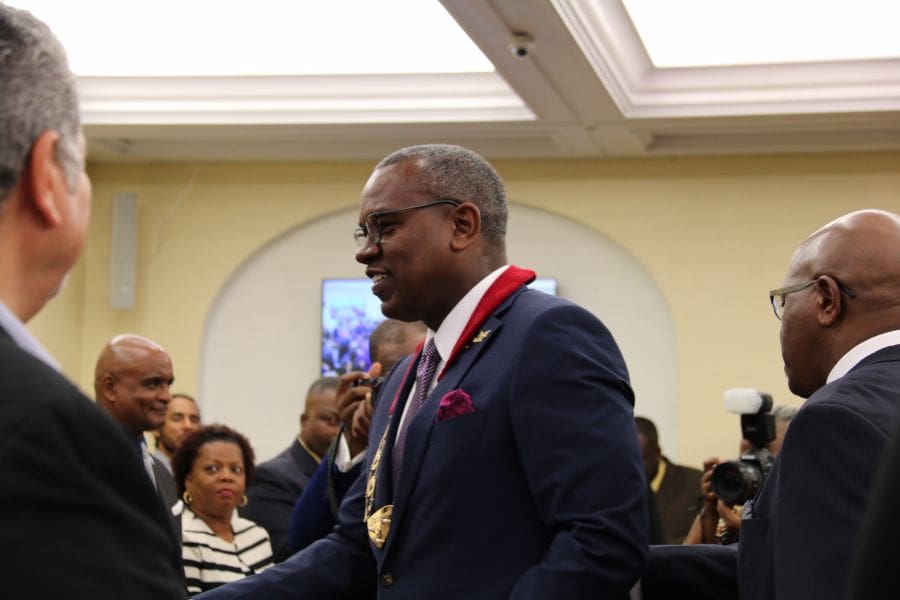 Gov. Albert Bryan Jr.'s second State of the Territory address was met with mixed reviews from senators, who described it Monday night as "enthusiastic" and "upbeat," but lacking details on education, crime fighting initiatives, progress in health care and agriculture, among other things.
Many of the lawmakers noted significant progress in several areas, including efforts to complete recovery projects that begun under the previous administration. While many said they had hoped the territory would be farther along the road to completion – specifically constructing permanent hospitals and schools instead of modular units – most also mentioned several challenges along the way, including meeting requirements on how the money awarded by the Federal Emergency Management Agency had to be spent.
Acknowledging that the recovery efforts were extensively discussed Monday, Sen. Marvin Blyden said he still also hoped to hear a little more about the projects the governor had put on his "Top 100" priority list, which he said would also give the Legislature the chance to see what they could do to help. Blyden applauded efforts to earmark a large portion of the recovery dollars for home repairs and rebuilding, along with a new roofing program, but suggested the administration begin rolling out a public information campaign on how residents can access those funds.
During his speech, Bryan made clear that the current boost to the economy was due in large part to the infusion of the federal recovery dollars. Senators said they had also hoped to hear what the plans were to keep the economy stable once the money is spent.
"We have to see more economic development overall, infrastructure building has been slow, and I hope that for 2020, we're going to see more plans for that, and how we're preparing for the next stage," said Sen. Donna Frett-Gregory.
Many senators said they were also "excited to hear" about new developments in the area of education, particularly the development of a K-12 school on St. John, which would mean students would not have to travel to St. Thomas, and the implementation of more early learning programs on St. Thomas and St. Croix.
Others, such as Sen. Janelle Sarauw added, however, that they would have liked to see more of the data supporting the development of those programs, such as reading scores and how students in the territory are performing overall.
"If we are going to push for a skilled labor force, like the governor mentioned, we need to focus on education," she said.
Frett-Gregory, a former Department of Education commissioner, also said that more details on certifications for students in school, which could keep many from dropping out, would have been helpful.
Applauding the governor's efforts in establishing a dedicated mental health care program and associated initiatives, many senators said they also would have liked to hear more about the advances being made in the construction of new hospitals and making sure patients do not have to leave the territory for treatment.
"Advances are being made, but not fast enough, not with the challenges we have after two devastating hurricanes," said Senate Vice President Myron Jackson. "Our residents, for example, shouldn't be leaving to get cancer treatment outside the territory. The [Charlotte Kimelman] Cancer Center should have been up and running by now."
Addressing the financial crisis facing the Government Employees Retirement System, Bryan also spoke Monday about his administration's push for the development of the medicinal cannabis industry and its potential for revenue generation. Speaking after, senators said that while there's overall support for the amendments – which would expand the existing Medicinal Cannabis Patient Care Act – there are still holes that have to be filled, and three more nominees to be named to the board that governs its regulation.
"It is not drafted properly as is, and there is still a lot of discussion that needs to be had," Blyden said. "It's a good bill, but it must be a good bill that's done the right way."
The majority of senators also said they wanted to hear more details on the current state of the V.I. Water and Power Authority, and what is being done to hold accountable its officials and board members. In his speech Monday, Bryan said the administration is "committed to hiring a project monitor in the Office of Disaster Recovery with the requisite experience to keep WAPA honest and on track," and senators said they were waiting for more details on the logistics and responsibilities of that position.
"There are bread and butter issues, like the crisis we are facing with WAPA, where there was no clear connection on how what is being proposed affects the average citizen," Sen. Alicia Barnes said. "We are ready as a body to bring forth several initiatives, such as a ratepayers bill of rights, a set of requirements for board members and a Levelized Energy Adjustment Clause reduction plan, and for each of those, we can clearly articulate how it will bring relief to the average citizen. There needs to be clearly defined paths forward."