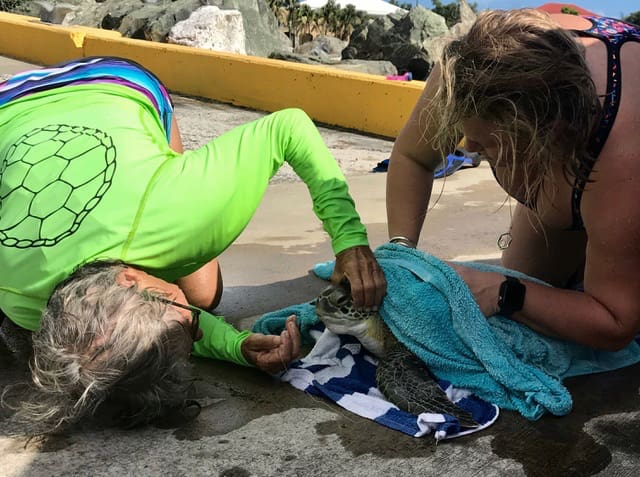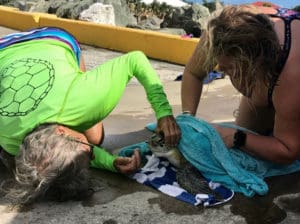 Just a month after being rescued from under the Frederiksted Pier, bound in fishing line, a young green turtle nicknamed Josephine was returned to her home waters safely Tuesday by biologists from both the U.S. and V.I. Fish and Wildlife agencies.
The four- to eight-year-old turtle was one of three seen by divers around the pier tangled in monofilament in the last month. The other two were freed more easily, but Josephine had ingested up to seven feet of line and needed more help, according to Claudia Lombard, U.S. Fish and Wildlife biologist.
Lombard, Nicole Angeli, acting director of V.I. Department of Planning and Natural Resources Fish and Wildlife, and volunteer Donna Boles carried the turtle from under the pier where she was sitting on a sponge to the surface. Fishing line trailed from her mouth and caused the biologists to worry that a snag on the bottom would hold the turtle underwater until she drowned.
The three women successfully removed the flailing turtle from the water and transported her to the St. Croix Animal Welfare Center.
Josephine spent her convalescence at the SCAWC under the care of veterinarian Michelle Mehalick and several turtle biologists who offered advice from stateside locations. She was kept in a tank supplied by the University of the Virgin Islands and fed barium along with sea grass harvested by volunteers, hoping it would cause her to expel the plastic line. After three weeks, Lombard said the line moved through the digestive track – the progress followed on daily X-rays – and was finally totally eliminated a few days ago.
Before releasing Josephine to the sea on Tuesday at Frederiksted Beach, three identifying marks were implanted – a microchip and another tag in a flipper to identify her should she return to nest in the future. Angeli also painted a number with nail polish on her shell to alert divers of her presence and delicate condition. The nail polish will wear off soon, Angeli said.
Angeli, Boles, Lombard and biologist Sean Kelly of the Department of Planning and Natural Resources, carried the turtle to the shore and released her during a light rain Tuesday afternoon. Boles and Angeli stood in knee deep water with masks and snorkels to follow her, but Josephine did not wait for them and bolted out to sea.
The biologists said residents who see turtles in trouble should not attempt to help them, but call Fish and Wildlife at 340-773-1082, or the Sea Turtle Assistance and Rescue 24-hour hotline at 340-690-0474.
Fishermen are asked to remove all fishing line from the water and deposit it in a receptacle for that purpose on the Frederiksted Pier, the Molasses Pier and at Altoona Lagoon.