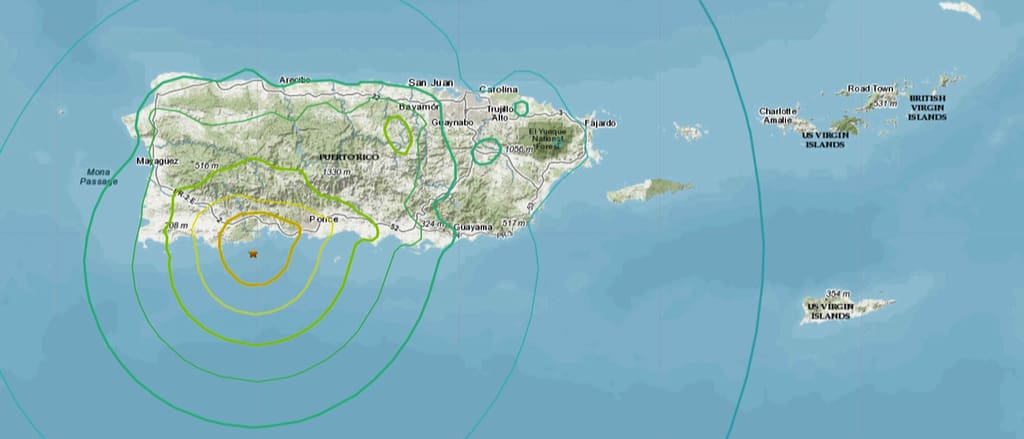 Update: Eyewitness account on St. Croix:
A severe earthquake registering a 6.5 on the Richter scale, struck Puerto Rico at 3:24 a.m. Tuesday, damaging homes, blocking roads, causing landslides and causing at least one fatality.
Sean Skerrette, a chef at Un Amore in Five Corners outside of Christiansted, was one of the few on St. Croix up at 4:30 a.m. to feel the temblor, reduced in intensity by distance when it hit the USVI.
"I was watching the news around like 4:30 and I could feel it. At first, I didn't register what it was. I could feel the vibration, like the couch shaking. That's when it hit me, we were having an earthquake," Skerrette said.
"It lasted for about six to ten seconds, and three minutes later I felt a little jolt, an aftershock. It felt like an earthquake to me because I've been in one once before in Trinidad. And around 5:30 the news came on and said there was an earthquake in Puerto Rico. That was my confirmation. … I've been here for years and this is the first time I've actually felt one."
According to the V.I. Territorial Emergency Management Agency, there was no tsunami threat and no damages or injuries had been reported in the USVI.
The U.S. Coast Guard is responding to the quake and issued a statement Tuesday morning saying all USVI and Puerto Rico ports remain open and no search and rescue activities are ongoing.
Coast Guard Sector San Juan and Air Station Borinquen have activated their Incident Management Teams, which are communicating with local and federal agencies.
Coast Guard port assessment teams are visiting all federal regulated maritime port facilities in Puerto Rico to assess any potential damage, especially in facilities on the south and southwest coast of the island.
Coast Guard port assessment teams aboard MH-65 Dolphin helicopters from Air Station Borinquen also are conducting overflight assessment to identify any potential signs of pollution in the water or damage to port infrastructure and navigable waterways.
As of noon Tuesday, no incidents of pollution had been reported to the Coast Guard.
Source reporter Linda Morland reports some people are unable to move or get out of Puerto Rico due to the blocked roads. The Minnesota State Band was in La Parguera on the southwest coast of Puerto Rico, near the epicenter.
The U.S. Geological Survey reports strong to very strong shaking occurred across parts of southern Puerto Rico closest to the event and moderate shaking occurred across the rest of the island. Aftershocks are expected.
Over the past several weeks, hundreds of small earthquakes have occurred in this same region, beginning in earnest with a magnitude 4.7 earthquake late Dec. 28 and a magnitude 5.0 event a few hours later. Since then, more than 400 earthquakes of magnitude 2.0 or greater have occurred, with 10 greater than magnitude 4.0, according to USGS. On Monday, a 5.8 quake also caused damage, leaving rubble in the streets and destroying Punta Ventana, a natural bridge formation on the coast that was a popular tourist attraction.
The New York Times reports there has been at least one fatality and Puerto Rico Gov. Wanda Vázquez has declared a state of emergency.
According to the USGS, these recent quakes centered off southwest Puerto Rico were due to an "oblique strike slip faulting at shallow depth."
The USGS says tectonics in Puerto Rico are dominated by the convergence between the North America and Caribbean plates, with the island being squeezed between the two. To the north of Puerto Rico, North America subducts, or slides, beneath the Caribbean plate along the Puerto Rico trench. To the south of the island, and south of today's earthquake, Caribbean plate upper crust subducts beneath Puerto Rico at the Muertos Trough. The Monday, Jan. 6, earthquake and other recent nearby events are occurring in the offshore deformation zone bounded by the Punta Montalva Fault on land and the Guayanilla Canyon offshore. At this spot, the North America plate converges with the Caribbean plate at a rate of about 20 millimeters, or three quarters of an inch, per year.
The way Tuesday's quake occurred, and its location suggest it may have been due to movement within the upper crust of the Caribbean plate rather than between the two plates.