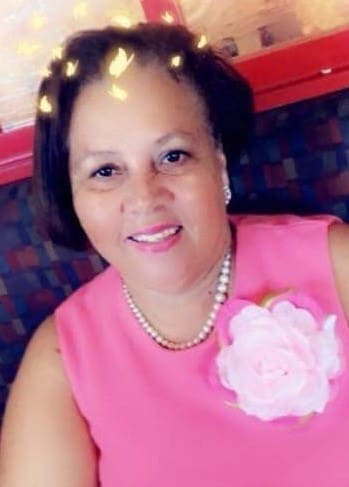 It's with saddened hearts but joyful memories that the family of Maria A. Encarnacion Ed.S. of 5002 Estate St. Peters, affectionately known as "Toni," announces her passing on Dec. 21, 2019.
Toni was born on Sept. 4, 1957, on St. Croix to Luis A. and Doris E. Encarnacion; her mother preceded her death in 2015.  Toni was the second of five sisters: Diedre Rohlsen Carver, Justa (Tita), Maria-Theresa (Terri) and Gladys Elizabeth (Liz); her only brother, Eryle Rohlsen (Butch) passed in 1998.  Toni was blessed with four children: Chenelle, Antonio, Adrian and Chena Quencas; seven grandchildren: Chaliyah, Alana, Taina, Shenaliya, Ayjahni, Armani and Amari; daughters-in-law: Adonai and Shenelle Cuencas; and adopted brother Cedrick "Cio" Miller.
Toni was further blessed to be a mentor and inspiration to her nieces and nephews: Ronnie, Boo, Jerry, Monifah, Malik, Shereen, Shivaun, JaNee', Stephanie, Robert (Bobby), Michon, Hasheem, Mario, Halima, Hanife and Renny. Other family members include her aunts: Maria (Aurora) and Anna (Nena) Encarnacion, Corinne Allen, PhD; uncles: Juan, Jose-Pedro, Carlos and Marcelino Encarnacion, Terrance and Calvin Lang, Norman and Aloy (Wenty) Nielsen; numerous great nieces and nephews; the Encarnacion, Felix, Lang, Llanos, Nielsen, Johnson, Leguillo, Gerard, Thompson, Serrano and Edwards families.
Her family circle was widened by her special friends: Annette Gereau, Marise James, Jill Massey, Doris Daniels Sermon, Monique King, Laura Romero, Ruthlyn Hobson, Anita Roberts and special sorority sisters: Jewel Ross-Braithwaite, Oran Roebuck, Lorraine Benjamin-Matthew, Tresa Civil, Gloria H.C. Waterman, Gizette Canegata Thomas, Mervelle Sage and members of the Mu Gamma Omega Chapter of Alpha Kappa Alpha Sorority Inc.
St. Mary's and St. Joseph's Catholic Schools provided Toni's initial academic foundation.  She continued her education at the College of the Virgin Islands and received a Bachelor or Arts degree in Elementary Education in 1979.  Toni also earned a Master of Arts degree with a concentration in special education from the University of Phoenix in 1992 and an education specialist degree in curriculum, instruction, management and administration from Nova Southeastern University in 2005.
"Ms. E.," as she is known in the local educational circles, has been an educator for over 40 years, serving in the Virgin Islands Department of Education as teacher, assistant principal, principal, director of curriculum and instruction, deputy superintendent for the St. Croix District and assistant commissioner.  Toni regularly stated that her 40 plus years in education was a blessing that truly enriched her life; preparing today's leaders for tomorrow was an investment worth more than all the gold in the world.
A dedicated Catholic, for over 25 years Toni taught religious instruction at Holy Cross Catholic Church to students preparing to receive the sacrament of the Eucharist (Holy Communion). She dedicated her time to community service through active membership in Phi Delta Kappa, the Association of Supervision and Curriculum Development (ASCD), the St. Croix Educational Administrators Association (EAA), and the American Association of School Administrators (ASFA).  But her passion of service was most impactful as an active member of Alpha Kappa Alpha Sorority Inc.
The public is invited to the celebration of life for Maria Antonia Encarnacion commencing with a public viewing from noon to 3 p.m., Monday, Jan. 6, 2020, at Government House, Christiansted, St. Croix, where she will be lying in honor.  A second viewing will be held from 9:30 a.m. to 10:30 a.m. on Tuesday, Jan. 7, at Holy Cross Catholic Church, 45A Queen St., Christiansted, St. Croix. The memorial service will immediately follow at 10:30 a.m.  A private family interment will follow the service.
A memorial service will also be held on St. Thomas on Thursday, Jan. 9, at the Sts. Peter and Paul Cathedral, 22 Kronprindsens Gade, Charlotte Amalie, St. Thomas; tributes will commence at 4:30 p.m. and a service will immediately follow at 5:30 p.m.
Toni's life was committed to the youth of the Virgin Islands and to their attainment of academic excellence. She lived by the motto: "Always give your best effort in whatever you do, and the best will be returned to you." Given her passion for education, the family asks, in lieu of flowers, contributions may be made to the Pearl B. Larsen PreK-8 School in Toni's honor.  Contributions can be sent to the Virgin Islands Department of Education Office of the Commissioner, 2133 Hospital St. Christiansted, VI  00820 or by contacting 773-1095.
Funeral services are entrusted to the James Memorial Funeral Home.