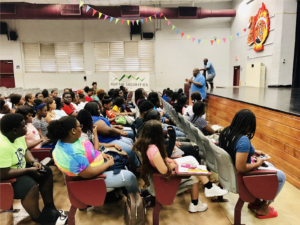 Bill 33-0019, which changes the school calendar, passed through the Senate, but the bill reaches too far and contains unnecessary restrictions that are not in students' best interests. I wholeheartedly agree that earlier opening and closing dates for the school year are necessary to allow mainly our secondary students the opportunities to attend summer programs abroad which generally begin early in June. However, it is disheartening that our elected officials have determined that accomplishing that means students must be denied numerous hours of instructional time, and teachers should be offered more time off instead of proper compensation.
The bill amends Title 17 chapter 7 section 61a of the Virgin Islands Code to begin the school year by the second week of August and to end the school year before June. Among other changes, it changes the language requiring "no less than 1080 hours of pupil instruction" to "a minimum of 180 days of student instruction." (This is what the Department has always been using to set the school calendar, in that schools generally have six hours of instruction per day for 180 days.) But this bill also unnecessarily and substantially reduces the number of minimum instructional hours students can receive based on their grade level. The new legislation takes away 270 hours of instruction from students in kindergarten through third grade, requiring a minimum of 810 instructional hours instead of 1080 hours a year. It further requires a minimum of just 4.5 instructional hours a day, instead of the usual 6 hours of instruction, even though the percent of third graders reading on grade level has declined over the last four years.  The bill reduces by 180 hours the amount of time students in grades 4 through 6 can spend learning and requires a minimum of 5 hours of instruction daily.
There is no disputing that for many years, some of the 180 days in our school calendar have truly not been full instructional days, especially days immediately preceding school breaks (like Easter, Carnival and Christmas), after final exams, early dismissal days when schools have professional development time and, of course, when weather, water, electricity or other problems force schools to close, not to mention days when, in some schools, teachers are absent and no substitutes are available to continue instruction.  Students already lose valuable instructional time, but instead of finding ways to reduce the lost instructional time, the new legislation takes away even more hours of instruction in a school year.
This bill should be of grave concern when recent student achievement data are considered. Based on Department data, the percentage of our children scoring at proficiency levels in English Language Arts and math has declined over the last four years, and retention rates are still high in 7th and 9th grades. Just last month, students in one school lost 15 days of instruction due to circumstances beyond their control. This new bill is now making it legal for students to have even fewer hours of instruction with no apparent concern with how that might impact true student achievement.
The bill also creates ambiguity that can make implementation problematic. The bill in subsection (c) mandates "a minimum of 180 days of student instruction" and then it also mandates "a total of 1080 instructional hours each school year" in section (f). Another clause in the bill, section (g), indicates that a school day consists of six instructional hours; yet, fewer instructional hours are acceptable in earlier clauses of the bill. The problem may just be that senators do not have a clear understanding of "instructional hours." They define it as hours between the schools' first and last periods of the day, when truly instructional hours should be hours when students receive instruction from a teacher or are engaged in supervised learning activities.
The bill further asks us to find the difference between the mandatory "1080 instructional hours" and their "minimum instructional hours." Then that difference is to be translated into 18 hours (3 days) for professional development, 18 hours (3 days) for classroom preparation and 12 hours (2 days) for parent conferences and open house. I find it just unbelievable that 3 days at the beginning of a school year can be taken away for classroom preparation when those days should be used for instruction.
Senators didn't even seem to realize that if the 180 instructional days of the school year are to be divided into two semesters, the first semester, which is to end by Dec. 23rd, will not have 90 instructional days, considering the legal holidays, those three days for classroom preparation, the day that AFT generally holds their TEACH conference and days the Department uses for professional development at the beginning of the year, all of which are non-instructional days.
Then, section 2 of the bill requires that not more than 60 instructional hours (the equivalent of 10 school days) in this current school year should be used for implementation. This means that instructional time can be further reduced this school year by as many as 10 days (60 instructional hours) so that the new school year 2020-21 can begin early in August.  Much of Bill 33-0019 is simply not in the best interest of students.
Finally, mandating an earlier start of next school year is also a payment issue, (only in the first year of implementation) for educators whose first two or three weeks of the new school year would overlap with the last two or three weeks of pay from the previous school year, since salaries are prorated. To be fair to educators, they would have to be paid for the overlapping weeks or be paid the full balance of this year's salary before the new school year begins. But instead of finding funds to pay educators, it seems as if senators, with this bill, just intend to take away an inordinate amount of instructional time from students and give teachers the time off. They brag that the bill doesn't cost the government any money but fail to realize that so drastic a reduction in instructional time can be far more costly in the long run.
I have communicated with senators on this issue, to no avail. I appeal to our community to pay closer attention to what is happening in our schools, in our Legislature, at the board and throughout our community so that more voices can be heard in support of students and efforts to improve education and against actions that are not in students' best interests. I wholeheartedly agree that it is best for students, and educators too, that the school year end in May, but we do students a disservice by only electing to take away so many hours of their instructional time to accomplish that. Student data show our students could well use more quality instructional time, and that should be our focus. There must also be a clearer commitment to making student learning a priority while insisting upon providing instruction of the highest quality and doing more to hold educators, parents and leaders more accountable for student learning.
I sincerely hope that the school calendar will be changed through a more reasonable approach that does not deprive students of so many instructional hours.
Jeanette Smith-Barry