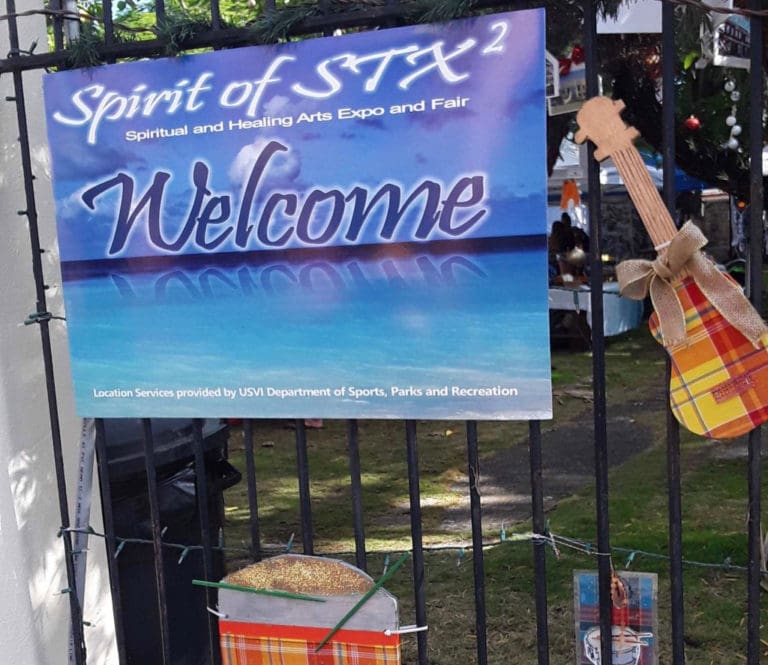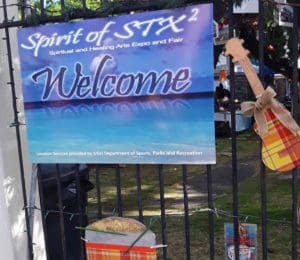 The Winter Solstice is a time of wonder, magic and beauty, when the balance between night and day pauses at the extreme, then begins to tip back towards the day. The nights begin to get shorter again and the days longer.
To celebrate, the Spirit of STX Healing Arts Expo and Fair took place on Saturday, Dec. 21, the date of the solstice. Inside the lush landscape of Limpricht Park in Christiansted, beautiful decorations filled the trees with lights and original ornaments adorned with designs of moko jumbies, seashells and madras infused designs served to complement the many booths and tables set up.
The event was filled with many different options to learn about the alternative and healing arts. The event featured readers of oracle cards, tarot, divination, transpersonal healing, mediumship, reiki and more. Vendors were varied and offered a range of products from healing crystal jewelry, to shea butter, CBD products, handmade pottery, candles and vegetarian and vegan eats.
The event put on by husband and wife Danny and Rael Reddick was the second of the year. The pair's goal was to "educate and inspire the community to know what they have available in the realm of healing arts on the island," Rael Reddick said.
Each participant was given an informational bag of goodies upon entering.
Reddick is no stranger to this field; she has had the gifts of intuition and mediumship since childhood. Growing up in a military family, she traveled all over the world, connecting with different people and cultures. Wherever she went she always felt she had a certain attunement to spirits. She recalls memories of her mother and father entering rooms before her to alert people that their daughter "had a vivid imagination."
In her previous home state of Colorado, Reddick used to put on Psychic Fairs and offer readings while working full-time in the corporate world. The surprise death of her son Eric, in 2015, gave her the nudge and courage to leave her corporate job, and she began taking her gifts more seriously and offering them in a larger capacity. It was a nudge that also brought her and her husband to St. Croix.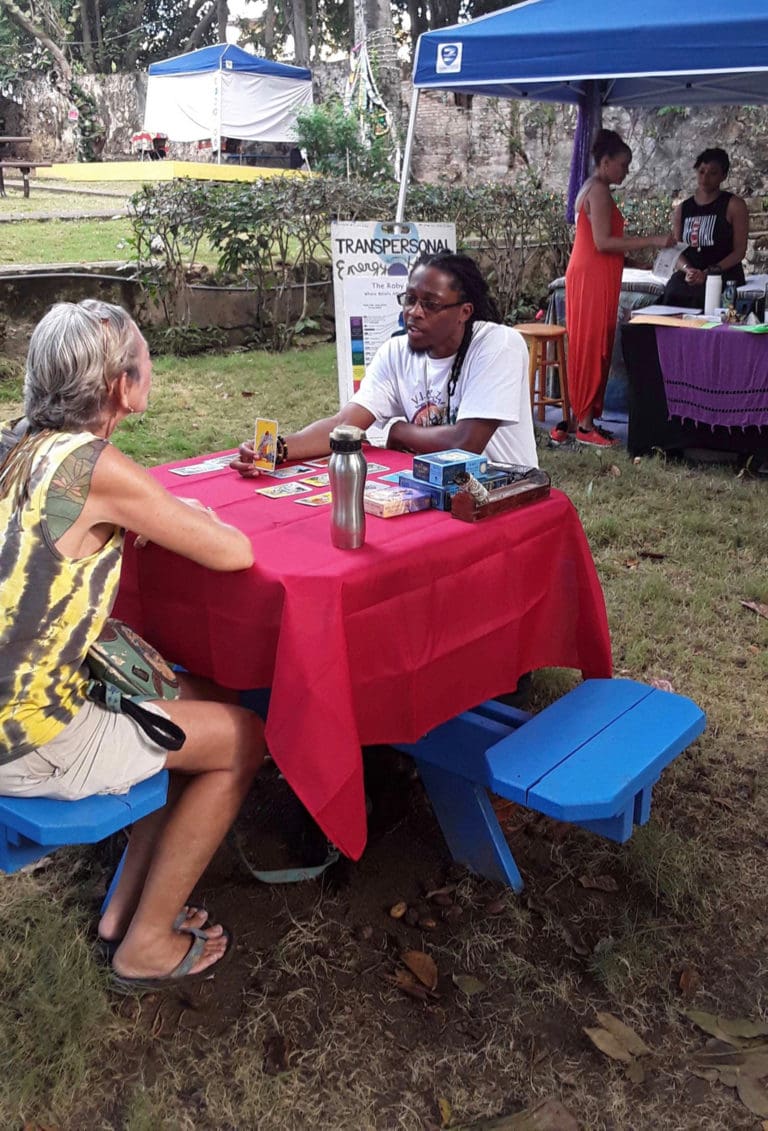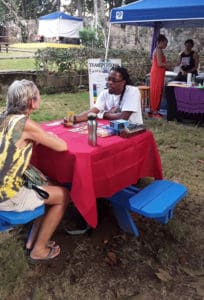 Reddick is not the only one with a story of recognizing her gifts and needing a nudge to come out and share more freely. Many of the practitioners of the day have had some feeling that they had a gift of some sort to offer, including photographer and now "out-of-the-closet" oracle card reader, Nicole Canegeta.
"I've been working consistently with my various oracle decks, doing readings every day on myself, for a little over a year," Canegeta said. "I purchased my first oracle deck in 2013."
Canegeta said she has been on "an esoteric spiritual path" since her mid-20s after her father was killed while serving in Iraq.
"I was never open about it because I feared judgement and criticism. Spirit has been guiding me to travel to sacred places all over the world, to gain knowledge and wisdom of ancient traditions, and to remember who I am, and what I am meant to do on this earth," she said. "Through deep loss, I have learned so much over the years, to be present, to be grateful and to be true to myself every step of the way. I have finally embraced and accepted that I am an energy healer. Participating in the Spirit of STX Fest has really given me the confidence to step into sharing my healing gifts with my community and confirmation that what I am sharing is a beneficial and a needed offering."
Among the crowd, children played in the large trees and old ruins that run on the back wall of the park. The breeze swayed lightly over people deep in conversation or smiling from close interactions.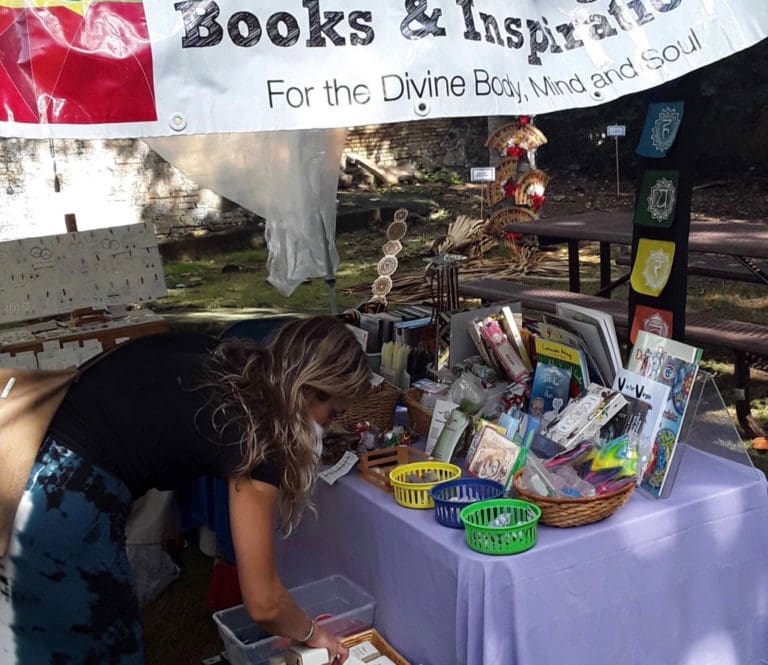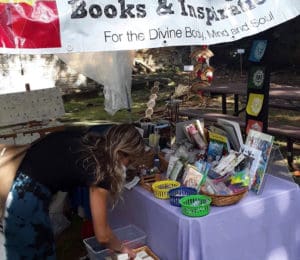 Local dancer and owner of "Create Your Own Reality Dance Project," Ifa Massey presented a unique offering that could be experienced for 10 minutes behind a private tent, making it more personal and safer.
"I live by the mantra, we create our own realities with our thoughts," Massey said when asked about the name of her company. "I have been dancing and performing for over 28 years. I used to want to be a professional dancer, now I want to share my movement for the purpose of healing, travel the world and assist others to heal themselves. My safe space has always been a dance floor. I offer these sessions because many emotions are held in our body and it has been neurologically and scientifically proven that these things we hold, can create growths in our bodies if not dealt with."