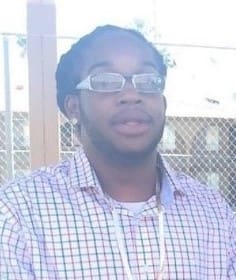 Wayniard Charles, also known as "Shakindu" or "Kindu," of Phoenix, Ariz., died on Dec. 1. He was 31 years old.
He was preceded in death by his mother, Maybellene L. Brookes.
He is survived by his companion, Keenya Holst; father, Wayne E. Charles; adopted parents: Lorna and Paul Payne, and Sandra Lee Ling; daughters: Ariyah Charles and Aviah Charles; son, Jonathan Charles; sisters: Shonde Walker and Waynia Charles; brothers: Waynardo Charles and Jahvon Charles; nieces: Shonneth Gittens, Breah Brookes and Havia Fergus; aunts: Evelyn Bascombe, Julia Scatliffe, Elita Williams, Jacklyn Williams, Cleone Llanos, Leatrice Deanna Garcia, Debra Prentice and Karen Granger; uncles: David Charles Sr., Melvin Williams, Michael Scatliffe, Burnette Tutien, Elroy Bascombe Sr., Kevin Scatliffe, Tyrone Williams, Glen Williams and  St. Claire Berry; and godparents: Deichelle Berry, Debra Chinnery, Olga Aponte, Julia Vigilant and Elroy Bascombe Jr.
He is also survived by cousins and other relatives: Michael Scatliffe Jr., Shadi and Shadae Peters, Khalaya Goodwin, Nichole and Nickima Charles, David and Brandon Charles, Burnell Tutien, Deichelle and Tamisha Berry, Indira Libert, Sharon and Sharisse Bascombe, Shelima Howard, Elroy Bascombe Jr., Chenai and Chenelle Brady, Shamal Guadalupe, Chevon Merchant, Shaquan McNeal, Njeria Johnson, De'John Hardy, Amante' Todman, Desiree,  J'Nell and Jeneen Maranda, Jesmi Cartier, Shauna and Tamara Williams, the Maranda family, the Williams family, the Holst family, the Francis family, the McIntosh family, the Horsford family, the Coggins family, the Gittens family, the Leeling family, the Watts family, the Irish family, the Smith family, the Deleon family, the Meade family, the Lewis family, the Watergut family, and other relatives too numerous to mention.
Other survivors include special friends: Leo Clement, Justin Matulovich, Lance Chardon, Franz Christian, Eddie and Denise Lopez, Valery Rodriguez, Kristina and Joseph Taylor, John Hana, Donald Lenz, Samantha Freymiller, Timothy Brookes, JKendai Goodwin, Mark Davis, Dr. Jake Monokian, Nicloa Newton, Ana Jacobs, Mia Elena Rosa, Beverly Antoine-Rowe, Pedrito Ray Encarnacion III,  Miguel and Sherrise Guadalupe, Darryl Walcott, Shanella Gumbs-Garnett and Manor School Class of 2008; as well as other relatives and friends too numerous to mention.
There will be a viewing held at 9 a.m. and a funeral service at 10 a.m., Monday, Dec. 30, at Friedensthal Moravian Church. Interment will follow at Kingshill Cemetery.