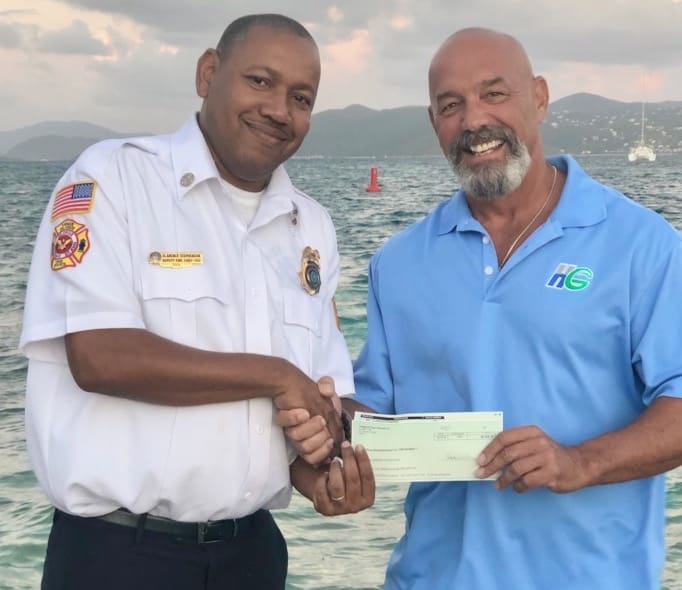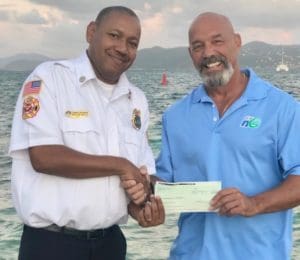 The V.I. Fire Service on St. John will bring back a tradition that has fallen by the wayside: Hosting Christmas parties for children and adults.
The children's party will be held from 3:30-6:30 p.m. Friday, Dec. 20. The adults' party will begin at 6 p.m. Sunday, Dec. 22. Both events will be held in Cruz Bay in front of the Fire Service trailers, next to the Division of Motor Vehicles inspection lane.
Clarence Stephenson, deputy fire chief for St. John, has been planning the children's party for months with Stan Andersen, who launched the Tracy Anderson Foundation to honor his wife after she died in November 2018. Last year, Andersen and his daughter Marleigh donated one hundred basketballs to the kids at the Pine Peace basketball court in Tracy's memory.
As December approached, Stephenson began worrying about not having enough toys to give out at the party when he received a phone call from Dominick DeDominicis. DeDominicis is superintendent of Haugland Virgin Islands, LLC, one of the companies that has been involved in restoring the territory's electrical grid since October 2017.
"Dom got my number from a retired fire fighter and called to ask if he could help," said Stephenson. "When I told him I was coming up short on toys, he said, "You've got a sponsor.' and cut a check for $5,000."
Haugland Virgin Islands has worked primarily on St. Thomas, Water Island and St. Croix following the two Category 5 hurricanes that hit in September 2017 and has made charitable donations to schools, churches and NGO's throughout the territory. The company recently opened an asphalt plant near Heavy Materials on St. Thomas.
Thanks to Haugland, every St. John elementary school-aged child will receive a gift from Santa – played by Stan Andersen – at Friday's party. Entertainment will include a bounce house, face painting and life-sized characters.
The food is sponsored by Lime Inn and drinks will be provided by Love City Barbershop.
The adult party on Sunday will feature music by Cool Session Brass, sponsored by "a secret Santa." Love City Strong will provide the food, and drinks will be donated by Fire Service members and local restaurants.
"This was an annual event when I was a kid," said Stephenson, "and I'm happy that the V.I. Fire Service, with the help of so many community partners, could bring it back."