The Christmas spirit of forgiveness was alive at the St. Croix Boat Parade in the Christiansted harbor Saturday night, the crowd cheered as the V.I. Water and Power Authority boat cruised by the boardwalk blaring the song Electric Avenue, occasionally cutting off its lights simulating a power outage.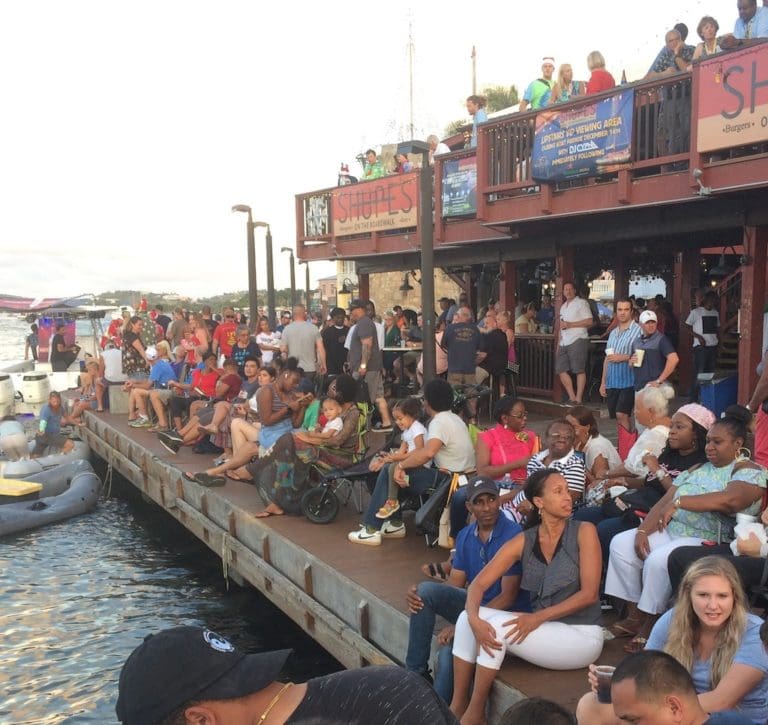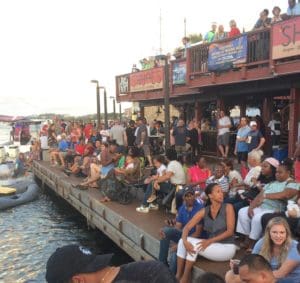 Organizers said the annual event, which generally attracts 5,000 people, may have been the biggest ever: With 21 boats taking part in the parade and 30 vendors on the streets of Christiansted doing brisk business beginning at 5 p.m. and going past 10 p.m.
St. Croix resident Sharon Gill said she was there because it was "a good family event that brings Christiansted alive." She added she liked "the good food and the good people."
The family nature of the event was evident not only in the streets, where youngsters were walking around in clothes that lit up, waving sparkly wands and swords, but also on the National Park grounds in front of the Fort Christiansvaern, where kids were running with abandon and kicking any ball that got in their way.
Gov. Albert Bryan Jr. kicked off the event with a Christmas tree lighting across the street from the fort's lawn. He then boarded the lead boat in the parade, assuming duties as parade grand marshal.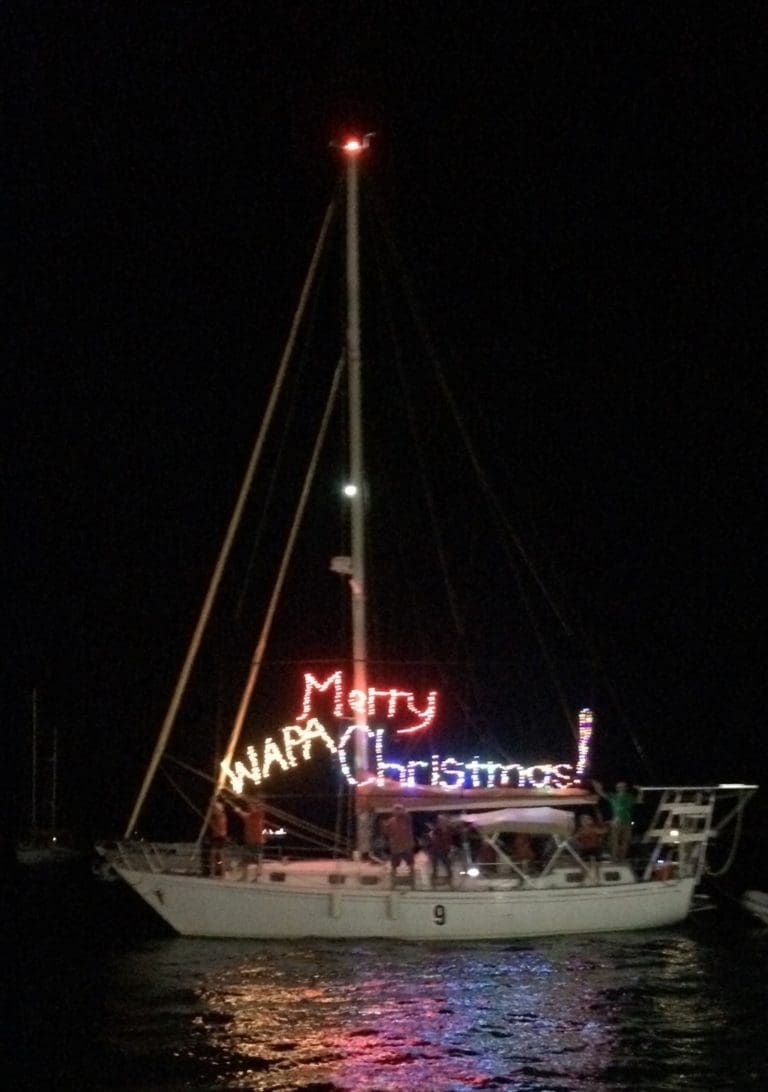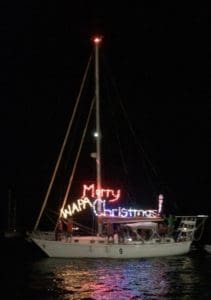 Santa Claus ambled down the boardwalk escorted by young ladies who handed out candy canes. In the middle of the boardwalk there was entertainment by moko jumbies and a student steel pan band.
Island resident Kelvin Vidale said the event appears to be getting bigger every year. He added that he liked the event because "it is free, and I get to catch up with a lot of people I have not seen in a long time."
Dara Hamilton, who was coordinating the judging of the boats for the first time, said she was excited by the opportunity. Boats were judged in several areas including their decorations, theme and music. Thirteen judges were up on the balcony above Rum Runners restaurant taking in the show and analyzing the entrants.
Radio personality and former senator Holland Redfield was one of the judges. He told the Source, "They asked me to do it and I was glad to do it." He added with a smile, "this is such a good tradition."
Willard John who was master of ceremonies for the parade said, "This is a great day for Christiansted, for all of the Virgin Islands."
The event ended with a fireworks display that Greg Pearce, visiting from St. Augustine, Florida, described as "awesome."
Award Winners – 2019 St. Croix Christmas Boat Parade
Boat (Captains and owners)
Grand Prize
Ruffian (Chris Stanton)
2nd Grand Prize
Time Out (Joe Croney)
Special Recognition
Kevy Lou Canoe (Kevin Ryan)
Sailboat
Award – Boat (Captains and owners)
1st place in Creativity – Ursa Mango (John Downing and Carol Shores)
Small Power Boat
First Place Prizes
Lights – Polar (Bully Bartley and Shanya Hanley)
Decorations – Family Lines (Marco, Julio and Luis Gonzalez)
Creativity – Tiki Barge (Scott Buchanan)
Overall Impact – Sea Feather (Lee Fleming)
Second Place
Lights – Trinity (Larry and Joan Kupfer)
Decorations – Cat Chi (Andy Simpson)
Creativity – Rosie (John and Alice McCoy)
Overall Impact – Hi Life (Kevin Moran)
Large Power Boat
First Place
Lights – Benita (Glen Swanston and Benita Carol John)
Decoration – Fortunate Fool (Eric and Stephany Ahrens)
Creativity – Discovery (Kirk Chewning)
Overall Impact – Baby Shark (Austin Schneider and Dave Johnson)
Second Place
Decoration – Smooth Recovery (Matt Ridgeway)
Overall Impact – Adventure (Steve Kammerzelt)