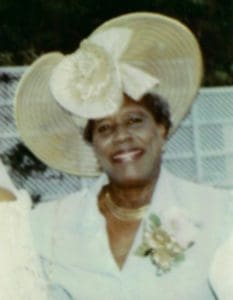 Relatives and friends are advised of the death of Erma B. Sewer, who passed away peacefully at her home on Nov. 8, 2019.
Erma Sewer was an educator. Her tenure with the Education Department was extensive: from 1953 to 1963, she was a teacher at George Washington and Lockhart Elementary schools, under the principalship of Bianca Andre; from 1963 to 1967, she was the assistant principal at Abraham Lincoln School, under the leadership of Olive Soldiew; from 1967, she was the principal at Tutu Elementary School, now Gomez School, until her retirement in 1984.
In 1985, she was the honorary campaign chairperson of the United Way. She was affiliated with several community organizations, including Antilles School Board of Trustees, the United Way Board of Directors, the American Association pf Retired Persons, the Reichhold Center for the Arts advisory Board, the shelter manager for the American Red Cross, the Tillett Foundation Board of Directors, and the Board of Directors of the Warren E. Brown Scholarship Fund.
As a member of the Methodist Church, Erma served as class leader and chairman for the Methodist Preschool Education Committee, Also, she was responsible for setting up both preschools on St. Thomas and St. John and served as administrator from its inception in 1994. She also served as a choir member and was the founding member of the Methodist Women's Club.
Ms. Sewer received outstanding recognition in 1984 for coordinating the Ethiopia Aid Today Drive to benefit the people of Ethiopia. This drive also served to raise the consciousness of schoolchildren to the needs of the country. She has dedicated her life to serving the children of the Virgin Islands and her community.
She is survived by her brother, Antonio Benjamin; nieces: Bernice Maduro-Berne and Dora-Jean Petty-Hardin; nephews: Lionel Connor Sr., Joseph Alvin Petty Jr., Lesmore Howard, Kenneth Howard, Clayton Howard, Ivan Howard Jr. and Carlton Fielteau (nephew-in-law); great-nieces: Alda Maduro-Fielteau, DeReese Maduro-Charles, Lynette Connor, Lynell Connor-Matthew, Marilyn Petty, Naomi Petty-Payne, Nneka Howard-Sibilly, Peya Howard, Sasha Howard-Foster, Carrie Howard, Reissa Chamblee and Reva Brewster; and great-nephews: James V. Maduro Jr., Dwayne V. Maduro, Lionel Connor Jr., Lyron Connor, Melvin Steele and Ronald Brooks.
She is also survived by cousins: the Rev. Dr. Wycherley V. Gumbs, Debra Akins, Coreen Francis-Moron, and the Harris and Jones family; godchild, Jonathan Brown; special friends: Anna Mae Brown-Comment and family, Juel Molloy, Jean Armstrong, Gerda Gottlieb, Vadis Springette, Joan Farrelly, Athniel "Addie" Ottley, Merle Kiture-Morgan, CAHS Class of 1948, Nurse Suzanna Lake, Lenox and Michealrose Ravalier and family; devoted caregivers: Iris Smith, Koya Richards, Sharima Newton, Veronica James, Bernice Maduro-Berne, Alda Maduro-Fielteau and Carlton Fielteau; as well as many other relatives and friends too numerous to mention.
The first viewing will be held from 5-7 p.m., Friday, Dec. 6, at Turnbull's Funeral Home. The second viewing will be held at 9 a.m. followed by the funeral service at 10 a.m., Saturday, Dec. 7, at Christchurch Methodist.