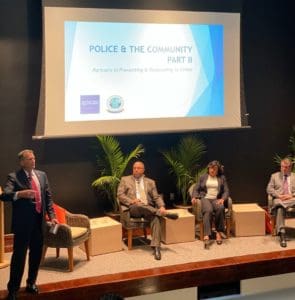 The Public Safety Support Foundation and the Virgin Islands Police Department (VIPD) partnered to present a Leaders Symposium on Nov. 14-15 at the Charles W. Turnbull Regional Library on St. Thomas. The two-day training brings police leaders and other stakeholders together to address problem solving strategies in community policing. The symposium presents an outstanding opportunity for key leaders from the V.I. Government and VIPD to engage with subject matter experts on community policing and strategies to reduce violent crime.
The topics range from leadership and change management to community policing and strategies for response to active violence/active shooter situations. Eduardo January, chairman of the Public Safety Support Foundation, said, "What we are seeing is a new era for policing in the Virgin Islands."
He expressed that Police Commissioner Trevor Velinor and his staff have left a positive impression by their level of care and consideration in community safety and engagement. The Public Safety Support Foundation is committed to providing support and technical assistance to VIPD in order to better serve the community.
Commissioner Velinor stated that he is excited about the partnership with the Public Safety Support Foundation and the relationships with the subject matter experts. Several current and retired police chiefs from the mainland presented at the symposium, to include the chiefs of Fayetteville Police Department and St. Petersburg Police Department.