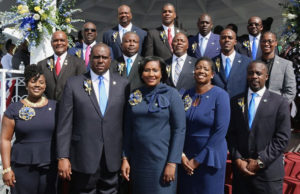 Senate President Novelle E. Francis Jr. and members of the 33rd Legislature met today with representatives of the United States Department of Interior's Office of Insular Affairs to discuss issues affecting the territory. The meeting was held at the request of the Assistant Secretary Douglas Domenech, as it is customary for the assistant secretary to meet with legislators in all of the U.S. Territories under the Office of Insular Affairs jurisdiction.
According to Francis, the meeting provided a useful opportunity to discuss critical areas of concern and exchange views on a range of issues. The wide-ranging discussion reflected the priorities of the 33rd Legislature, which include FEMA, federal grants, energy infrastructure, rum cover-over revenues, Department of Education federal funding, preservation of Virgin Islands natural resources and the federal permitting process of local projects, specifically the Army Corps of Engineers.
Senators also briefly discussed the resolution petitioning Gov. Albert Bryan Jr. and Congresswoman Stacey Plaskett to pursue the return of a portion of the gasoline excise tax to the Virgin Islands.
Francis said he was pleased with the open discussion and emphasized transparency as being critical in moving forward to address the myriad issues affecting the Virgin Islands.
"The 33rd Legislature remains committed to collaborating with our federal partners in ways that support strengthening our economy and developing strategies in moving our territory forward," Senate President Francis said.