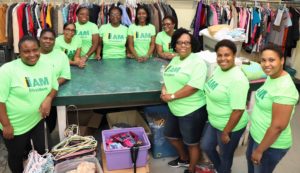 With a history spanning 70 years in Puerto Rico; 56 years in the Virgin Islands and 12 years in Florida, FirstBank remains committed to the communities it serves. During the 70th anniversary celebrations over the last year, through the "I am FirstBank" volunteer program, FirstBank has impacted — across the three regions — over 100 non-profit organizations, invested more than 4,000 hours of volunteer work, and served the communities through more than 700 employees.
The 70th anniversary celebrations culminated this Saturday, Oct. 26, with one day of celebrating and giving back across Puerto Rico, Florida, and U.S. and British Virgin Islands.
Locally, this day was coined 'One with Virgin Islands,' and over 40 members of the FirstBank family committed to completing tasks such as beautifying the gardens at the Family Resource Center on St. Thomas, re-organizing and decorating the Closet to Closet Thrift Shop at the Women's Coalition on St. Croix, and assisting with the family/client fun day, while making a donation to the Family Support Network in Tortola.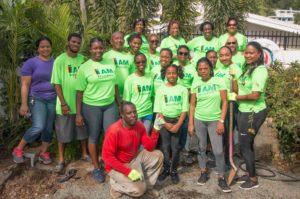 "We had a great day of giving back," said Carol Jackson-Simmonds, vice president and human resources manager. "Given that we are recognizing Domestic Violence Awareness month in the territory, it was especially impactful that the employees selected three entities that are committed to bringing awareness to the effects of domestic violence on families. We are really thankful not only to our employees but also the family, friends and non-profit organizers who joined us in this effort."
FirstBank employs over 150 individuals across 11 branches and departments throughout the U.S. and British Virgin Islands. It is a leading employer as well as a leader in the local community. The "I am FirstBank" volunteer program is part of the Bank's continued commitment to being an outstanding corporate citizen by providing not only funding but also financial education outreach and partnering on employee volunteer efforts such as "One with Virgin Islands."