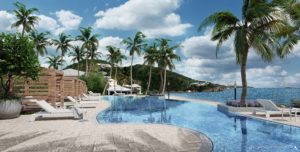 Work on Frenchman's Reef resort, St. Thomas' largest hotel, is well underway, with parent company DiamondRock Hospitality saying they have already spent more than $60 million and plan to spend $200 million on remediation and construction.
The marquis resort suffered major damage in the catastrophic hurricanes of 2017.
DiamondRock officials gave details of the plans in a statement Monday, but did not give a projected opening date. While Frenchman's Reef was a Marriott resort before the storms, Marriott was not mentioned in the release.
According to DiamondRock, the re-imagined resort will include a cutting-edge design by White Space Design and Kollin Altomare Architects, infinity edge pools, and restaurants designed by celebrity chef Richard Sandoval. The resort is being rebuilt under the current building code to be much more resilient to future wind events.
"We share the great sense of local pride in this iconic resort, and it is DiamondRock's honor to make rebuilding it a reality," DiamondRock President Mark Brugger said in the statement.
"We have the highest respect for the St. Thomas community, and we are grateful for all of their assistance and support throughout this complicated rebuild project. Without their support, the rebuilding would not be possible. DiamondRock is committed to rebuilding this first-class resort, bringing back jobs, and creating a more resilient hotel," he said.
"By committing more than $200 million to rebuild Frenchman's Reef and creating a stunning new resort that everyone will be proud of, DiamondRock is also investing in the future of the U.S. Virgin Islands. The return of Frenchman's Reef signals an unprecedented opportunity to focus world attention on all our islands have to offer, as well as providing valuable employment and careers for our citizens," Gov. Albert Bryan Jr. said in the release.
The company and the V.I. government are developing a public-private partnership to build a new, sustainable hurricane shelter into the resort that is capable of hosting more than 700 people during a future severe weather event. The shelter would be built with public funds and both the Bryan administration and that of predecessor Kenneth Mapp have pledged to seek federal disaster preparedness funding to devote to the shelter.
The resort has always been an important economic engine for the local economy as it has historically generated more than $100 million a year of economic activity for the USVI. DiamondRock said it is committed to hiring more than 400 employees at the resorts upon re-opening.
DiamondRock Hospitality Company is a self-advised real estate investment trust that owns 31 hotels with over 10,000 rooms. Further information on the Company and its portfolio, is online at the DiamondRock Hospitality Company's website.
Frenchman's Reef is a beneficiary of 90 percent tax breaks through the territory's Economic Development Authority. Neighboring Marriott Frenchman's Cove resort, primarily a timeshare operation, is seeking a temporary reduction in the number of employees required for its EDA tax breaks. The two resorts have different owners.