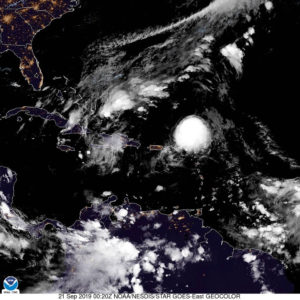 Hurricane Jerry poses no direct threat to the U.S. Virgin Islands, although the V.I. Territorial Emergency Management Agency warned Friday that there would be a chance fo flooding on the northern Leeward Islands.
According to the National Hurricane Center, at 5 p.m. Friday the center of Hurricane Jerry was located near latitude 19.6 north, longitude 62.0 west. Jerry is moving toward the west-northwest at almost 18 mph. On the forecast track, the center of Jerry will pass well north of the U.S. Virgin Islands and Puerto Rico Saturday.
However, Jerry could still bring as much as three inches of rain to northern parts of the territory along with tropical storm winds. Swells generated by the hurricane were affecting portions of the northern Leeward Islands Friday night. These swells are likely to cause life-threatening surf and rip current conditions.
And as Jerry slips by to the north, the NHC is already watching two more systems to the east with the potential of affecting the USVI.
A tropical disturbance about 700 miles east of the Windward Islands experienced an increase in thundershower activity earlier Friday. The disturbance is forecast to move right over Barbados and the Windward Islands this weekend. Forecast models are not aggressive in terms of how much this disturbed weather area will develop. The disturbance has the potential to bring locally heavy rainfall to the Virgin Islands from Monday night to Wednesday evening.
In addition, there is a tropical disturbance located over west-central Africa that is expected to push into the eastern Atlantic on Sunday into Monday. Forecast models remain aggressive in this weather system's development. While it is expected to develop into either a tropical depression or tropical storm as it heads westward across the eastern and central Atlantic next week, it is possible that the models may be too quick in forecasting development.
According to the NHC, the system is likely to undergo slow but steady intensification next week as it heads westward. It is, however, far too early to determine how big a threat this disturbance will be to the Lesser Antilles next weekend. A large trough of low pressure left behind by Jerry could cause this disturbance to turn northward in the area between 50-60 degrees West just before it reaches the islands.