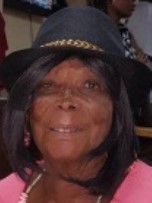 Theresa Nelister Guiste, better known as "Wowo," of LaPlaine, Dominica, and a resident of St. Thomas, died. She was 79 years old.
,
She died on Sept. 5. The viewing will be held from 5-7 p.m., Wednesday, Sept. 18, at Turnbull's Funeral Home. The services will be at 8 a.m., Thursday, Sept. 19, at Sts. Peter and Paul Cathedral. Interment will be at Western Cemetery No. 3.
She leaves to mourn six children: Ursula Prosper, Randolph LaRonde, Stephanie Amaro, Graveny Carbon, Dennis Hurtault and Sandra Guiste; three brothers: Lionel, Phillip and Simon Guiste; two sisters: Veronica Graham and Lucy Barry; three in-laws: Shani Carbon, Eslie LaRonde and Luis Amaro; and 24 grandchildren: Cecil, Nardia, Tavare, Akim, Javed, Ranghi, Lynise, Ernest, Lu-J, Bernice, Akito, Ma-Eve, Majid, Chelsea, Denine, Wennis, JeanMali, D'Jani, Camika, Aaliyah, Tiffany, Tahj, Tamika, Lisa Cuffy and Luran Bruno.
She is also survived by 18 great-grandchildren; 15 nieces; eight nephews; and close family and friends: Brenda, Matt, Tatianna, Megan, Denis, Marianne, Evaline, Miss Eulie, Edwina, Ti-Sister, the Graham family, the Joseph family, the John Baptiste family, and many more too numerous to mention.