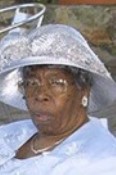 Mercedes Marks Swan, better known as "Cede," died Aug. 30, at Schneider Regional Medical Center on St. Thomas. She was 90 years old.
The first viewing will be held from 5-7 p.m., Friday, Sept. 20, at Turnbull's Funeral Home. The second viewing will be at Emmanuel Baptist Church will be held at 9 a.m. followed by a funeral service at 10:00 a.m.
She was preceded in death by her husband, Roberto Swan; brother, Carl Marks; and sisters: Ida Pickering Fleming, Muriel Marks Donovan, Iva Marks and Ruth Marks Austin.
She survived by her son, William Marks Sr.; daughters: Vera Gumbs, Leona Luis Stevens, Marjorie Swan Walker, Jennifer Swan, Joan Swan, Maureen Swan McGuire and Sonia Swan Hendley; stepchildren: Yvonne Hodge, Berecia Hodge, Linnel Hercules and Lionel Swan Hercules; sisters: Mayrose Marks and Grace Marks Roberts; brother-in-law, Quinton Roberts; son-in- law, Keith Stevens; and a host of grandchildren and great-grandchildren, nieces and nephews; and a great niece and great nephew.
Tributes and pictures can be sent to mswan2019@yahoo.com, or contact Vera Gumbs at 473-8622 for further information.