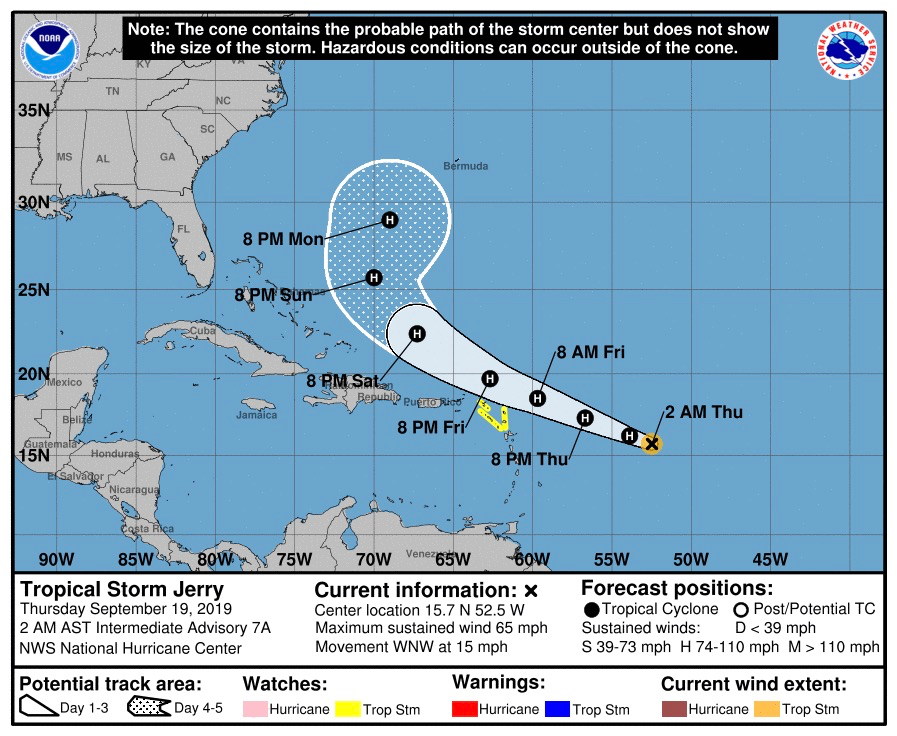 The U.S. Coast Guard set port condition X-Ray at 8 p.m. Wednesday based on the projected arrival of gale-force winds associated with Tropical Storm Jerry, which is expected to grow to a Category 1 hurricane by the time it makes its closest pass to the U.S. Virgin Islands.
Port Condition X-Ray means that all vessels and port facilities must ensure that potential flying debris is removed or secured and Coast Guard safety regulations regarding storm preparations should be implemented. VIPA advises all mariners and users of the seaports to comply with the Coast Guard's regulations.
Airports will be open Thursday. As of 4 p.m. Wednesday the V.I. Port Authority had received no notice of airline cancellations. CIPA encouraged travelers to contact their airlines directly as flight information may change due to the possible inclement weather.
Jerry continued to strengthen Wednesday, according to the National Hurricane Center and shows no sign of slowing down. The NHC expects the storm to become a hurricane on Thursday while it is moving over very warm waters with light wind shear.
By 48 hours, almost all of the models show an increase in northwesterly shear due to flow from an upper-level ridge, which seems likely to cause some weakening. At long range, Jerry is likely to interact with a mid-latitude trough, which is notoriously difficult to forecast.
The initial motion continues to be west-northwestward, at about 13 knots.
The forecast calls for the center of Jerry to pass about 135 miles to the north-northeast of St. John at midnight Friday or early Saturday morning. The winds associated with Jerry are not expected to impact the Virgin Islands. Some cloudiness and ocean swells from the storm may be observed.