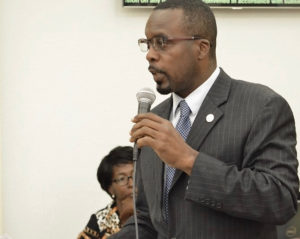 Senators Monday were unanimous in praise as they approved the nominations of Dr. Brian Bacot to the Board of Medical Examiners, Rupert Ross as director of the Bureau of Information Technology and Christopher Finch to the Hospitals and Health Facilities Board.
Also receiving kudus from the senators in the form of resolutions honoring them were Tishelle Knight for her accomplishments and musical contributions to the Virgin Islands and Alvin "Alli" Paul for his contribution to the culture of the Virgin Islands through the moko jumbie art form.
Things went a step further with former senator and one-time professional boxer Robert O'Connor, Jr. He was not only honored for his commitment to the people of the Virgin Islands with an act of recognition, but he is having the new Port Authority maintenance building named in his honor. Besides being a senator, he served as a member of the Port Authority Board. Sen. Marvin Blyden referred to O'Connor as a "humble giant."
"It is a good day when we can recognize those among us who serve the territory," Sen. Athneil Thomas said.
Sen. Kurt Vialet said, "I wish each and every one of them well."
Sen. Stedmann Hodge said about Bacot, "He is a perfect fit for the Medical Examiner's Board."
Sen. Kenneth Gittens called Tishelle Knight "the music ambassador for the territory." She was present during the session and, at the request of senators, sang parts of their favorite songs.
Sen. Alicia Barnes said, "All these nominees embody who we are."
Fourteen senators attended the Monday session. Sen. Allison L. DeGazon was the only senator absent. Not a single disparaging word was said about the Virgin Islanders mentioned above or a negative vote cast against them.
But the same could not be said for Trevor Velinor, nominated by Gov. Albert Bryan as commissioner of the V.I. Police Department.
His nomination did not even make it to the floor for a vote. Ten of the 14 senators present voted to take consideration of his nomination off the agenda. And one of those who cast a vote to leave the nomination on the agenda appeared ready to vote against Velinor.
Early in the meeting, a letter from Velinor had been read in which Velinor asked to be excused from attending the session. In the letter, he said he could not attend because of "previous medical appointments."
Sen. Steven Payne called the letter "hogwash."
"As usual he is absent," Payne said. "He spends most of his time out of the territory."
He claimed that Velinor's letter was not even true. He said Velinor was on a cruise.
Sen. Novelle Francis introduced the two Senate pages at the beginning of the session. They were Theyonee Hector and Jade Durrant both of Ivanna Eudora Kean High School.