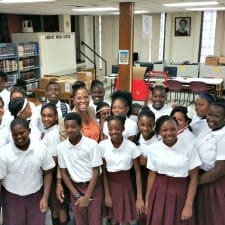 Dear Source:
Leaders that represent professional and support staff at Addelita Cancryn Intermediate and Junior High School said today the facility is not ready to receive students on Tuesday, Sept. 3, when classes are scheduled to begin for the new school year.
After inspecting the school during a campus walkthrough, representatives of the St. Thomas-St. John Federation of Teachers, AFT Local 1825; United Industrial Workers/Seafarers International Union; and United Steelworkers Local 8249 concluded that the classrooms cannot be ready for the first day of school unless crews work nonstop during this weekend.
Attendance and programming at Charlotte Amalie High School, Lockhart Elementary and Addelita Cancryn Junior High schools were reassigned by the Virgin Islands Department of Education after structural deficiencies were identified at Charlotte Amalie High School, causing two buildings to be condemned earlier this summer.
Although the Education Department leadership stated the school maintenance will be completed before schools open, major problems such as grease traps in the cafeterias not being cleaned, leaks, mold and rodent infestations remain unaddressed.
UIW/SIU represents the custodians, kitchen and maintenance workers, USW Local 8249 represents school monitors, and AFT Local 1825 represents educators, para-educators and support staff of St. Thomas and St. John public schools.
In the absence of a public statement by the leadership of the Department of Education, the three labor unions decided it is imperative that these issues be raised publicly and addressed by the responsible officials. The unions will continue to monitor the schools on behalf of their members and the students they serve.
The goal of the unions is to make sure that staff and students have a safe and sanitary environment for work and study.
St. Thomas-St. John Federation of Teachers, AFT Local 1825; United Industrial Workers/Seafarers International Union; and United Steelworkers Local 8249