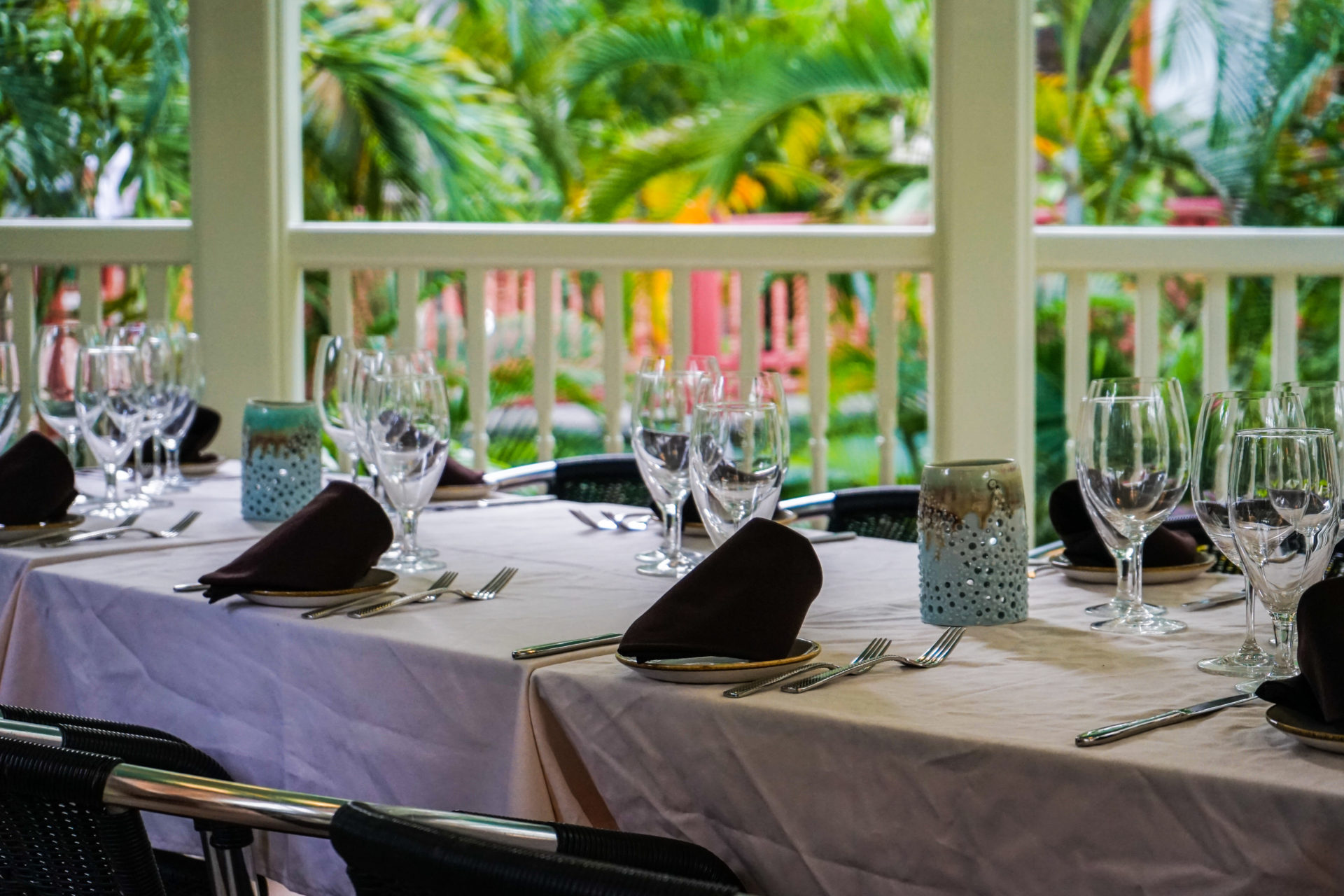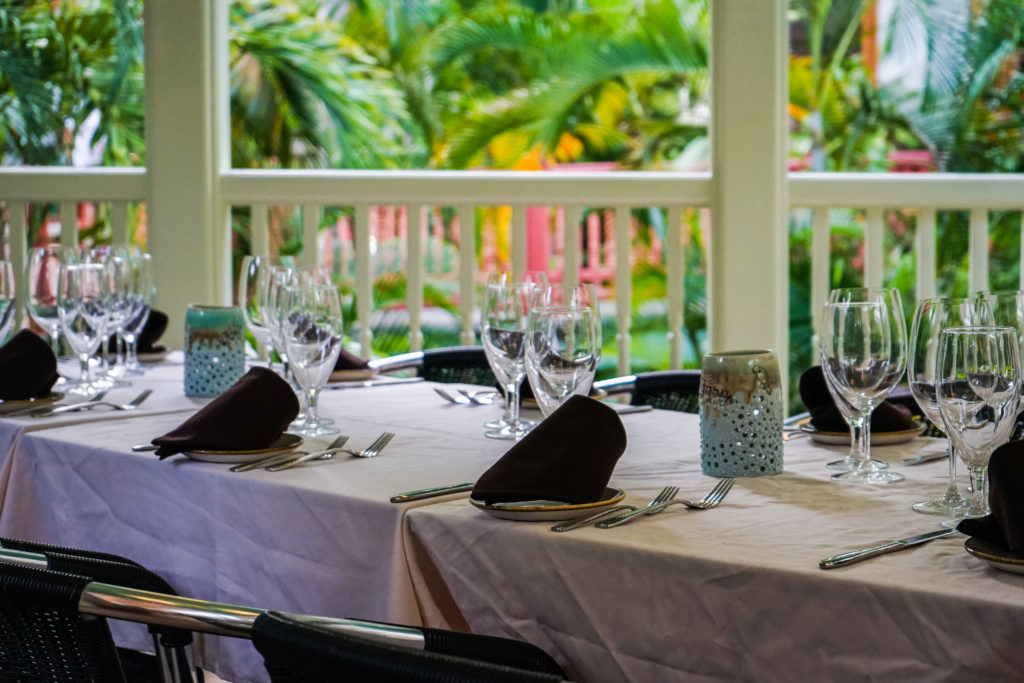 Summertime always brings changes to the restaurant scene on St. John as tourism slows down, chefs and waitstaff take their well-deserved breaks, and some restaurant owners, seeking a change, decide to close their doors for good.
In July, three well-known St. John restaurants ceased operations, but two others have opened; another spot is undergoing renovations with plans to open a splashy new venue in the fall; and one is going back to doing what it does best. Here's an update, starting from the eastern part of the island moving west.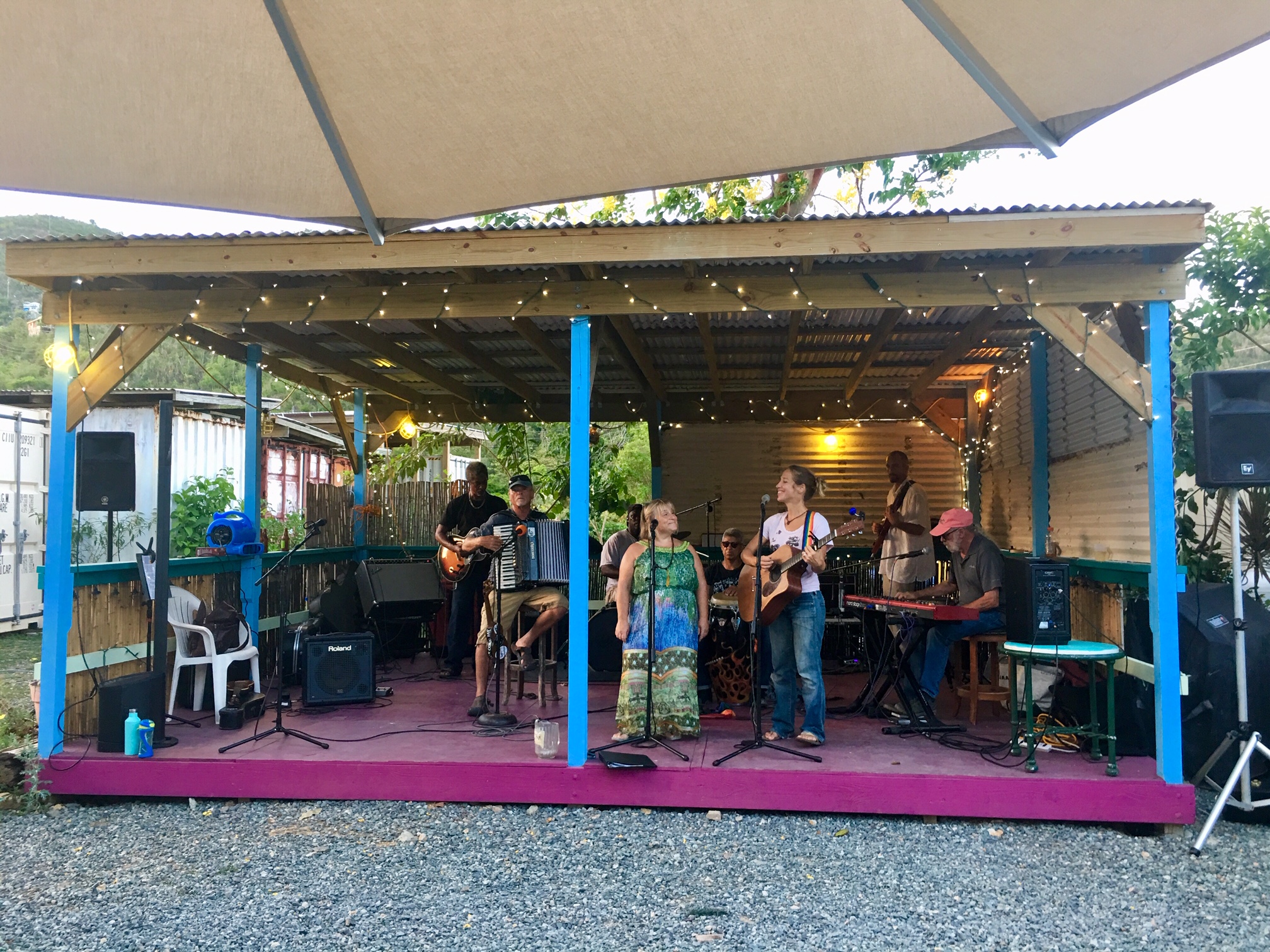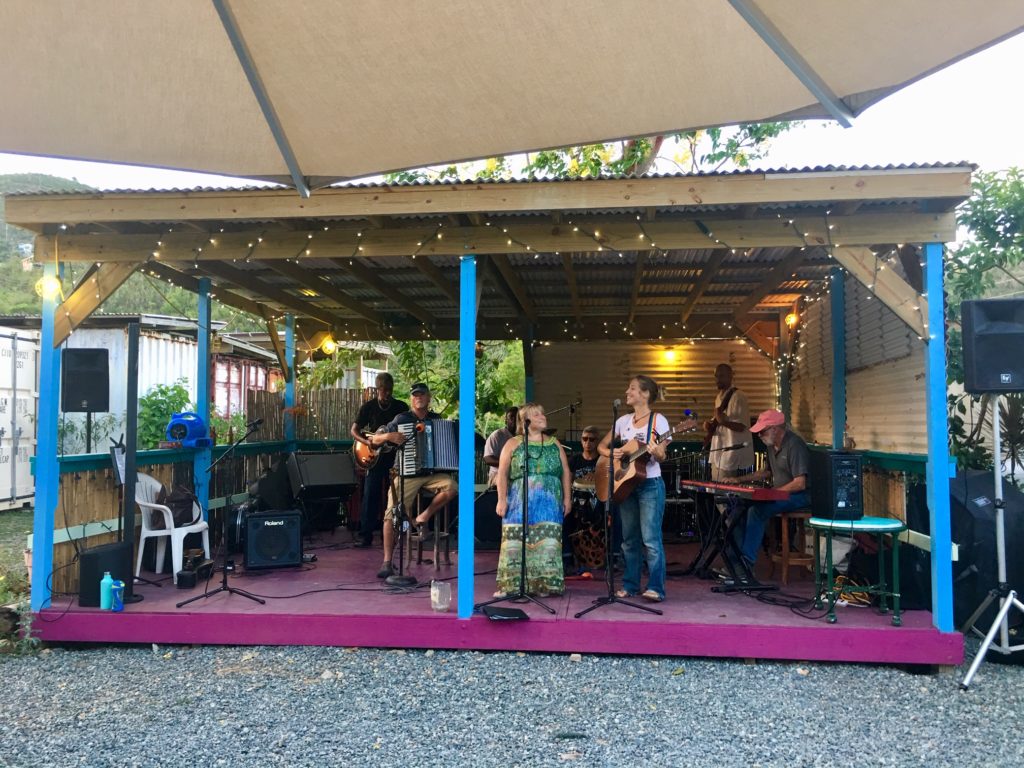 Coral Bay residents are mourning the closing of Pickles, a simple wooden structure that has done much more than provide breakfast, lunch and dinner—and, of course, drinks– since it opened in 1994. With its spacious back yard, it has served as something of a community center, hosting flea markets and crafts shows, spiritual meetings and memorial services. Since 2018, it has been the regular Thursday night open mic venue for local and guest musicians.
Owner Beverly Melius hoped that someone would step up to take over the restaurant after she made significant repairs following the ravages of Hurricane Irma in 2017, but no one did. Melius gamely went into the kitchen herself, learning how to make eggplant parmesan and stir fries for 175 customers. "I got through the year," she said, "but that's it. Pickles is for sale or lease. I'm hoping something beautiful will blossom there," she added.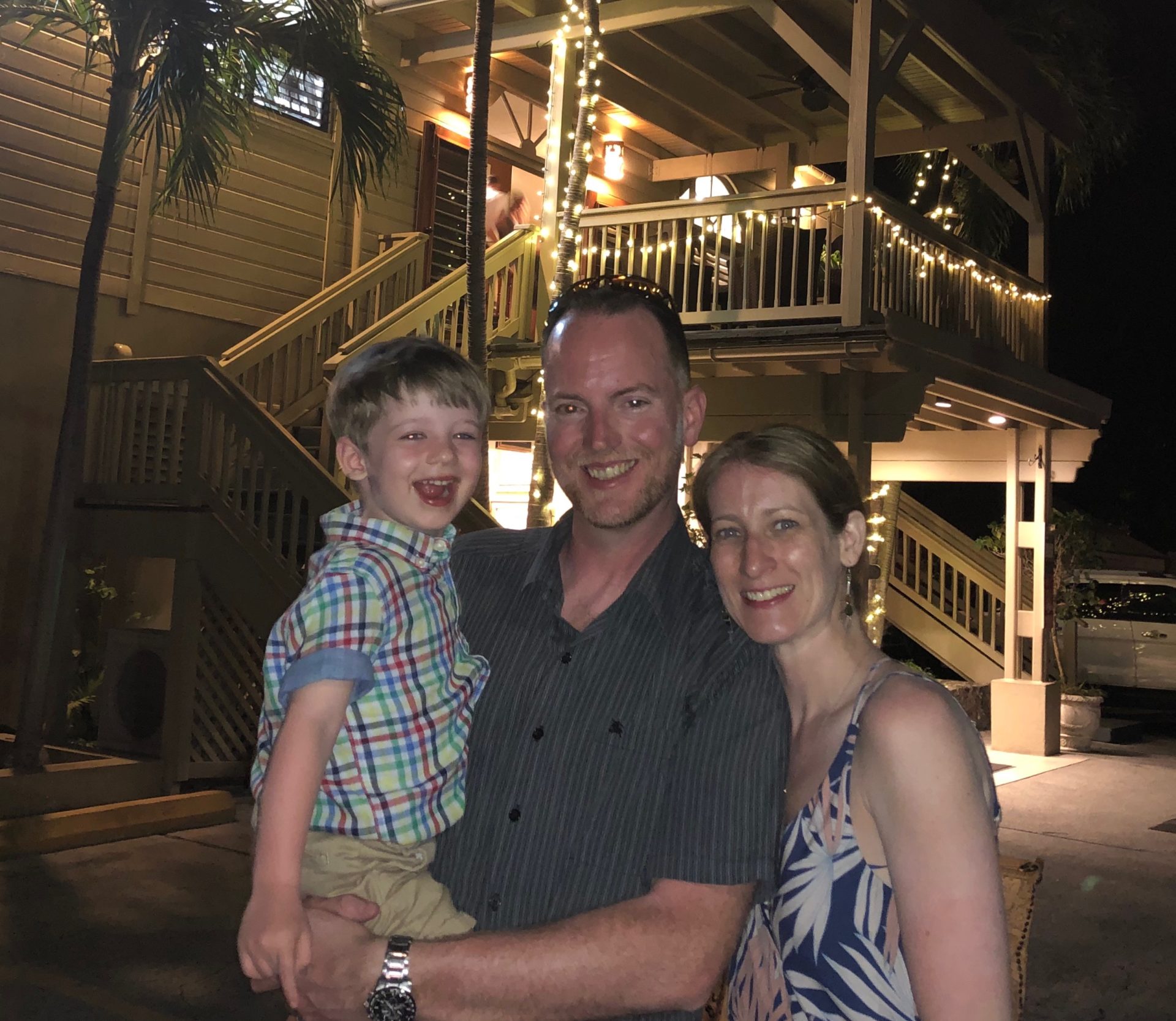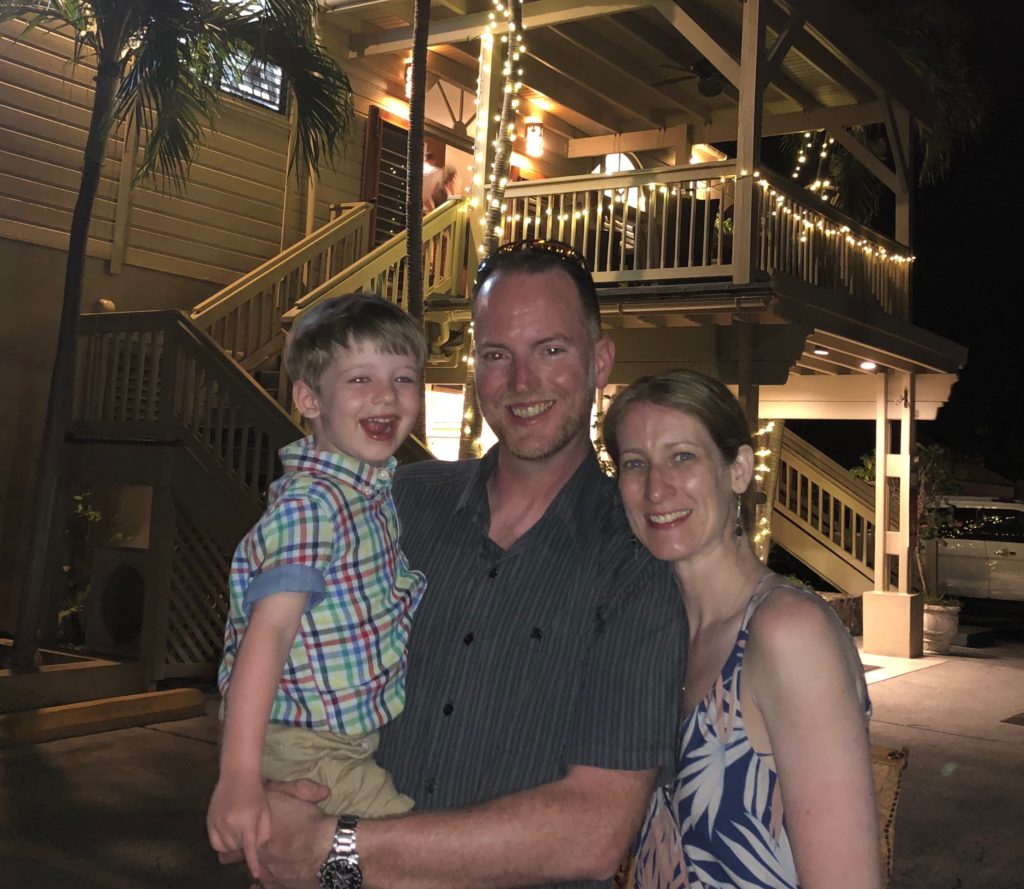 Places to eat in Coral Bay started to become scarce when Wok on the Beach closed down in February, but its location in the upscale Isola Shoppes proved to be too tempting an opportunity to let pass for new owners John and Sarah Joyce. The couple, who had been visiting St. John for years, "decided to make a lifestyle change," according to Sarah. Formerly residents of New York City, he worked for AT&T, and she worked in the financial sector. They now apply their management skills to the restaurant business.
"Our idea is to offer a finer dining experience with a casual, welcoming, family-friendly environment," Sarah said.  Their vision included construction of a new bar to take advantage of the view of the water and the Coral Bay breeze, and, of course, that has taken longer than they expected. Until the work is completed, they are serving lighter fare and operating under the name TBD (To Be Determined,) but in November they will officially open their doors as The Danforth.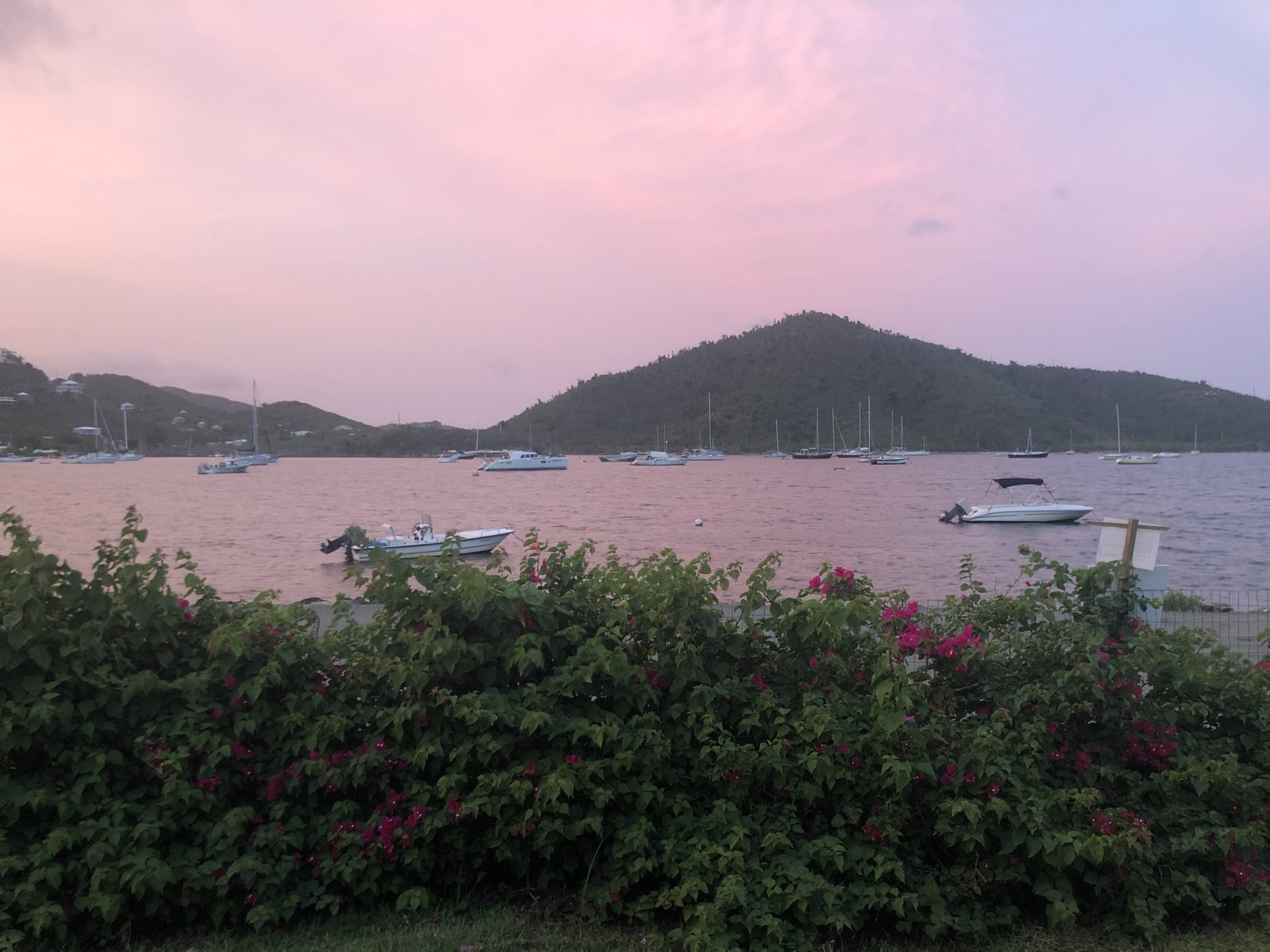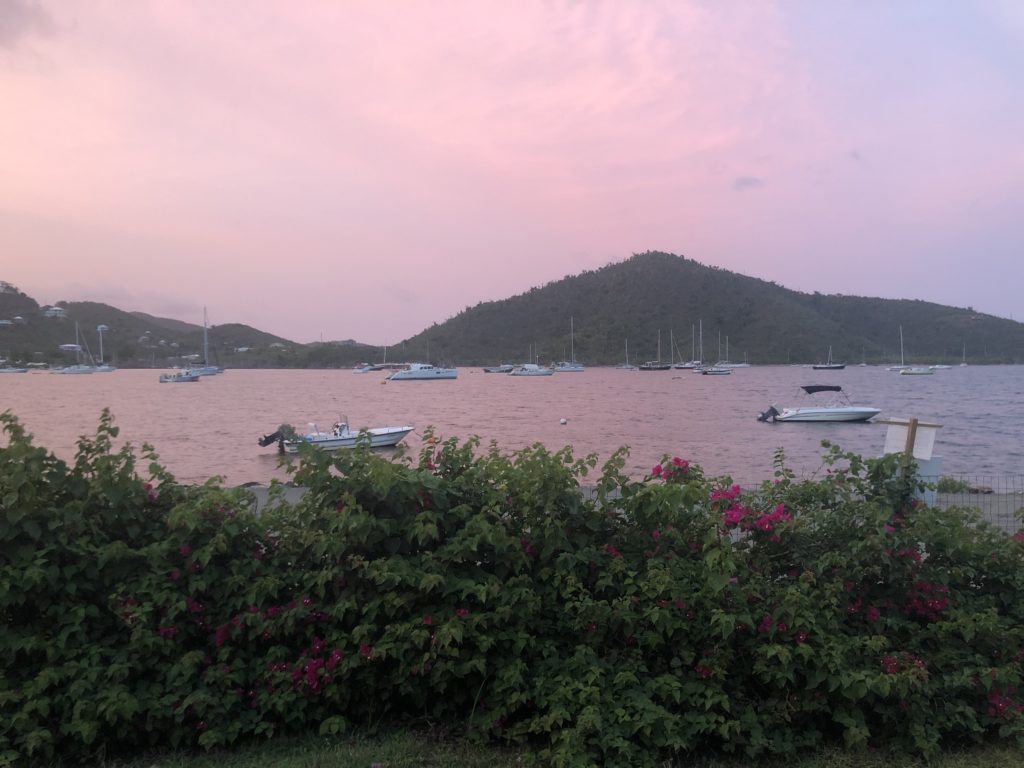 With their new chef, TBD is now offering "heavenly seafood" and "Caribbean-inspired" cuisine and has been garnering positive reviews from locals. The restaurant is open for Sunday brunch and every evening but Thursday, but it may be best to confirm dining hours by calling 340-626-8740.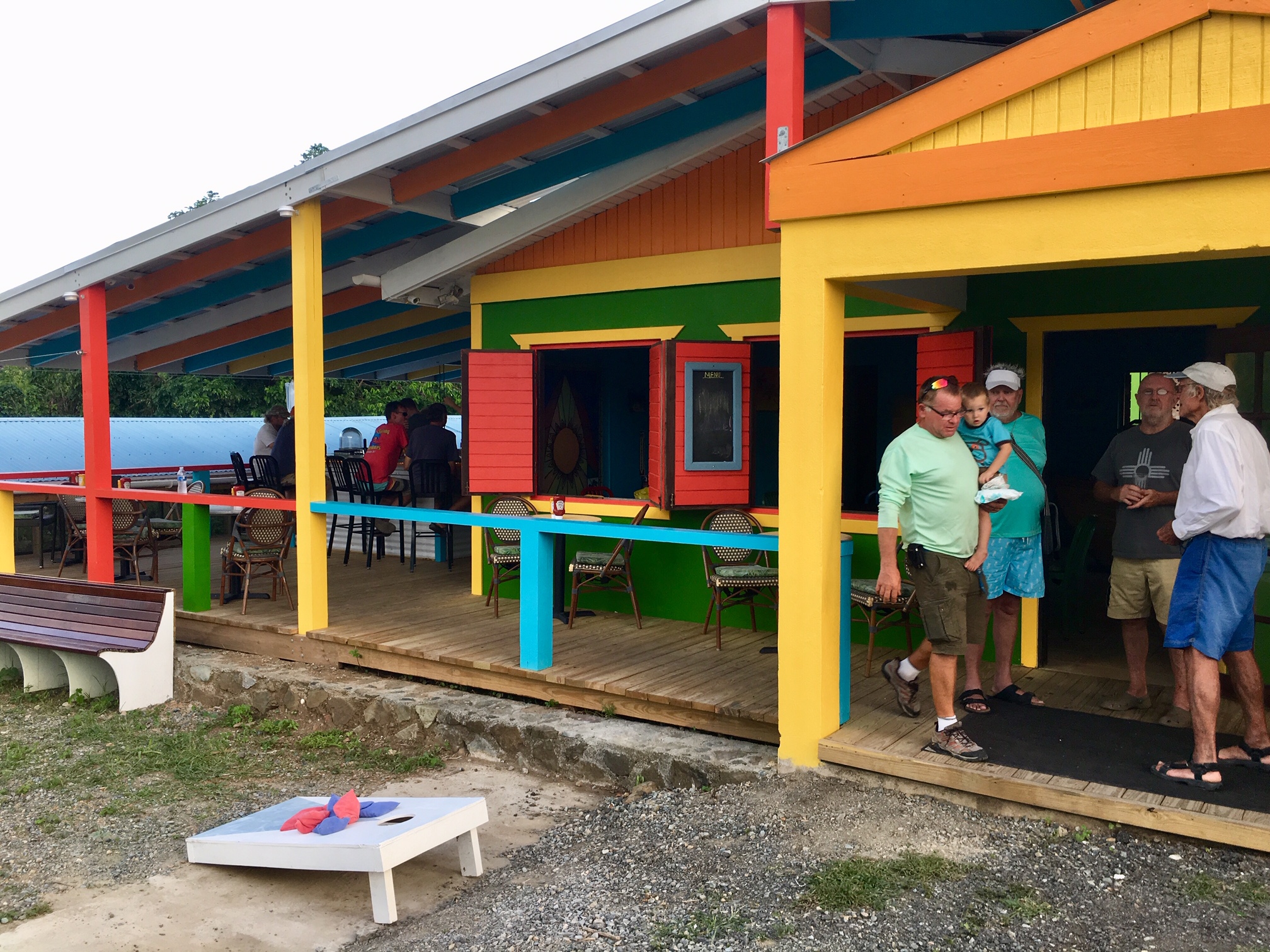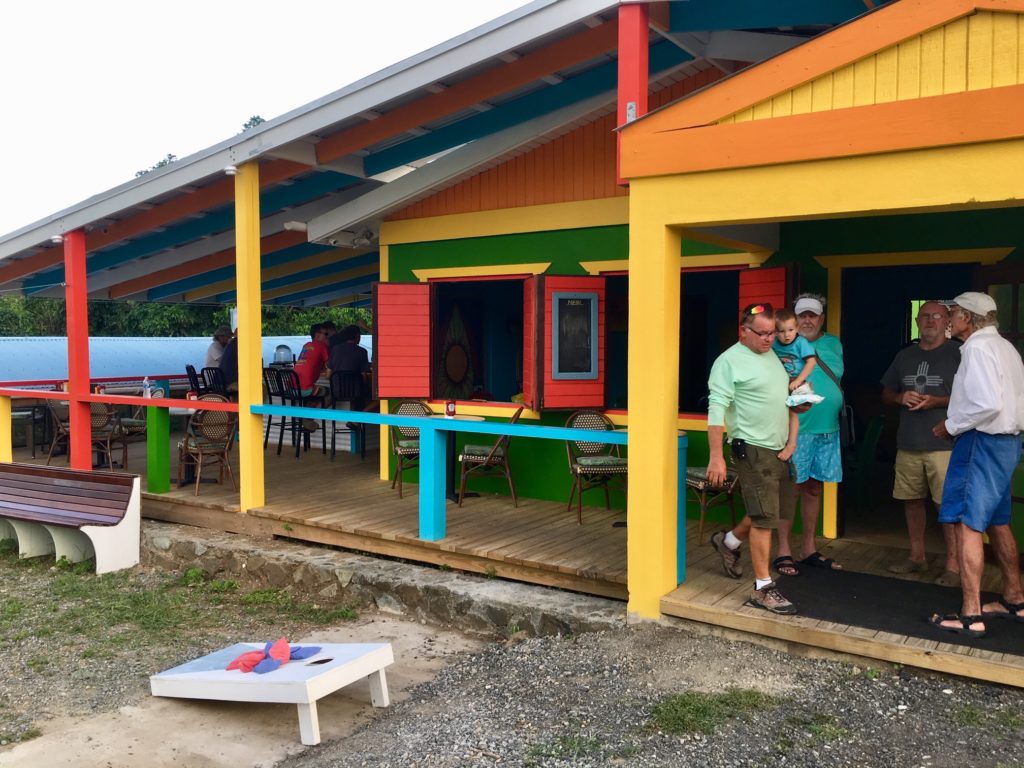 The 8-mile stretch between Cruz Bay and Coral Bay has offered few spots for food and drink aside from a food truck and a smoothie stand, but that changed in the beginning of July with the opening of Shambles, a brightly painted bar and restaurant.
Owner David Baysden operated Driftwood Dave's at the old Lumberyard Complex in Cruz Bay until Hurricane Irma destroyed the building. Ironically, Baysden chose the name Shambles for the new venture based on the ruins of his old business.
This time he decided to set up shop near Paradise Lumber on Centerline Road, an area that gets lots of traffic from a growing number of nearby businesses and people making their way across the island. Adjacent to the restaurant is a new structure with the sign "Living Roots," slated to house a hydroponic farm for growing fresh produce. Driftwood Dave's was known for its ribs, and they're still on the menu at Shambles.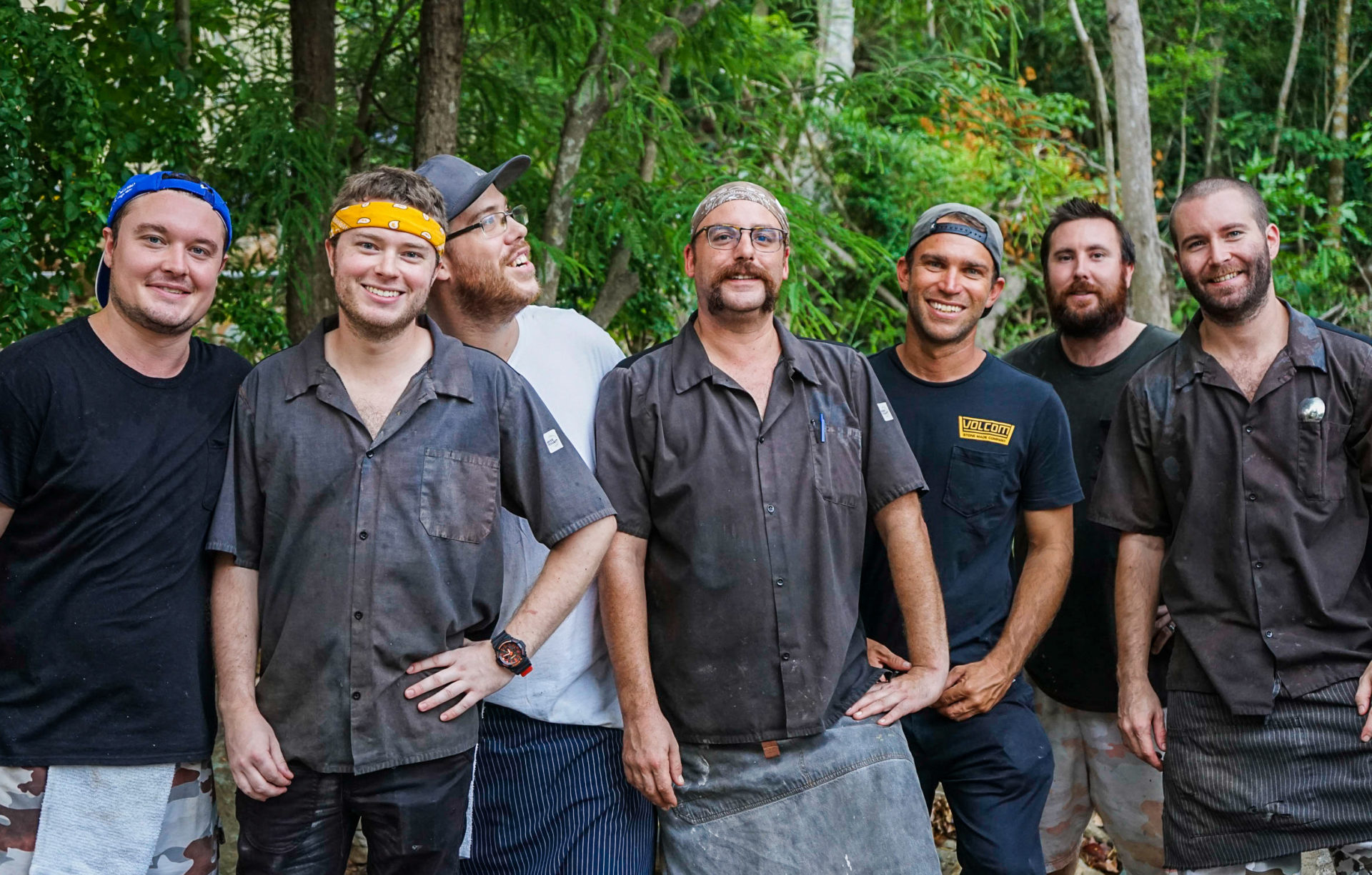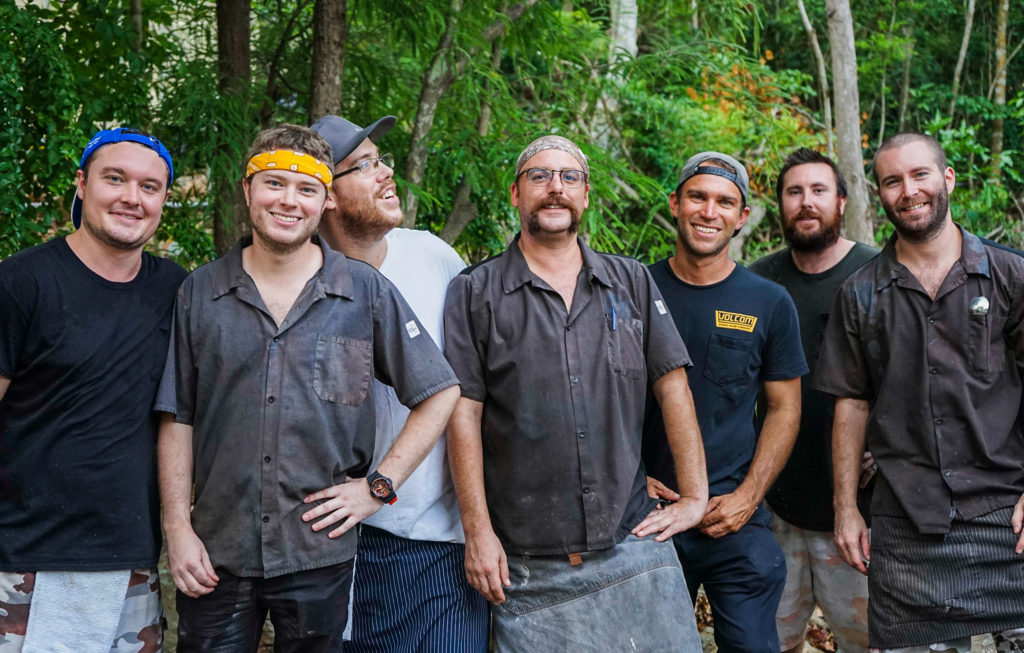 At Mongoose Junction in Cruz Bay, residents and visitors waited eagerly for the opening of a restaurant that would replace the popular Ocean Grill, which closed in the summer of 2018. In the last week of June, they got their wish when the staff at 18° 64° welcomed their first diners.
Named for the latitude and longitude coordinates of St. John, the restaurant is the second venture of owners Ryan Costanzo and Thomas Garfield, who have successfully run the upscale restaurant Extra Virgin since 2015. Creagh Spallino, who joined them in 2017, is a co-owner of 18° 64°. "Chef Tommy" Garfield presides over the kitchens at both venues.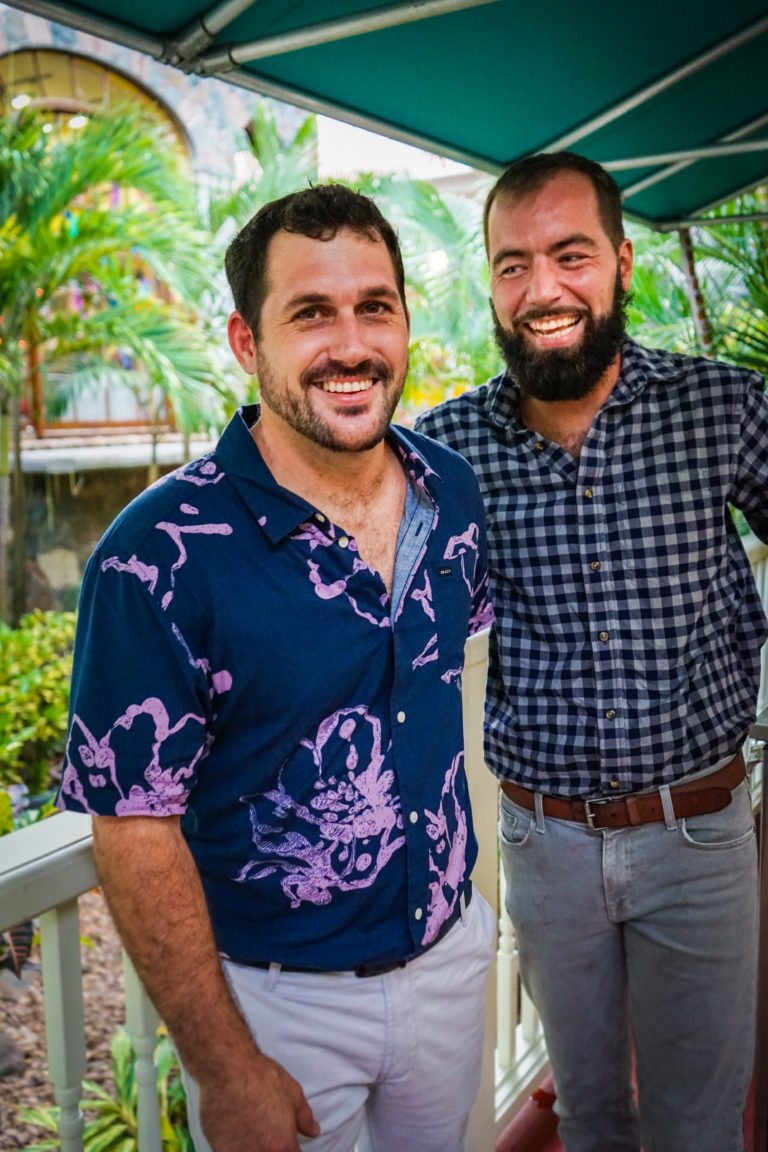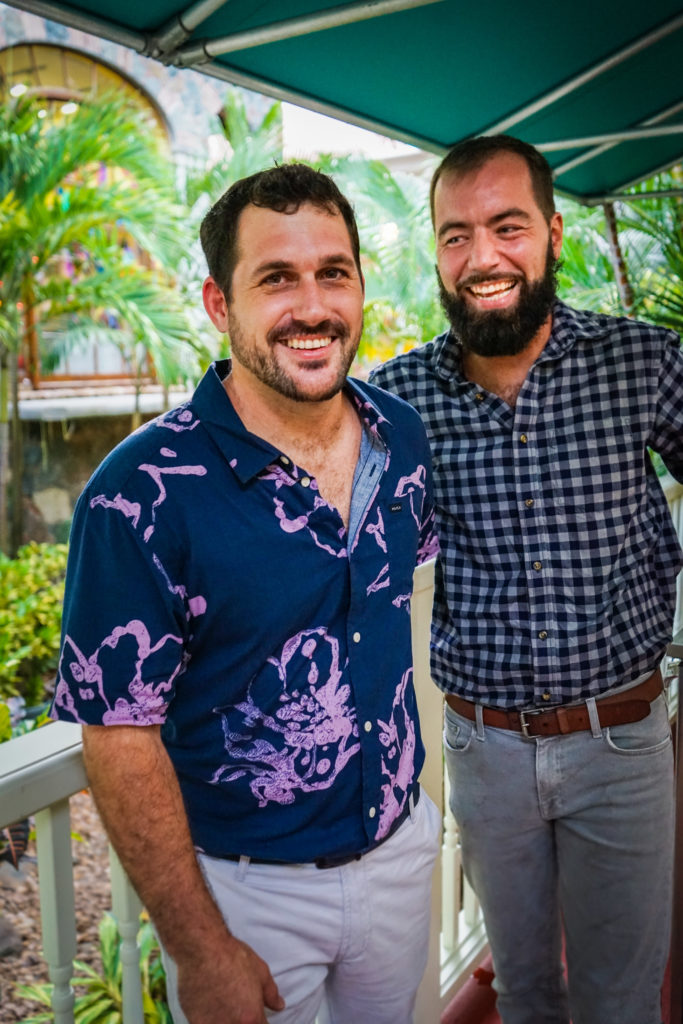 The new restaurant aims to provide food of the same high quality as Extra Virgin but not quite as rich in terms of food preparation; it's also somewhat lighter on the wallet. "18° 64° is seafood-driven, as much local as we can get. But we get lots of New England shellfish as well," said Spallino.
Customers can enjoy fresh oysters, clams and lobster tail at the bar from 3 p.m. to 5 p.m., except on Tuesdays through August when the restaurant is closed. Before moving in, the owners re-designed the restaurant to expand the bar, making it more conducive to conversation and full menu service. "People like to dine at bars," said Spallino.
The start of summer may seem like an odd time to open a somewhat fancy restaurant in the Virgin Islands, but Spallino said, "We wanted to open off-season to give us time to see what works." Also, a current trend in the housing market is having an impact on the local hospitality industry; owners are converting long-term rental units into short-term rental units for tourists, and affordable housing for locals is a becoming non-existent.
"Staffing is a big issue because there's such a shortage of available housing on St. John; we're not getting the same influx of new transplants," Spallino said. The owners of Extra Virgin and 18° 64° are scrambling to provide housing for their new hires.
To give the staff a break before embarking on its high-season, seven-day schedule, 18° 64° will close for four weeks in September. For further information, contact the restaurant at 340-774-1864.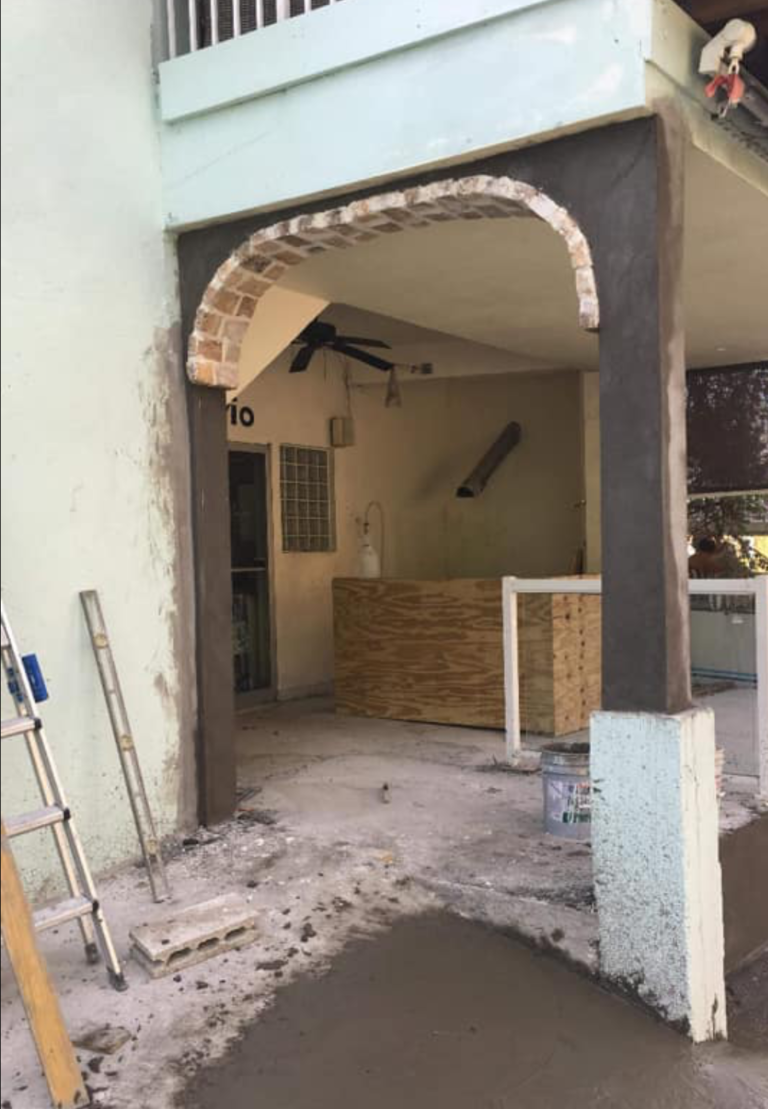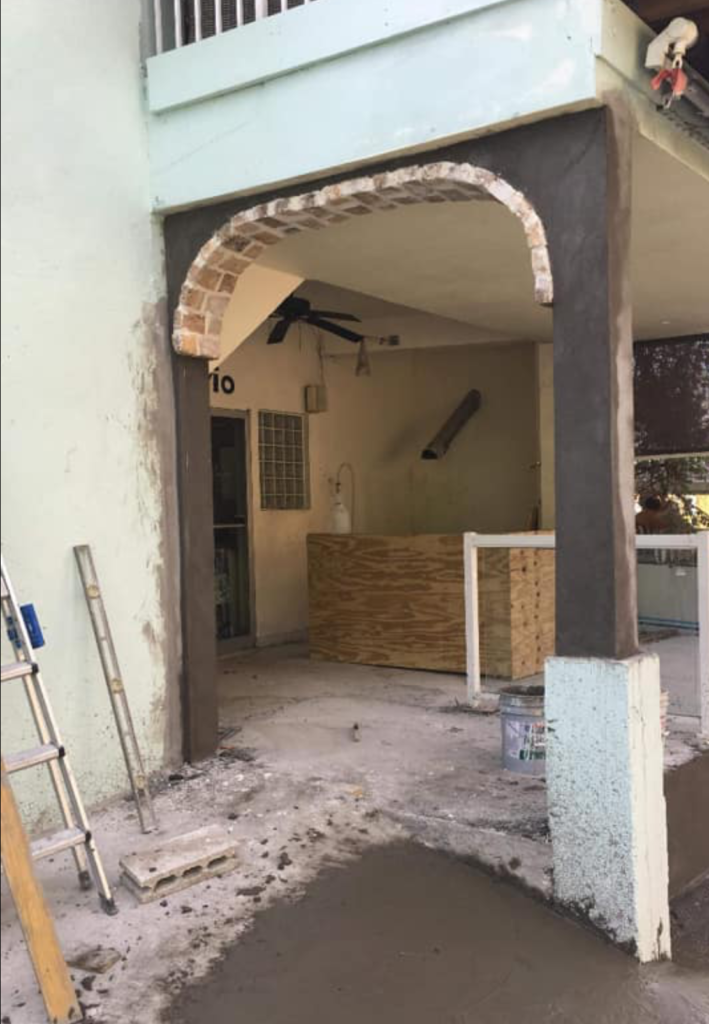 One new restaurant not attempting a "soft opening" during the summer is Dave and Jerry's Island Steakhouse. Owners Jerry Lee Mace and Dave Feller took over the lease of DaLivio, an authentic Italian restaurant that operated for 12 years nestled under what is now known as the Cruz Bay Boutique Hotel.
The owners decided to completely gut the restaurant, replacing the floor tile, installing handicapped access and rebuilding the kitchen. The new restaurant, scheduled to open as early as October, will be "bright and vibrant," said Mace. "We'll have seating for 24 at an outdoor bar, and a community table where the chef serves individuals or groups," he added.
True to its name, the specialty of the house will be steak. "We plan to be dry aging the beef on site," said Mace, "but we'll offer a complete menu—pasta, fresh seafood, vegetarian selections, Maine lobster, duck."
Mace already has a year of local restaurant ownership under his belt. Last summer, he and his daughter, Sydney Hemelein, took over Café Roma, a family restaurant that's been an island mainstay since 1981.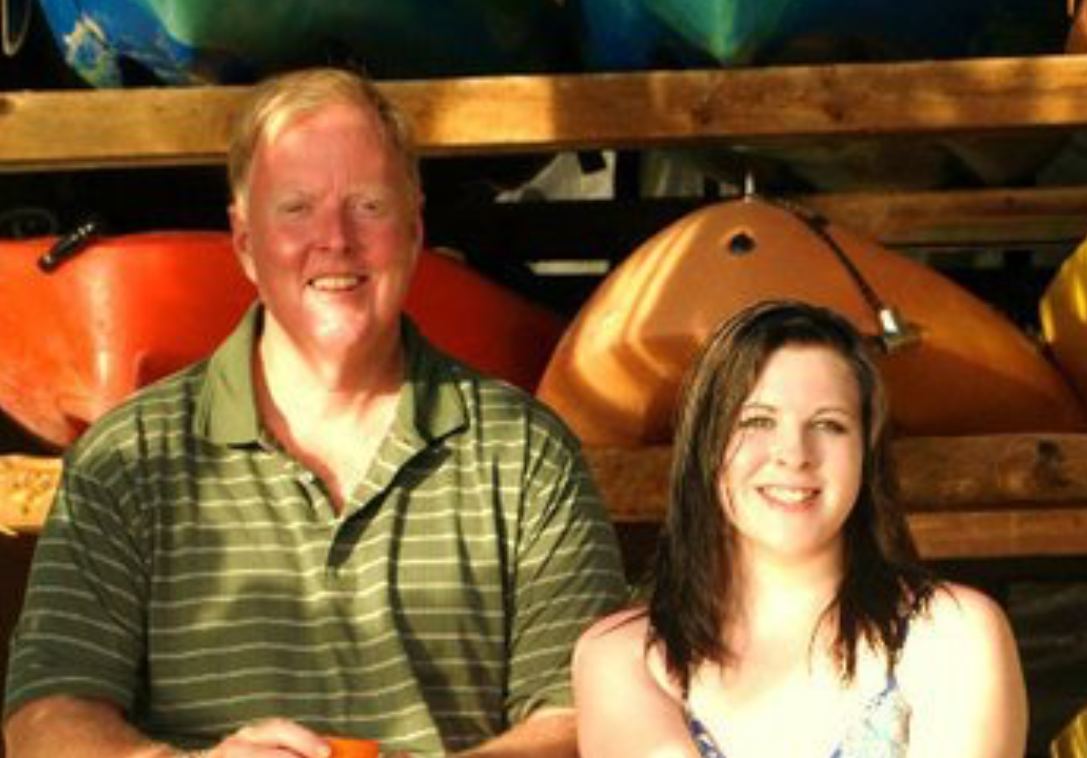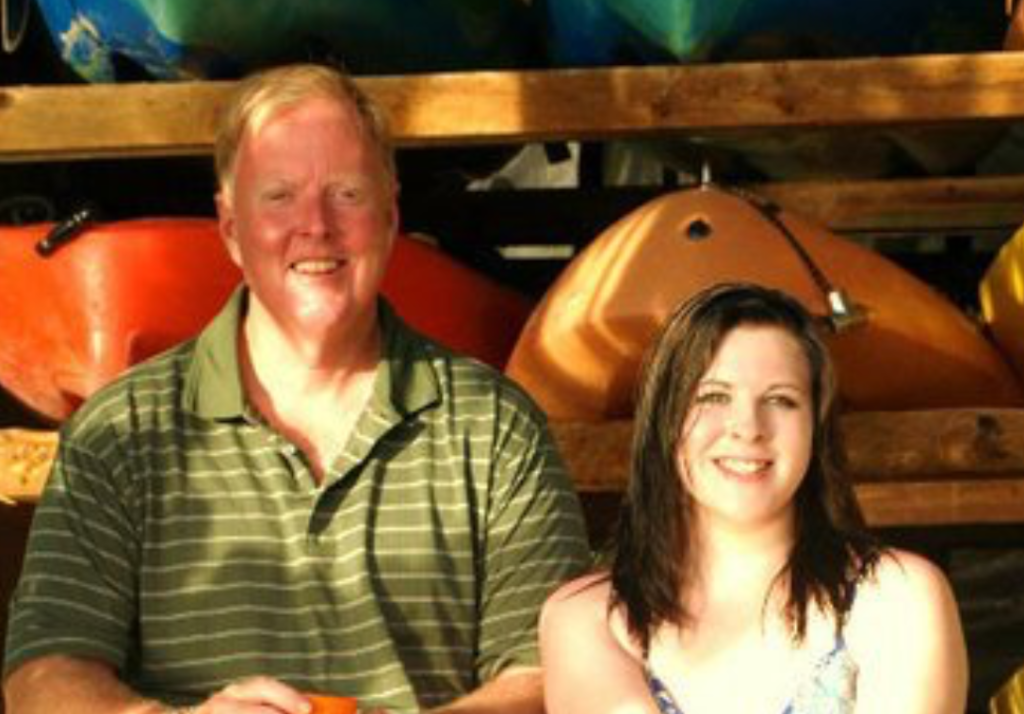 For this new steakhouse, Mace teamed up with investor Dave Feller, the founder and CEO of the food site Yummly.com. Their long-term plan is to perfect the concept on St. John and market it as an anchor restaurant in resorts, somewhat like Margaritaville.
Mace said they advertised worldwide for executive chefs and received more than 50 applications. They finally selected Riah Kuenzi, who formerly worked at the Waterfront Bistro and the Terrace. "We're looking for people at the top of their profession. The restaurant will be casual and fun, but everything will be at the highest level," he said.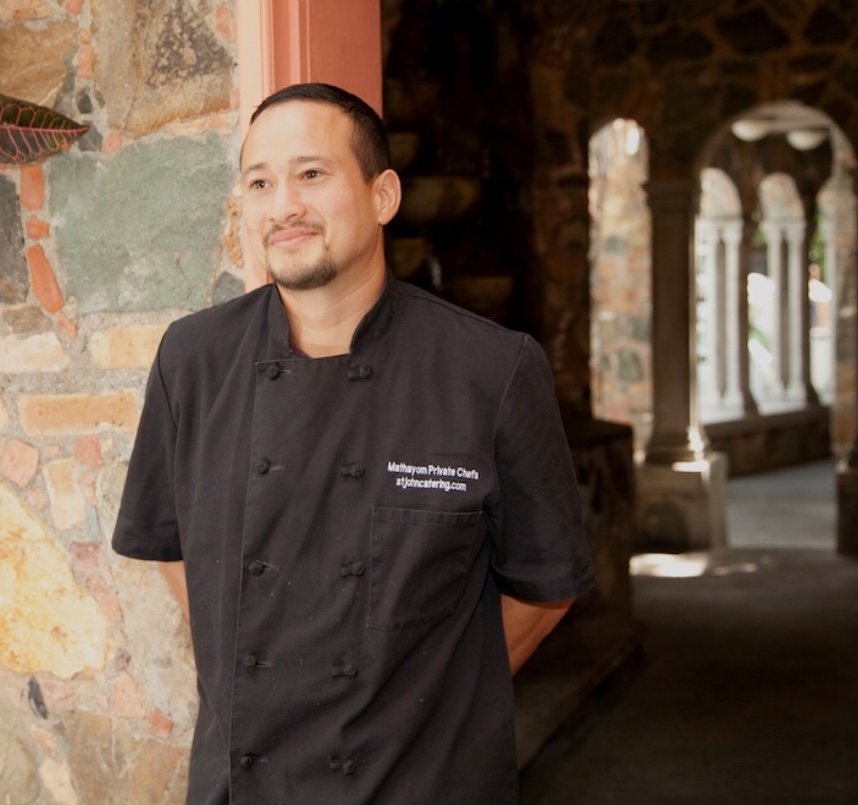 This summer, Mathayom Vacharat, a chef known for the quality of his cuisine since 1995, decided to close his restaurant Lucky Chops in order to concentrate on what he does best—private catering and special event dinners, which are open to the public.
Vacharat opened Lucky Chops only a year ago when his previous venue, Windy Level, blew away in Hurricane Irma. Located two miles up Centerline Road from Cruz Bay, Windy Level had served as a base for his business, St. John Catering, since 2014. At that site, he began offering full moon dinners, which are monthly gourmet feasts, each featuring a particular type of cuisine.
Vacharat then opened Lucky Chops, specializing in sushi and Asian-inspired dishes at the site of the former Fish Trap in Cruz Bay, but after a year, he decided to close the restaurant and focus instead on catering and hosting special events. Vacharat's counting on word of mouth and social media to advertise his business. In September, he's offering a full moon dinner entitled "Thai One on Again!" Check the Lucky Chops Facebook page for details, or call 340-690-3868.
As hurricane season peaks, most restaurants throughout St. John close down temporarily for a break or to upgrade their premises. Restaurant owners have learned to stagger their closings so that there's always a place for diners to go. At this time of year, it's wise to call ahead to confirm that a particular restaurant is open and to make a reservation.