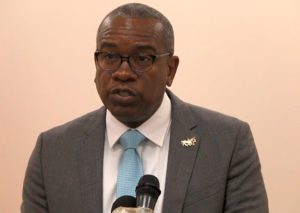 Gov. Albert Bryan, Jr. shared his thoughts on the resignation of Puerto Rican Gov. Ricardo Rosselló Thursday, adding that his administration plans to rebuild a defunct division of the Justice Department that was tasked with investigating and prosecuting white collar crimes and public corruption.
"We have to make sure this doesn't happen here," he said.
Speaking at a press conference on St. Thomas, Bryan said his team has been closely monitoring tensions in Puerto Rico, which hit a breaking point this month after leaked text messages between Rosselló and his aides sparked a public outcry that ultimately led him to resign just as the territory's Senate was beginning impeachment proceedings.
"It is truly unfortunate that our brothers and sisters have been under such stress and distress," Bryan said. "They have suffered immensely and as a result, the loss of trust in leadership is tragic."
While Bryan said he looks forward to working with the territory's new leadership and reigniting the bonds of friendship between the U.S. Virgin Island and Puerto Rico, he also made it clear that both the local government and the community have to work together to make sure the same situation "cannot and will not happen here," especially when the federal government is closely monitoring the use of billions in recovery dollars that have come in since Hurricanes Irma and Maria.
The formation of a public task force can help enforce the administration's zero-tolerance policy on corruption, Bryan said, while also offering educational opportunities for employees and residents on government ethics, and on contracting policies for anyone involved in the ongoing hurricane recovery process.
Meanwhile, Attorney General Denise George said that her team is also looking to rebuild the Justice Department's White Collar Crimes and Public Corruption Unit, which she said has been completely dismantled over the past few years. George used to head the unit while working as an assistant attorney general.
Justice is required by law to establish and maintain the division, which not only investigates white collar and public corruption crimes but aggressively prosecutes them, she said. Rebuilding the unit means gathering the right staff trained in financial and fraud investigations, along with local and federal corruption statutes, and maintaining a close working relationship with the V.I. Police Department.
"These crimes should never go unchecked in this government. It is so important to maintain the integrity and honesty in government so that a community can have the respect and the trust in its leaders," George said.
George said she also recently learned that the territory's Civil Rights Commission, which is under Justice for budgetary purposes, has "practically disappeared in its entirety."
"The staffing has slowly been dwindling from the department, and there doesn't appear to be any evidence that it existed except for a few boxes and files stored at the department," she said. "But that is also about to change."
George pledged that she would also put her focus on finding the right people for the commission, who would be appointed and charged with not only handling complaints dealing with civil rights but putting in place a process that would allow community members to file claims.