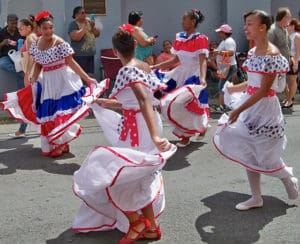 With the national spotlight once again trained on their nearest U.S. neighbor, Virgin Islands residents have been watching the political unrest in Puerto Rico with considerable interest.
Weeks of widespread demonstrations finally forced Puerto Rican Gov. Ricardo Rossello⸍ to announce his resignation Wednesday night, although he said it would not be effective until Aug. 2.
National reports have focused on the island's bankruptcy proceedings, the devastation of the 2017 hurricanes and the slowness of recovery, as well as corruption charges against former administration officials as much of the impetus for the movement to oust the governor. The final straw seems to have been the leak of private chatroom emails that revealed Rossello⸍ and his inner circle using vulgar and misogynistic language and poking fun at everyone from gay people to hurricane victims.
Asked for his take on the situation, St. Croix administrator and former V.I. senator Sammuel Sanes expressed sympathy for the demonstrators.
"I am following it," he said. "I have family over there."
Sanes zeroed in on the emails, suggesting they indicated a betrayal of the people's trust and that the raw language was uncalled for. As a political leader, "you must be aware that you represent your people."
It was more than style that spelled trouble for the administration, however.
"I think it was perhaps the mishandling of funds that were supposed to be used for the hurricane recovery," Sanes said.
The tenor of the movement – which often seemed less like political upheaval and more like a humongous block party with music and dancing and flag-waving – garnered widespread support nationally.
That appealed to Sanes, too, who said that despite some isolated acts of vandalism, "for the most part it was a peaceful demonstration."
"They're united," he said.  One recently published photo showed police officers and demonstrators holding hands and praying. "That was very touching to me."
Another Crucian with Puerto Rican roots, film maker Johanna Bermudez-Ruiz, shared her thoughts via email.
"This is a historical moment for Puerto Rico and for all in the Caribbean and the world – it shows that a people united can defeat injustice and corruption," she said. "It could be an example to many that when things are unjust, we can stand together and make it just!"
It is also, she said, "a powerful moment of change and a powerful moment for Puerto Rico to re-define its political and economic destiny."
Bermudez-Ruiz referenced the successful opposition by residents to the U.S. military's decades-long use of a small island off the southeastern coast of Puerto Rico for testing and artillery training.
"Since the movement of Vieques to stop nearly 60 years of abuse and bombing practices by the U.S. Navy, we have not seen such a remarkable movement for change, justice, and betterment for people," she said.
Ties between the Virgin Islands and Puerto Rico are not limited to their geographic proximity or the fact that, as U.S. territories, they are the American presence in the Caribbean.
The 2010 census recorded the population of the Virgin Islands as 106,405, with 10,981 or approximately 10 percent of those people identifying as Puerto Rican.
Since the mid-1960s, islanders have marked Virgin Islands-Puerto Rican Friendship Day in October rather than Columbus Day and celebrations can stretch out over nearly a week.  The non-profit Virgin Islands-Puerto Rico Friendship Committee hosts other cultural-sharing events throughout the year.
Committee chairman Carmen Dennis declined to comment on the current situation in Puerto Rico, saying the organization is focused on art and culture and steers clear of politics.