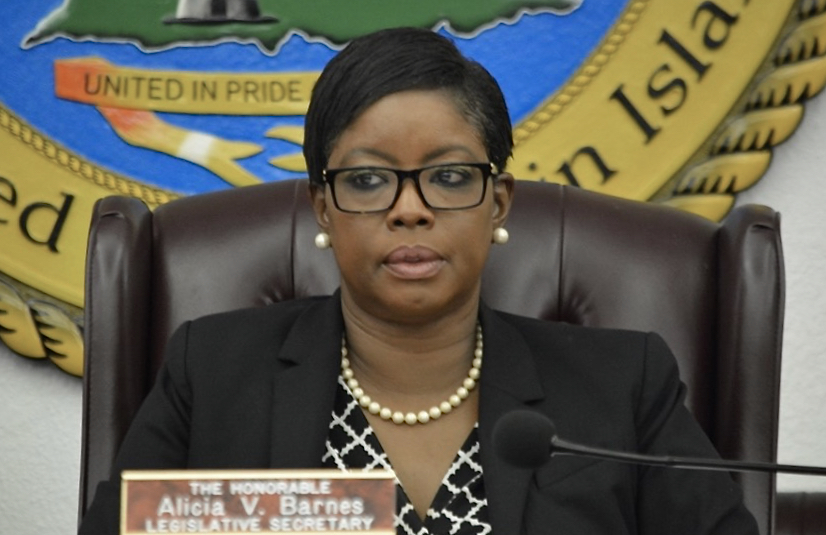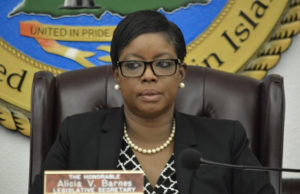 Sen. Alicia Barnes (D-STX) will return $1,000 in campaign contributions to a company owned by billionaire Jeffrey Epstein following the billionaire's high-profile arrest on sex trafficking and child molestation charges.
The St. Croix senator announced the move in response to inquiries made to local politicians on whether their campaigns received any contributions from Epstein. On Thursday, Barnes initially stated in an email "to the best of my knowledge, no." On Saturday, she reversed course.
According to Barnes, her team's "detailed review" of campaign donations discovered that her 2018 campaign received $1,000 from Southern Trust Company, Inc., a beneficiary of the V.I. Economic Development Authority.
"When the donation was received last year, it did not raise concerns. However, in light of the allegations made and the previous disposition of Mr. Epstein's legal issues, my campaign will return the $1,000 to Southern Trust Company Inc. via certified mail on Monday," Barnes wrote.
According to Barnes, she only learned of Southern Trust's ties to Epstein after recent media reports.
"It is important that as elected officials once it is clear that donations may have been received from individuals that we would not have around our children and family, or whose positions are unequivocally unaligned with our own, that donations/contributions be immediately returned," Barnes wrote.
The V.I. Economic Development Authority lists Southern Trust as a company engaged in providing extensive DNA database and data-mining services. Headquartered at 6100 Red Hook Quarter, Suite B-3 on St. Thomas, the company lists former first lady Cecile deJongh, wife of former Gov. John deJongh, as office manager. As an EDC company, Southern Trust enjoys corporate and income tax cuts – as much as 90 percent – and a full exemption on gross receipts, business property and excise taxes.
Barnes is the second Virgin Islands politician to relinquish campaign contributions from Epstein. On Tuesday, Delegate to Congress Stacey Plaskett announced she will make charitable donations in the amount Epstein donated to her election campaigns in 2016 and 2018.
"In light of new information and allegations that have been made against Jeffrey Epstein I have decided to make contributions to Virgin Islands organizations that work with women and children in the amount of his previous contributions," Plaskett said in a statement.
"My litmus test for accepting campaign contributions has been based on whether the donor's money was made legally or by ill-gotten means and that the contributor will not ask of me or my Congressional office for any special favors. All my contributions have passed that test. In this case however, I am uncomfortable having received money from someone who has been accused of these egregious actions multiple times," she said.
She said she hoped any other V.I. elected officials who took Epstein's money will do the same.
A majority of sitting senators replied that they had not received any such donations, including Sens. Novelle Francis (D-STX), Allison Degazon (D-STX), Oakland Benta (D-STX), Alicia Barnes (D-STX), Steven Payne (At-Large), Janelle Sarauw (I-STT), Javan James (D-STX), Myron Jackson (D-STT), Stedmann Hodge (D-STT), Athneil "Bobby" Thomas (D-STT) and Marvin Blyden (D-STT).
Senators who have not yet responded to inquiries sent to their Senate emails were Sens. Dwayne Degraff (D-STT), Kenneth Gittens (D-STX), Kurt Vialet (D-STX) and Donna Frett-Gregory (D-STT).
Government House's Director of Communication Richard Motta, Jr. responded on behalf of Gov. Albert Bryan, saying the governor did not receive any campaign contributions from Epstein.
No other U.S. Virgin Islands politician who initially responded has sent follow-up correspondence regarding any later discovery similar to Barnes of an Epstein-tied donation that does not explicitly bear Epstein's name.
"We haven't received any campaign contributions or checks with the name Jeffrey Epstein on it," said James in a phone call, while also asking if he did receive Epstein donations, "What would that look like?"
No other U.S. Virgin Islands politician who responded indicated having completed a thorough review of campaign contributions in light of the recent inquiry.