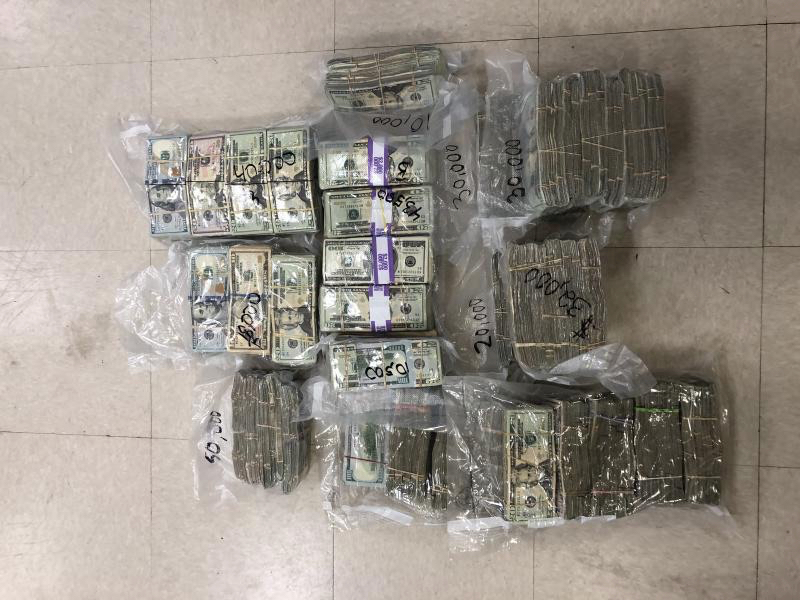 U.S. Customs and Border Protection Agents last week seized $372,000 in undeclared currency found inside a duffle bag on the beach near a vessel found in Bordeaux Bay, according to a news release.
"Transnational criminal organizations seek to conceal and move currency from their activities," stated Johnny Morales, director of Air and Marine Operations for the Caribbean Air and Marine Branch. "Our agents continue to use advanced aeronautical and maritime capabilities to detect and interdict them throughout our coastal borders."
On July 9, Air and Marine Operations marine interdiction agents received a call from a concerned citizen about a suspicious boat making landfall in Bordeaux Bay on St. Thomas. The caller said three men were onboard and intentionally beached a 20-foot Boston Whaler.
The MIAs responded by vehicle to the area and noticed a single duffel bag still sitting in the sand near the boat, which had a Puerto Rico registration. Agents conducted a sweep of the area but were unable to locate any of the suspects.
Inside the duffel bag, agents found an undetermined amount of cash in vacuum-sealed packages. The undeclared currency totaled $372,000. U.S. Homeland Security Investigations assumed custody of the seized currency and investigation.
On July 7, AMO seized $3.7 million in undeclared currency found inside five duffle bags on board an abandoned vessel near the coast of Fajardo, Puerto Rico.
According to the news release, AMO is a federal law enforcement organization under Customs and Border Protection, dedicated to serving and protecting the American people through advanced aeronautical and maritime capabilities. With approximately 1,800 federal agents and mission support personnel, 240 aircraft, and 300 marine vessels operating throughout the United States, Puerto Rico, and U.S. Virgin Islands, AMO conducts its mission in the air and maritime environments at and beyond the border, and within the nation's interior.