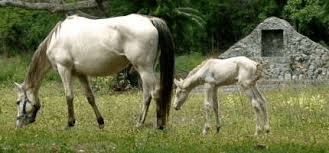 Lawmakers pushed a measure forward on Friday, which would amend the Virgin Islands definition of livestock to include horses despite the testimony of farming officials opposing the measure.
Six senators on the Committee on Economic Development, Regulations and Agriculture voted in favor of Bill 33-0036 against the advisement of the Department of Agriculture whose designated testifier expressed concerns about food security.
Director of Veterinary Services for the Department of Agriculture, Bethany Bradford, testified on behalf of Commissioner Positive Nelson who did not attend the committee meeting.
"As it stands right now the farmland that is in St. Croix that belongs to the government and is leased to livestock farmers, many of them have one or two horses on there already. There are situations, where at this point and all of a sudden, there is a big population of horses on government land. The problem with that is that it is quicker to make money off a race horse if you have it on your land and I do think that livestock farmers will in time displace their livestock, as it is defined today, and put more race horses on government land," Bradford said.
Bradford said agriculture departments in the United States vary considerably from that in the Virgin Islands. She said the state's agriculture departments are regulatory bodies, whereas in the Virgin Islands the agriculture department is modeled after the Caribbean departments of agriculture which provide veterinary services, feed, water, land preparation, and sometimes even land.
"The state's department of agriculture are not going out to stitch up a horse," Bradford said. With the present structure of the department Bradford said the staff and resources are already stretched thin addressing the species that are currently required.
"There is no infrastructure to take care of the estimated 1,200 horses that are here. There is one veterinarian, that's me and my staff. With my understanding, if you put this under agriculture then we will need a veterinarian with horse experience and additional supplies and resources for them to deal with the needs of the horse owners … that makes me nervous and apprehensive about this," Bradford said.
Sen. Allison DeGazon, who proposed the bill, said the purpose of the proposed change is economical.
"What we are trying to do is economically set up ourselves and our territory to take advantage of every revenue generating opportunity federally and even locally that we can create," DeGazon said.
DeGazon said horses should be included as livestock to provide horse owners the same grant opportunities, technical support from both the Virgin Islands and U.S. Department of Agriculture, and the same privileges that others with livestock receive but are denied to horse owners.
When the Virgin Island experienced severe droughts in 2005 and 2016, DeGazon said, the horse owners could not receive any kind of assistance from Agriculture. She added that horse owners were not granted any relief or assistance that provided access to water that was supplied to crop and livestock owners. She also said horse owners lacked proper grazing lands due to the drought and were not eligible for supplemental hay or feed.
But Bradford said the racehorse and horse owner associations have purses.
"They could have taken money from those purses that they were receiving from when the racetrack was running to buy feed during the drought," she said.
After hurricanes Irma and Maria, horses were included in feed distributed to every species on the island of St. Thomas, St. John and St. Croix.
Chairman of the Virgin Islands Horse Racing Commission Jay Watson supported the bill but said he understood Bradford's concerns. He suggested the bill might include a limit to the number of horses an owner could have so cattle populations don't dwindle.
"If we manage it properly, where we don't just have people who all of a sudden have a bunch of horses," then perhaps we can curtail many of these concerns Watson said.
Voting in favor of the bill were Sens. Sens. DeGazon, Kurt Vialet, Dwayne DeGraff, Novelle Francis, Myron Jackson and Athneil Thomas. Sens. Alicia Barnes, Oakland Benta and Marvin Blyden were absent.
The bill awaits further discussion in the Rules and Judiciary Committee.