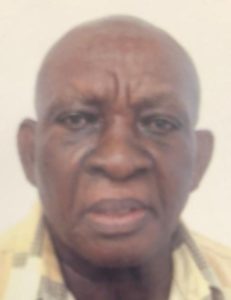 Reginald Carty Proctor, also known as "Ernest," died June 4 at Schneider Regional Medical Center on St. Thomas. He was born March 22, 1943, in Anguilla.
He is survived by his wife, Enid Proctor; three sons: Norwell Proctor, Mark Proctor and Terry Proctor; four grandchildren: Norica Proctor, Reniqua Proctor, Isaiah Proctor and D'Markia Proctor; brother, Clarence Proctor (U.K.); sister, Roselin Carty Proctor (Anguilla); nephews: Rudolph Proctor, Correlle Proctor (Anguilla), Steve Proctor and Robert Proctor (U.K.); nieces: Paulina Proctor (Anguilla), Shelly Proctor, Kyra Proctor and Tammy Proctor (U.K.); and great-nieces and great-nephews too numerous to mention.
He is also survived by friends on Anguilla: Elneth Lake and family, Denise Niles and family, Cecila Sasso and family, Calvin Adams and family, Kenneth Rogers and family, and members of the Farrington, Rey Hill and the Valley Community; and friends on St. Thomas: Eulogia Vanterpool and family, Elena Perez, Nena Carter and family, Valerie Rogers, Pilcrim, Sull, Jim, Shawn, Mickey, Eric, Jean Da Vidpiene, TBO, Ralph, Vechf, Shemaiah, Kilcim, William, Emerson Jellor, Grinn and the Domino team.
Special thanks to members and staff of the Schneider Regional Medical Center, especially doctors and nurses in the Intensive Care Unit.
The viewing will be held at 10 a.m. followed by services at 11 a.m., Wednesday, June 12, at Turnbull's Funeral Home. The body will be cremated.