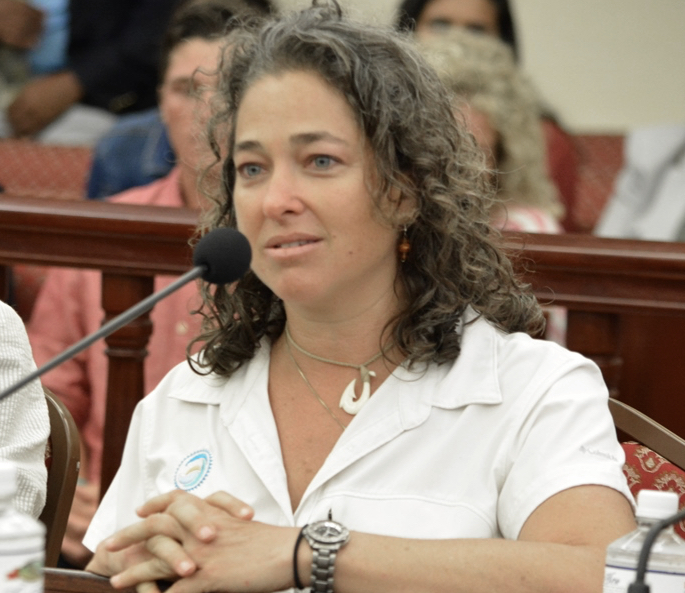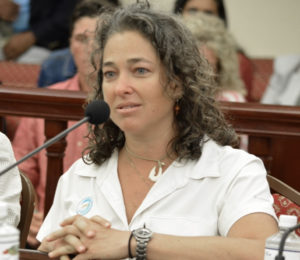 The Committee on Rules and Judiciary unanimously approved the ban of toxic chemicals found in most sunscreens on Thursday, moving bill 33-0043 forward to the full Senate. If it is enacted before January 2021 it will make the V.I. the first state or territory in the U.S. to have legislation against the chemicals oxybenzone and octinoxate.
"Hawaii has not implemented their ban yet. And they are only banning two ingredients, but they are promoting mineral based sunscreens. There are signs up on every beach saying 'use non-nano titanium, use non-nano zinc,' and their reefs are already recovering. You are seeing increased activity and new growth already," said Autumn Blum, a cosmetic chemist who joined the panel that originally presented the bill on May 20.
Blum testified that Hawaii's contamination was on a "part per trillion" level, but that after reviewing the slides presented of V.I. reefs said, "You're in the parts per billion level. You are a factor of magnitude higher. You have more of these contaminates in your waters than Hawaii can even think of having."
During Thursday's meeting Sen. Myron Jackson displayed alarming photographs of bleached reefs at Trunk Bay, calling them "dead zones." Jackson said the national park released information about its research on sunscreen toxicity which said, "We don't realize products covering us wash off into the water and it adds up. Research tells us that 4,000 to 6,000 tons of sunscreen enter reef areas annually. That means the most popular reefs, such as those in our national park, are exposed to the majority of sunscreen."
When snorkeling in the turquoise waters of the V.I., swimmers are enveloped in measured tons of the toxic chemicals.
The ban was first brought to the Legislature's attention during a meeting May 20 of the Committee on Government Operations, Consumers and Affairs Committee. There, a panel of five testified to the dismal state of V.I. coral reefs.
One panel member, Kristina Edwards, education and outreach coordinator for the Coastal Management Division of the Department of Planning and Natural Resources, said, "Chemicals like oxybenzone and octinoxate are not the only stressors to our oceans but we must act on each and every danger if we are to have any hope of protecting our natural resources."
"While the nuances are still up for debate, the negative impact of oxybenzone and octinoxate is well documented in corals, fish and even humans," Edwards continued. "So, I ask you how much is enough to make the decision to protect our natural resources and our people? How many times do you have to hear something is dangerous before you are willing to take action?"
She added that the chemicals are known to stimulate coral bleaching and that stony coral tissue loss disease is spreading through the islands, already affecting 50 percent of the V.I. coral reefs.
Blum said the chemicals are known endocrine disruptors that also affect human's hormonal development.
Harith Wickrema, president of the Island Green Living Association, initiated the bill. Wickrema said because the chemicals are endocrine disruptors, exposure to them can cause early puberty in females and lower sperm counts in males.
Within the corals, Blum said the chemicals bioaccumulate and stay within the tissues, but that ultimately the chemicals are biodegradable, with a life expectancy of around 72 days. Edwards said to her knowledge there is no possibility of cleaning the chemicals out of the ocean.
Ultimately, the chemicals not only harm the reefs and humans, but can harm the fishing industry by making the fish not fit for consumption, Blum said.
"In Hawaii they have done studies sampling tissues of some of the game fish there. They are finding these ingredients in significant concentrations where they are actually saying the fish are toxic because of the high concentration of UV filters," Blum said.
Blum passionately insisted that while the banning of the two chemicals will help, many sunscreen manufactures are replacing the two with chemicals with others that are highly similar and likely equally as harmful.
Only zinc oxide and titanium have been recognized as safe by the FDA and are the ingredients to be looking for in reef safe sunscreens. Wickrema said only 260 sunscreens are on the market today that fit this description, whereas the rest were considered harmful to both reefs and human beings.
Some of the recognized reef safe sunscreens on the market currently include: KLAR Pure Zinc Oxide, TruKid Sunny Days and Kokua Hawaiian Reef Safe Natural Zinc Sunscreen.
Blum said the only safe way to dispose of sunscreens containing the two toxic chemicals is to incinerate them. Unwanted bottles of sunscreen should be treated as hazardous waste and dropped of at collection sites that would need to be established.