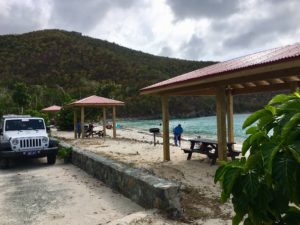 The building of three new shade pavilions at Maho Bay, replacing those destroyed during hurricanes Irma and Maria, has been completed, according to a press release issued Thursday by the Friends of Virgin Islands National Park (Friends).
Two of the pavilions measure 10' x 10,' and one pavilion measures 10' x 20,' all with 2' overhangs. These are of simple post and beam construction. One of the smaller pavilions is adjacent to the handicap parking spot and has a floor constructed of pavers for easy access for all. The other two pavilions have natural sand floors.
V.I. National Park suffered significant damages from these storms, particularly Irma. There was significant damage to park residences, facilities and venues. Much of this remains in a compromised state to this day. Arguably, the most notable damage was done at Maho Bay. Maho Bay is one of the most popular beaches on the island, especially for families, due to its easy access, relatively flat profile and very calm waters.
It is fair to say that, besides damage done to one's personal residence and property, the most heart-wrenching damage was done at Maho Bay: vegetation was peeled back, stands of coconut palms were leveled and the beach pavilions were destroyed.
There were two pavilions at Maho Bay before the storms. One was a renovated historic building that dated back to the 1940s; it was heavily damaged during Hurricane Marilyn in 1995 and rebuilt by the Friends. The second pavilion was an open-air pavilion about 20' x 16' and constructed with reinforced concrete. While the structure was substantial, it had a slab foundation that was undermined by the very heavy wave action and storm surge during the storms. This caused the structure to crack and fail.
These pavilions at Maho Bay were very popular and heavily used, particularly by St. John residents. Also, with the significant loss of vegetation and tree cover, there has been almost no shade available for beach-goers. NPS's guiding principles for this project called for structures that would be light on the environment and accommodate high seas.
The Friends appreciate the work and time given by Barefoot Architects. The project was put out to bid and the successful contractor was Bigrigg Cranford Construction Company. It was funded with help from the Community Foundation of the Virgin Islands and hundreds of individuals who donated to help restore the park after the 2017 hurricanes.
This article was first published May 25, 2019